S4-S5 Students I PolyU Taster Programme 2023
University Events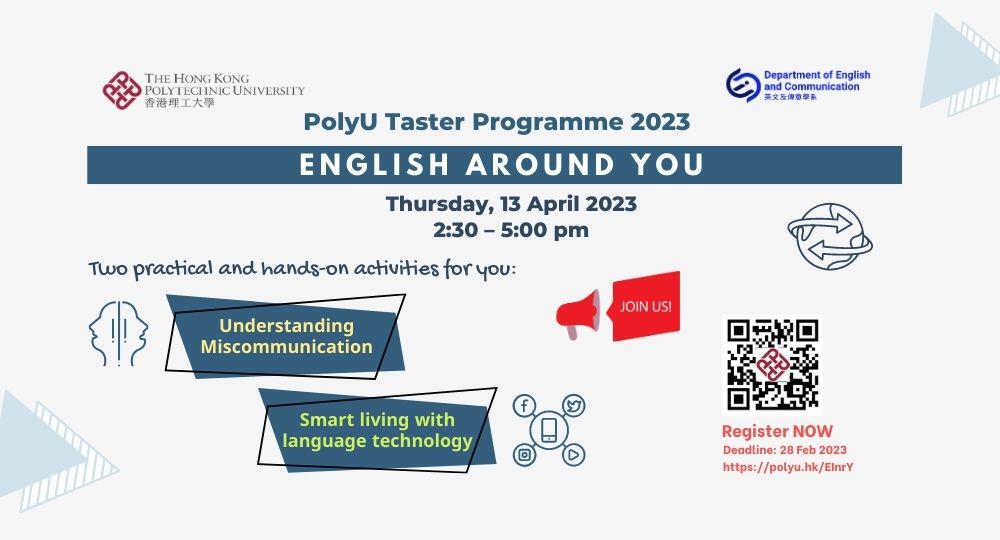 Organiser

Department of English and Communication, PolyU
Summary
Is English just about literature? Is it simply a boring set of grammar rules?
Join us in this year's PolyU Taster Programme to see how English is, in fact, closely related to our everyday lives. You will learn how to use English communication skills to solve real-world problems effectively in both local and global multilingual settings and discover that English can also be "applied" like science!
We have designed two practical and hands-on activities for you to examine how English is used in different situations:
1. Understanding Miscommunication
Misunderstanding and miscommunication in academic, professional, and workplace interactions are common occurrences, but they may at times lead to unexpected consequences. You will be introduced to real-world instances of communication breakdown, with the goal of identifying the primary reasons or causes of miscommunication and how to potentially avoid these to make future interactions more efficient.
2. Smart living with language technology
Technology has penetrated every part of modern life. With smartphones, we get the latest information about shops nearby, we book tables at restaurants, we exchange messages and we enjoy immersive games with friends. At the Department of English and Communication, our teachers and students apply our linguistic knowledge to develop the next generation of language technologies. Our vocabulary-learning app IdiomsTube is now used by 9,500+ learners worldwide. Join this workshop to discover the fascinating work that we do behind the scenes to develop smart language technologies and to learn how you can be part of our team!
These activities will provide you with a brief glimpse into our BA (Hons) Scheme in English and Applied Linguistics (BAEAL) programme. You will also meet our student ambassador and get to know the wonderful study experiences in our programme!
Mode: Face-to-face
Medium of instruction: English
No. of places: 50
Target participants: Secondary 4 and 5 students
Programme fee: $50 (Refundable deposit)
Application deadline: 28 Feb 2023