Our Specialization
The Technical Service Stream (TSS) of IC acts as a helping hub to provides customized knowledge solutions from concept to realization for learning and research activities. We have actively worked with different departments for student learning such as service learning subjects, freshman seminars, ERP and CAD related lab support, etc. We also provide materials purchasing and logistic supports on special events.

Support Services Provided to Different Learning Activities
IC involved as a partner in subject delivery from planning to practice. IC participates in lab session (TSS offers Arduino and SAP related contents), service project design and preparation, service and learning, material handling, pre-service lecture and training, service planning, logistics, service material preparation, build and fabricate prototypes, on-site support to student learning during servicing stage, opinion in student assessment, post-service project delivery, follow-up and maintenance.

Support Services Provided to aid the Concept Realization
TSS also provide technical consultancy and total solution to students and researchers from different academic departments for their research projects. Our supports include feasibility and usability study, technical advices on selection of materials and manufacturing processes, parts fabrication and assembly, design verification and performance evaluation. Besides, we provide materials and component purchasing service to facilitate the needs from various research work.
Design Realization Major Facilities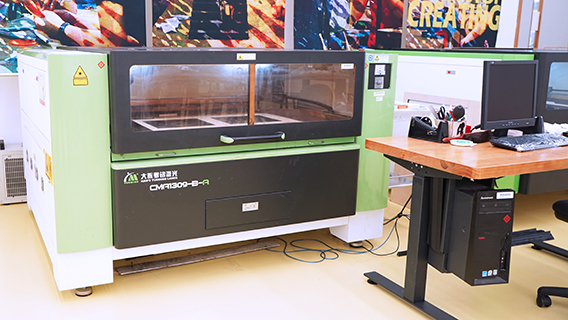 Laser Machining
Location: W401f
Application: material cutting & engraving
Material: non-metal materials (acrylic, plywood, fabric, leather, fur, etc.)
Max working area: 1300mm x 900mm
Material thickness: acrylic (max 20mm), plywood (max 10mm)
Data format: dxf, cdr, ai
Non-metallic laser cutting & engraving price: HK$80 per 1 hour, HK$40 per 30 mins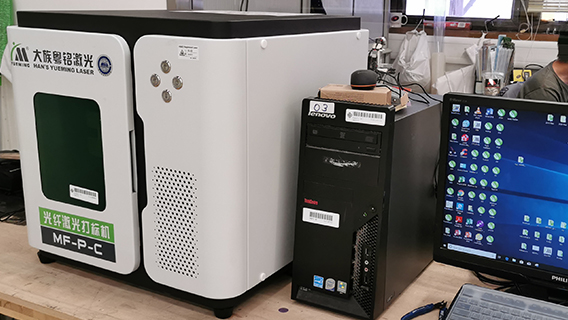 Fiber Laser Marking Machine
Location: W401f
Application: laser marking, micro-structuring, texturing
Material: metals, except copper, gold, silver or other high reflective metals
Max working area: W110 x D110 x H140mm
Beam diameter: 0.07mm
Data format: dxf, cdr, ai
Laser marking on metal: HK$80 per 1 hour, HK$40 per 30 mins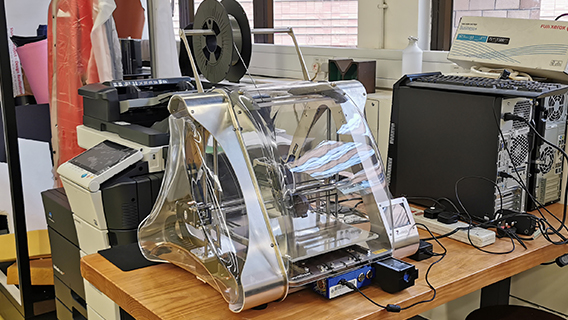 Multitool Machine (CNC & Laser Machining with 3D Printing)
Location: W401f
Application and materials:
Laser cutting & engraving: paper, cardboard, wood, plastic, etc.
CNC cutting & engraving: wood, plastic, wax, etc.
3D printing: PLA, ABS (support single or dual colours printing)
Working area: up to L250 x W235 x H85-165mm (toolhead dependent)
Supported file types: .stl, .obj, .step, .dxf, .png, .bmp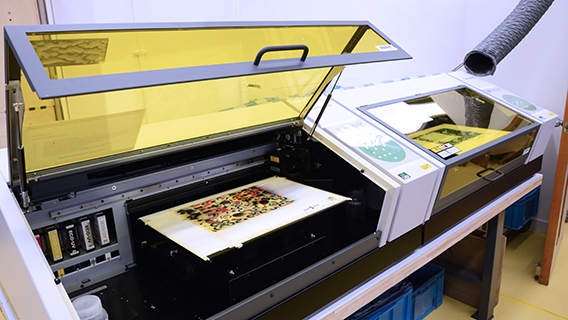 UV Printing
Location: W401j
Application: CMYK printing on non-mirror flat surfaces of different materials
Material: plastic, metal, glass, ceramics, wood, paper, etc.
Max working area: 20" x 13" x 3.9" (H)
Max weight: up to 5Kg
Data format: jpg (resolution not less than 2880dpi
Price: A3 size - HK$40, A4 size - HK$20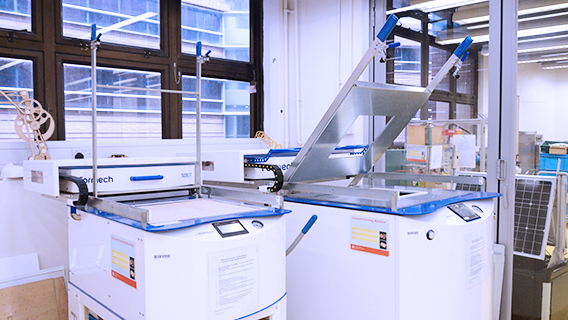 Vacuum Forming
Location: W401f
Application: form plastic into permanent objects
Material: PVC, PS, PU
Max working area: 30" x 25"
Beam diameter: 0.07mm
Materials thickness: materials dependent
High Frequency Welding
Location: W401f
Application: plastic welding (e.g. medical sealing, artpieces)
Material: thermoplastic base materials (e.g. PVC, PET, TPU, etc.)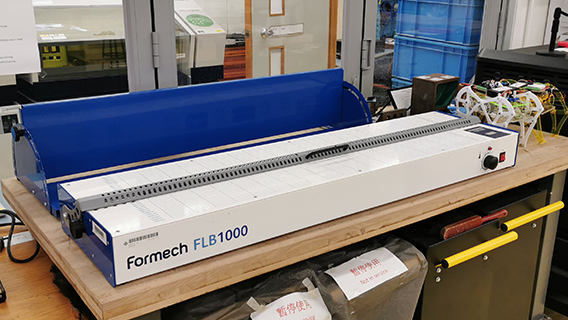 Plastic Bending Machine & Cooling Jig
Location: W401f
Application: plastic sheet bending
Material: thermoplastics
Max material thickness: up to 10mm
Heating width: 1000mm
Jig angle: 0-180 degrees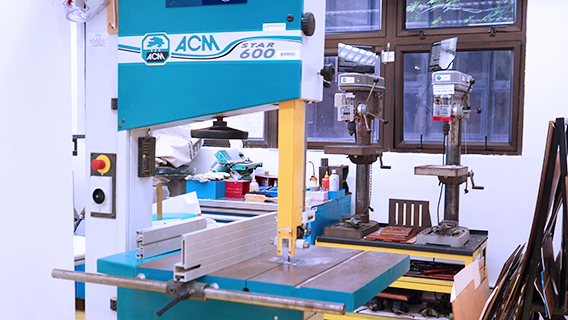 Conventional Machining Facilities
Location: W401j
Drilling machine
Band saw machine
Sanding machine
Application: materials cutting, drilling and sanding
Material: Non-metal materials such as plastics, wood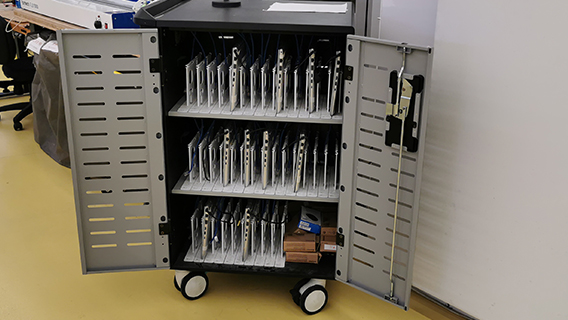 Computer Service (inside workshop)
Location: W401f
Laptop with CAD and graphical software (Solidworks, AutoCAD, CorelDraw, etc.)
Work Bench
Location: W401f
Work benches with basic hand tools, cutting tools, clamps, vises, etc.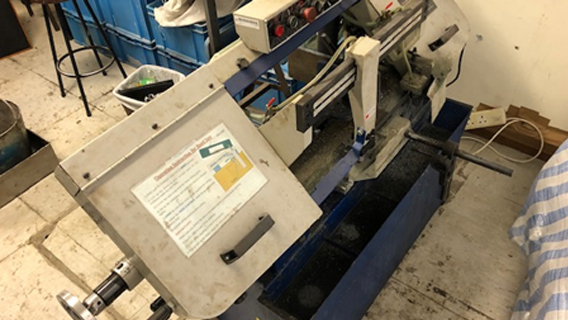 Metal Cutting Bandsaw
Location: W003
Motor: 1-1/2 HP
Blade size: 27 x 0.9 x 3035mm
Technical Services Stream Contacts