Director's message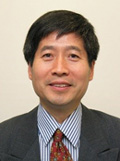 This Joint Laboratory of the Guangdong-Hong Kong-Macao Greater Bay Area for the Environment was established by Guangzhou Institute of Geochemistry (GIG), an research institute of the Chinese Academy of Sciences (CAS), and PolyU, for research collaborations and academic exchanges between CAS and higher education institutes in Hong Kong in aligning with national development strategies.
Complementing the strengths of PolyU and the CASGIG, the joint laboratory will collaborate to extend research frontiers, advance knowledge transfer and applications as well as cultivate talents in the field of environmental protection for contributing towards the development of the Greater Bay Area and the society.
Education and research cooperation between Hong Kong and the Mainland has reached an unprecedentedly high level now. The GBA strategic development plan will provide a solid platform for researchers to expand their networks, nurturing research talents and achieve greater advancement in education, research and development. I am confident that the GBA will soon develop into a world-class research hub, enhancing our comparative advantages in the globe. I am very glad that the Hong Kong Polytechnic University plays an important part with our collaborators from the Chinese Academy of Sciences in this significant milestone path.




Xiang-dong LI (Professor)
Director
CAS GIG-PolyU Joint Laboratory of the Guangdong-Hong Kong-Macao Greater Bay Area for the Environment
Phone no.: (+852) 2766 6041
Email: xiang-dong.li@polyu.edu.hk