Speech and Language Sciences Laboratories

The Speech and Language Sciences Laboratory (SLS Lab) is equipped with state-of-art research facilities to accommodate the needs of research and study of faculty members and students of CBS.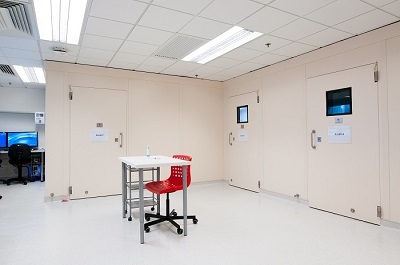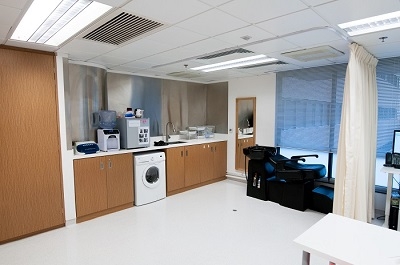 SLS Lab (Main)

(852) 3400 8547 / 3400 8546

Room QR602, QR Wing

Mon - Sun, 8am-10pm
SLS Lab (Annex)

(852) 3400 8547 / 3400 8546

Room FG703, FG Wing (for Tobii eye-tracker)

Mon - Sun, 8am-10pm
The SLS Labs have 3 double wall sound-proof booths and 2 single wall sound-proof booths, housing the following research facilities:

Compumedics Neuroscan 128/64-channel EEG system

Electroencephalography (EEG) is a non-invasive method to measure electrical activity in the brain. The SLS Lab is equipped with a Compumedics Neuroscan EEG system with 128/64-channel SynAmpsRT amplifiers. The lab has Curry 7 software for acquisition of EEG data, along with several stimulus presentation software packages (including STIM2, E-Prime, and Presentation), and can record behavioural responses via mouse and keyboard, button box, or microphone.
Eyelink 1000 Plus Eye Tracker

The EyeLink 1000 Plus eye tracker allows researchers to track precise eye movements of a participant during a reading task to understand language processing. It has a desktop mount to stabilize the participant's head during the experiment. It also supports the remote free-to-move mode using stickers. An iMac is paired up with the eye tracker for using the software Experiment Builder and Data Viewer to present stimuli and analyse data.
2 PC workstations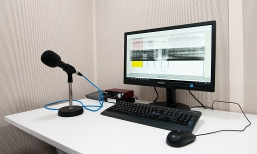 Each of the two PC workstations is equipped with a sound interface, a condenser microphone and a pair of headphones for recording speech and performing behavioral experiments.
BioSemi 32-channel EEG system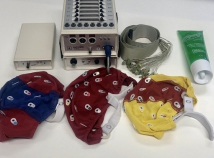 Similar to the Compumedics Neuroscan EEG system, the BioSemi EEG system collects brainwaves data. It is a portable EEG system that allows the researcher to conduct EEG experiments with a 32-channel EEG cap.
Tobii TX300 Eye Tracker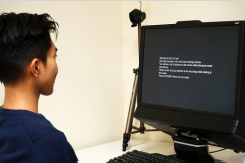 The Tobii TX300 eye tracker is a portable equipment that can capture eye movements of the participant. It is user-friendly and has a simple calibration process. Tobii is located at SLS Lab (Annex) .

Interacoustic AS608 Audiometer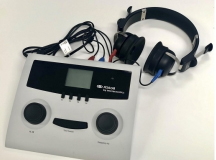 The Interacoustics AS608 screening audiometer is used to test the hearing sensitivity of a participant before perception experiments.
Soterix Medical 1x1 tDCS & 4x1 HD-tDCS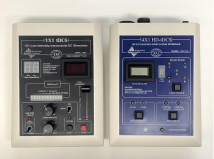 The Transcranial Direct Current Stimulation (tDCS) system is mainly used for research on rehabilitation of neurogenic communication disorders, for example, dysarthria, aphasia and stuttering. The tDCS modulates the brain activity through low levels of constant current. The SLS Lab provides two types of stimulators: 1x1 tDCS and 4x1 HD-tDCS adaptors. The 1x1 tDCS aims to deliver low current to cover a broad area of the brain, whereas the 4x1 HD-tDCS targets a particular and profound region of the brain.

Glottal Enterprises Electroglottograph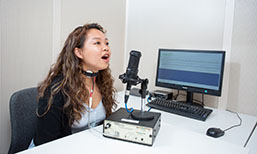 The electroglottograph (EGG) is a device used for non-invasive measurement of the degree of contact between the vocal folds during voice production. The EGG device measures the translaryngeal electrical impedance between two electrodes placed at adjacent locations on the surface of the neck. EGG is commonly used to assess pathological voice conditions by voice scientists.

Glottal Enterprises Aeroview Phonatory Aerodynamics System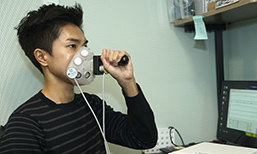 The phonatory aerodynamics system measures nasal airflow, oral airflow and subglottal pressure during speech and voice production. The phonatory aerodynamics system includes a handheld mask, transducers and a data acquisition box. It is often used to assess vocal cords and velopharyngeal port function.

Karl Storz Stroboscopic Laryngoscopy System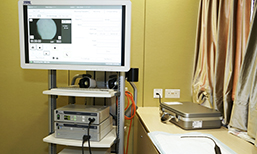 The SLS Lab houses a medical stroboscopic laryngoscopy system to conduct voice-related and swallowing-related research studies. The stroboscopic imaging system allows speech therapists to visually inspect the conditions of the larynx during speech, phonation and swallowing. Our stroboscopic system includes a Full-HD medical grade surgical monitor, rigid stroboscope telescope, flexible fiberscope, as well as imaging camera head and imaging console of the latest technology.

Esaote MyLabGamma Ultrasound System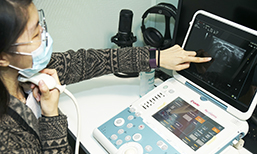 The MyLabGamma Ultrasound system is highly portable and provides excellent imaging quality. Ultrasound is a non-invasive imaging technology that could provide real-time visual feedback of the configuration of the tongue or the larynx of an individual during speech, phonation and swallowing. It is highly useful for speech pathologists to provide holistic assessment and treatment to patients with speech-language disorders and voice disorders.

Carstens AG501 Three-Dimensional Electromagnetic Articulography
The Electromagnetic Articulography (EMA) is used for precise kinematic measurement of the articulators (lips, tongue and jaw) during speech and swallowing. Such measurement is performed by using a magnetic field to localize the positions of transducers (sensors) temporarily attached to the articulators. EMA is commonly used for research studies related to articulation and swallowing disorders.

Software
The SLS Lab provides the following software for designing experiments and analyzing data:
E-prime (version 2.0 Professional & version 3.0)
Neurobehavioral Systems Presentation
BESA
MATLAB
SPSS
---
For students and CBS staff who would like to gain access to the SLS Lab for conducting linguistic experiments, please fill in the application form in the following link. Afterwards, you will need to attend a short briefing on how to use the equipment and familiarize yourself with the lab rules.
Application form of lab access: https://www.polyu.edu.hk/pfs/index.php/623196?lang=en
The SLS Lab uses an online platform for booking the booth spaces (authorized faculty members only).
All CBS staff and students may use the facilities free of charge. Non-CBS users may refer to the charging scheme for details.