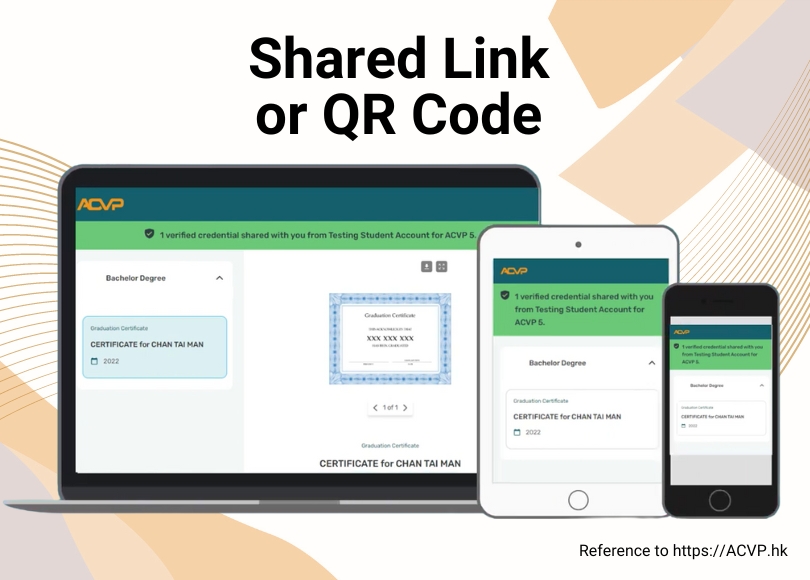 Work Mechanism
The content of the official certifications is in a secured electronic file in PDF format which can be verified and viewed at the ACVP official website (https://ACVP.hk).

PolyU graduates can view and share their official certifications with other parties in the form of URL or QR code.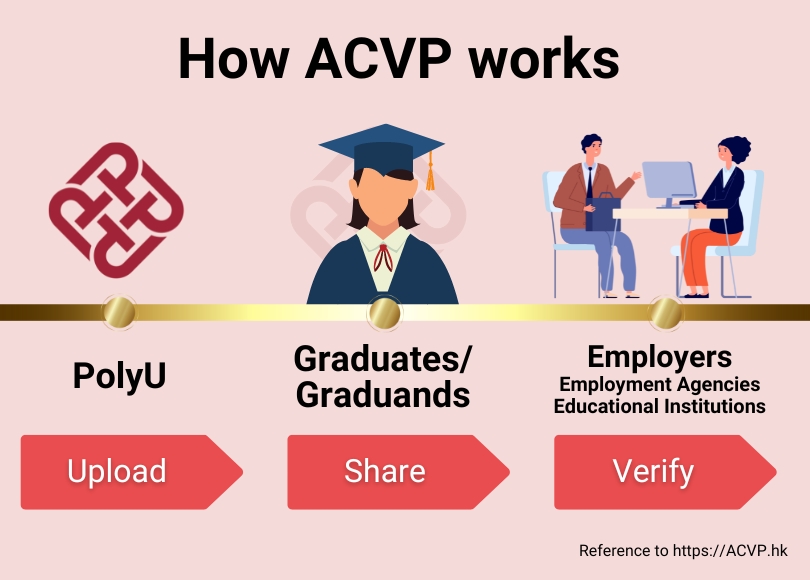 Service Scope
Starting from February 2023, the University will issue the following official certifications in electronic format for graduates in Year 2021 onwards:

Award Parchment (except for collaboration programmes)

Transcript of Studies (except for franchised programmes administered by SPEED)
Note: Award qualifications under Research Postgraduate (RPg) programmes are separately handled by the Graduate School (GS), please visit GS webpage here.
Using the Electronic Certification Service
Information for Graduates/Graduands
Information for Employers, Employment Agencies and Educational Institutions
Upon receiving the PDF file or the associated URL/QR code from PolyU graduates (in Year 2021 onwards), please follow the steps below for verification:
Save the PDF file in a secured folder, as it may contain the personal data of the subject graduate. Upload or drag-and-drop the PDF file to the verification platform at https://ACVP.hk; or

Click on the associated URL or scan the QR code which links directly to the verification page
The system will then respond with the verification result promptly, in a few seconds. After successful verification, an authenticated copy of the certification can be viewed or downloaded in PDF format if it is set as downloadable by the graduate concerned.

The authentic and verifiable electronic document from PolyU exists only in PDF format or the associated URL/QR code. Electronic documents in any other formats (such as DOC, JPG or HTML) will NOT be verified.