AP Seminar - Oxygen Evolution Reaction with 2D Transition Metal Dichalcogenides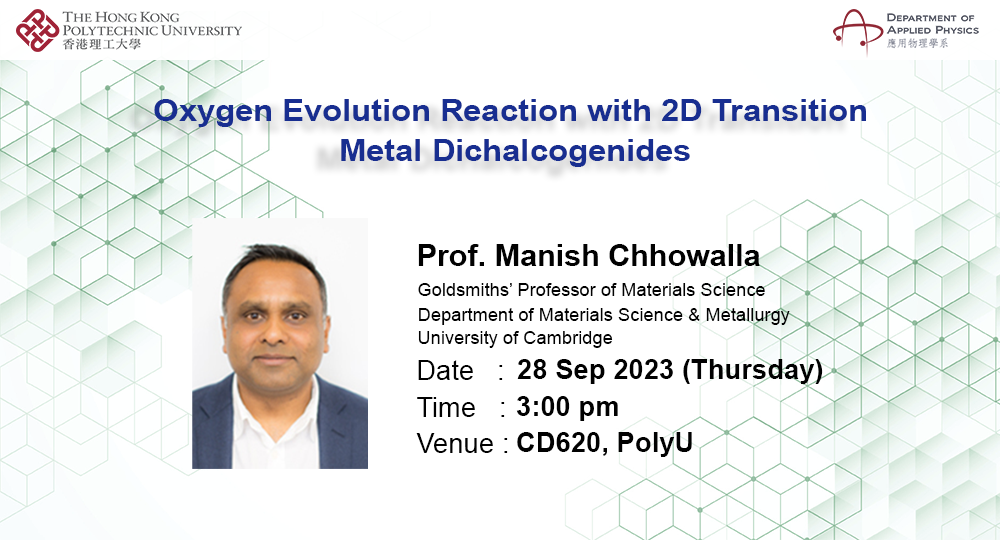 Venue

CD620, 6/F, Wing CD, PolyU Map
Speaker
Prof. Manish Chhowalla
Summary
In this presentation, I will present our results on OER with different layered materials. First, I will demonstrate how encapsulation of environmentally sensitive Fe3GeTe2 allows measurement of OER in alkaline media. We show that in the presence of magnetic fields, the OER is increased. In the second part of the presentation, I will show how partial oxidation of TMDs leads to stable transition metal oxysulfides that are stable in acids allowing OER measurements in pH=0 electrolytes.
Keynote Speaker
Prof. Manish Chhowalla
Goldsmiths' Professor
Department of Materials Science and Metallurgy
University of Cambridge
Manish Chhowalla is the Goldsmiths' Professor of Materials Science at the University of Cambridge. His research interests are in the fundamental studies of atomically thin two-dimensional transition metal dichalcogenides (TMDs). In particular, his group studies the optical and electronic properties of different phases of 2D TMDs. He has demonstrated that it is possible to induce phase transformations in atomically thin materials and utilize phases with disparate properties for field effect transistors, catalysis, and energy storage. Prof Chhowalla is a Fellow of the Materials Research Society, Institute of Physics, the Royal Society of Chemistry and Churchill College. He was the founding Editor in Chief of Applied Materials Today and is now the Associate Editor of ACS Nano. He has been on the Clarivate Highly Cited Researchers since 2016.