AP Seminar - New Generation Low-dimensional Nanomaterials for Energy Storage Devices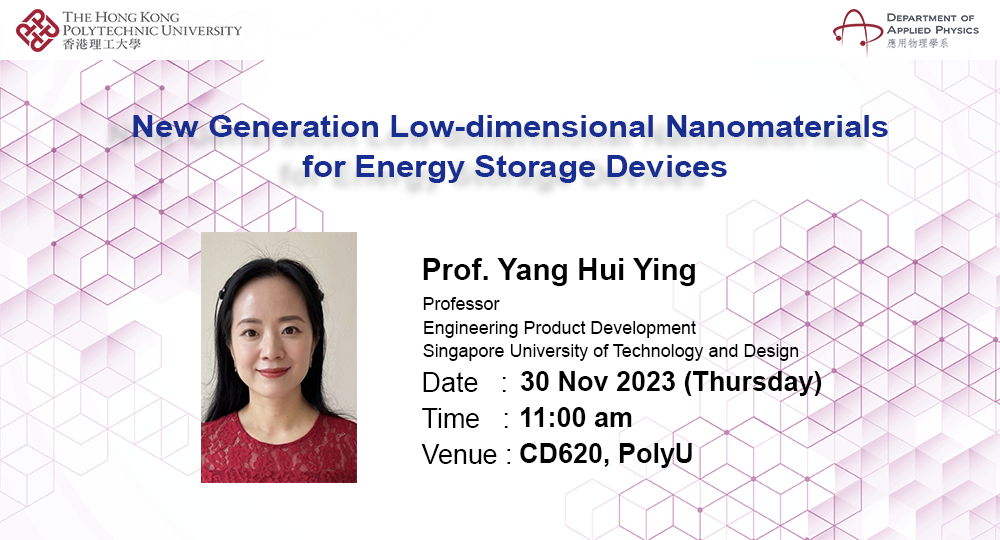 Venue

CD620, 6/F, Wing CD, PolyU Map
Speaker
Prof. Yang Hui Ying
Summary
Low-dimensional nanomaterials have developed with unique physical and chemical properties for next generation energy storage devices. In the last few years, our research group has been focusing on exceptional low-dimensional nanomaterials and explore their applications in effective energy storage devices. One of the greatest challenges besetting the development of battery technologies is grid scale energy storage. We have developed zinc ion batteries for grid-scale energy storage applications and explore the different electrolyte to facilitate the zinc ion transportations. We design electrode materials with improved activity of electrochemical reaction and energy storage performance based on chemical engineering and transformation. We have also studied the prospects of fast prototyping and scalability for 3D printed energy storage devices for future development.
Keynote Speaker
Prof. Yang Hui Ying
Professor
Engineering Product Development Pillar 
Singapore University of Technology and Design
Prof. Yang is a Professor in Singapore University of Technology and Design. Her work has had great impact in the fundamental research of the material science, chemistry/ electrochemistry, and desalination. Prof. Yang has profound knowledge and experience on the synthesis and engineering of well-defined nanostructured materials for low energy desalinators. Prof. Yang is a Fellow of the ASEAN Academy of Engineering and Technology (AAET) and Fellow of the Royal Chemistry Society (RCS). She has been recognized by many international and national research awards, such as the prestigious IPS Nanotechnology Medal (Outstanding Nanotechnology Physics Research) (2018), Nanonica Prize (2014), Outstanding Young Manufacturing Engineer Award (2014), MCCC-AAET Green Award (2013), IES Prestigious Engineering Achievement Awards (2013). Tan Kah Kee Young Inventors Award (2013), L'Oreal Singapore for Women in Science national Fellowship (2010), Lee Kuan Yew Fellowship (2008) and many more.  Prof. Yang has published more than 380 manuscripts in top international journals, including Nature Communications, Advanced Materials, ACS Nano and Nano Letters, with more than 21000 citations and an H-index at 83.