Adaptive Navigation System in Challenging Environments by Intelligent Perceptions
Seminar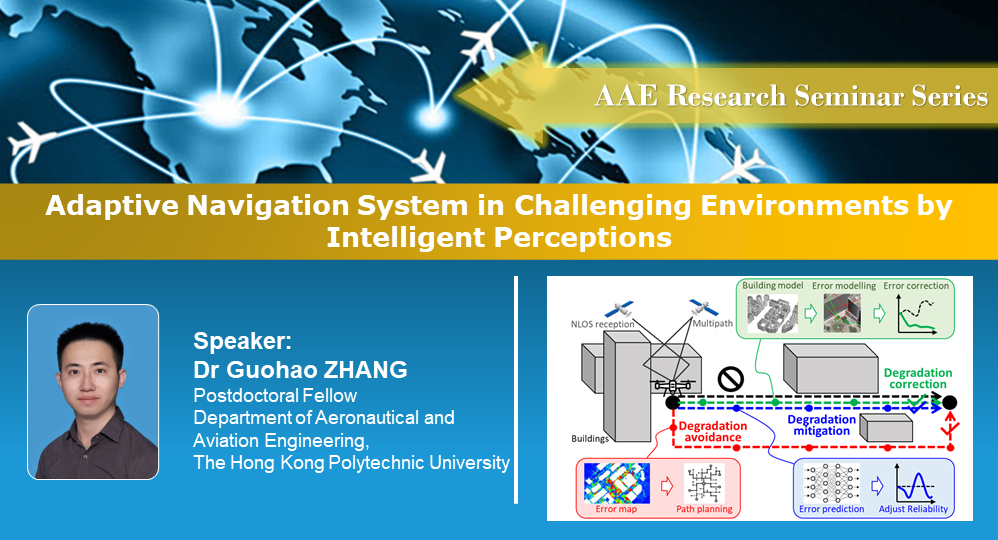 Organiser

Department of Aeronautical and Aviation Engineering
Remarks
Meeting ID: 926 9904 3146 | Passcode: 774963
Summary
Abstract
The navigation system has a growing impact on civil infrastructures and applications, for example, the intelligent transportation system, location-based services, or personal localization on a map. An accurate and reliable positioning solution is vital to the navigation system. However, as the essential sensor providing the absolute positioning solution, the GNSS can be easily degraded by the surrounding environment, for example, the building blockages or reflections. Therefore, it is necessary to monitor the reliability of GNSS and provide a sufficient and prompt response to the error. Besides the challenges from complicated environments, additional resources from measurements or environments are available and potentially be perceived as beneficial features to improve positioning.
Three main approaches are introduced in this seminar. The first approach is degradation avoidance. It is demonstrated by unmanned aerial vehicle (UAV) navigation, in which the GNSS degraded zones are predicted based on the environment information and avoided by path planning. The second approach is degradation mitigation. It is demonstrated by the multi-sensor-integrated positioning on a UAV, where the GNSS degradations are predicted from measurement features by a machine learning model and mitigated by adaptive reliability adjustment. The third approach is degradation correction. It is demonstrated by the pedestrian positioning, in which the 3D building model converts GNSS reflection degradations into additional features to aid positioning. Besides, these three approaches have the potential to improve indoor positioning applications, which is also important for the development of the future aviation industry.

Speaker
Dr Guohao Zhang received his bachelor's degree in Mechanical Engineering and Automation from the University of Science and Technology, Beijing, China. He received his master's degree in Mechanical Engineering and his Ph.D. degree in Aeronautical and Aviation Engineering from The Hong Kong Polytechnic University. He has been selected by the "Distinguished Postdoctoral Fellowship Scheme" from the same university to continue his research on navigation as a postdoctoral fellow. His research interests include GNSS urban localization, collaborative positioning, and multi-sensor integrated navigation. He is the awardee of the Student Paper Award and the Best Presentation Award by the Institute of Navigation (ION). He has been invited to present his research about diffraction modelling at the ION Webinar.