Cooperative Coordination Control of Multiple Fixed-wing UAVs
Seminar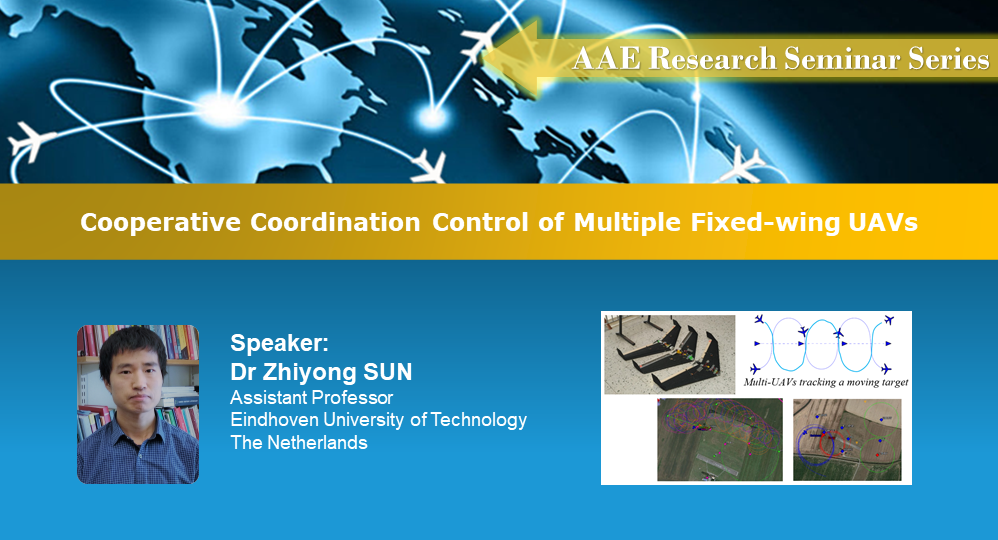 Organiser

Department of Aeronautical and Aviation Engineering

Venue

N001, Block N, PolyU Map
Remarks
All are welcome! No registration is required.
Summary
Abstract
Fixed-wing UAVs feature long-distance flying and improved autonomy which make them ideal platforms for outdoor-door target tracking, large-area coverage and surveillance. In this talk, we will discuss distributed coordination and cooperative control of multiple fixed-wing UAV systems, subject to cruising speed constraints. The dynamics of fixed-wing UAVs are modelled by unicycle-type equations with nonholonomic constraints (by assuming that UAVs fly at constant altitudes in the nominal operation mode).  Two coordination control tasks will be presented: circular formation control and collaborative target tracking. Firstly, we will show how to design distributed formation controllers to steer UAVs' orientations and achieve a desired formation configuration via limited interactions. We will then discuss feasible tracking controllers that coordinate multiple UAVs to collectively track a moving target. We will also present experimental verifications involving a group of fixed-wing UAVs that validate the performance of the proposed circular formation controllers and coordinated target-tracking controllers.
Speaker
Dr Zhiyong Sun received his PhD degree from The Australian National University (ANU) in February 2017. He was a Research Fellow/Lecturer with the Research School of Engineering, ANU, from 2017 to 2018. From June 2018 to January 2020, he worked as a postdoctoral researcher at the Department of Automatic Control, Lund University of Sweden. Since January 2020 he joined Eindhoven University of Technology (TU/e) as an assistant professor. His research interests include multi-agent systems, control of autonomous formations, distributed control and optimization. His research outcomes have won several awards, including a best student paper finalist award in IEEE CDC, a best conference paper finalist in IEEE ICRA, and the Springer best thesis prize. He has authored the book titled Cooperative Coordination and Formation Control for Multi-agent Systems (Springer, 2018).