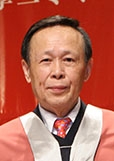 2004 University Fellow
Mr Chan Tai Ho
Eminent entrepreneur Mr Chan Tai Ho is the Founder of Playmates Toy Group. Born to a businessman's family, Mr Chan soon developed a keen interest in business and management. With his able leadership and innovative spirit, Mr Chan turned his family business into a successful enterprise worldwide. In 1984, Playmates Toy Group became the first of its kind to achieve public listing on the Hong Kong Stock Exchange.
Mr Chan is a philanthropist who repays society by supporting many worthy causes. Over the years, he has supported the building of schools and hospitals in both Hong Kong and the Chinese mainland, and sponsored the construction of roads and relief of disasters on various occasions. In 2002, he further donated $30 million to PolyU to support the University's development.
Mr Chan is an esteemed honorary citizen of Shantou and Jieyang. He is also an Adviser of the Shantou Special Economic Zone, Honorary President of the Federation of Hong Kong Guangdong Community Organizations and a member of the Board of Directors of the Hong Kong Chiu Chow Chamber of Commerce.