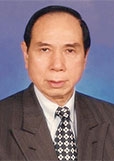 2011 University Fellow
Mr So Chung Ping
Mr So Chung Ping is currently Chairman of the Executive Committee of The Tsim Sha Tsui District Kai Fong Welfare Association (TSTDKFWA). A highly-respected community leader, Mr So has devoted himself to serving the local community for more than 40 years.
In 1978, Mr So founded the West Kowloon Lions Club to help the underprivileged. He also served twice as Director of the Tung Wah Group of Hospitals, during which time he helped with fundraising and stationed at hospitals to collect feedback from patients, thus helping to enhance the quality of services significantly. Among the first batch of elected district councilors in Tsim Sha Tsui in 1985, he won praise for his efforts to improve the district environment.
Mr So is particularly concerned with education and services for the elderly, and he actively promotes these services through The Tsim Sha Tsui District Kai Fong Welfare Association to which he belongs. Apart from supporting Project Hope schools in the Chinese mainland and scholarships of the eight local universities, the Association supports PolyU's long-term development and, in particular, its Department of Applied Social Sciences in nurturing social work students and arranging overseas exchanges for the purpose of whole-person education. In 1996, Mr So set up and served as Chairman of the TSTDKFWA Activities Centre for the Elderly, which offers diversified activities for the aged. In 2010, he enriched the lives of a group of elderly people by sponsoring their studies at PolyU.
Mr So is Honorary President of Hong Kong Baptist University Foundation, Vice-President of the Federation of Hong Kong Guangdong Community organization, Vice-Chairman of the Hong Kong Civic Association, Vice-President of Kowloon West Society of Organizations, and Honorary President of the Welfare Hospital in Tongzhou district in Beijing. In recognition of his contributions to society, Mr So was awarded the government's community service award in 1985 and 1986, and made an honorary citizen of Beijing's Tongzhou district. In 2000, he received the Hong Kong SAR Government's Chief Executive Award for Community Service.
Chairman Yang, University Council Members, President Tong and Honoured Guests,
I am deeply honoured to be awarded The Hong Kong Polytechnic University Fellowship. It is truly a cherished honour for me.
During my 40 years of community service, I have tried to do my utmost in promoting medical and educational services, and in helping the elderly. Since 2005, The Tsim Sha Tsui District Kai Fong Welfare Association, to which I belong, has funded overseas visits for PolyU's Department of Applied Social Sciences, enabling staff and students to visit old-age homes, youth centres, schools, foster care homes, anti-gambling addiction centres and homes for the mentally handicapped in countries such as the United States, Canada, Australia, Hawaii, the UK and Finland. These visits have served the purpose of whole person education, enabling the participants to learn the differences between Hong Kong and other places in terms of welfare policy and culture as well as widening their exposure to the wider world. On the other hand, we have also tried to enrich the lives of old people by encouraging them to actively take part in community services and lifelong learning.
I have upheld my principle of treating all seniors and juniors as if they are my family. But I find it a worrying trend that many young people today, the future pillars of our society, are disgruntled and prone to constantly asking for more than they give back. To a certain extent this reflects a gap in moral education in Hong Kong. I sincerely hope that universities can support the government and join hands with other sectors in realizing the ideal of caring for all those in need, whether they are the old, the young, the widowed or the disabled.
The honour conferred upon me by PolyU will further drive me to continue my services for the community. Although I am over 80 years old, I hope I can still do more, and serve as a role model for young people thus encouraging them to contribute to society.
Lastly, I would like to thank my wife and daughter for their care and support, without which, I would not be able to have received this honour today.
Thank you.