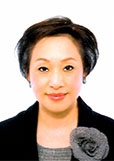 2013 University Fellow
Mrs Nina Lam Lee Yuen Bing
MH
Mrs Nina Lam is the Executive Director of Frankie Dominion (Holdings) Ltd and a corporate administration and public relations veteran with over 20 years of experience. Mr Frankie Lam, her husband, is the founder and Chairman of the company.
With her wealth of experience and broad social network, Mrs Lam devotes much of her time to charity and community work amid her busy work schedule. She refers to herself as a "voluntary fundraiser" as she often helps organize various fundraising events and charity dinners. A keen advocate of the promotion of women's rights, she is now a Managing Director and Head of Division as well as Women Committee Chairwoman of the Hong Kong Chiu Chow Chamber of Commerce, and Honorary Vice President of the Hong Kong Federation of Women.
Charity work focusing on child development, medical service for people with critical illnesses and health care for the elderly are also dear to Mrs Lam's heart. She is an Advisory Board Member of Tung Wah Group of Hospitals, Vice Patron and Campaign Committee Member of The Community Chest, Honorary Vice President of The Hong Kong Anti-Cancer Society, Honorary Vice President of The Hong Kong Girl Guides Association, Kwai Chung Hospital and Princess Margaret Hospital Governing Committee Member, Kowloon Regional Advisory Committee Member of the Hospital Authority, Executive Board Member of the Hong Kong Aids Foundation, member of the HKU Foundation, Founding Vice-chairman of the HKU Foundation - Bone Health Fund, Director of the Hong Kong Spinal Cord Injury Fund, Executive Committee Member of the Action For Vision Eye Foundation, Executive Committee Member of the Project Vision and Honorary Advisor of the Hong Kong Parkinson's Disease Foundation, etc. Mrs Lam served as Director of Tung Wah Group of Hospitals for many years and was former Director and Advisory Board member of Yan Chai Hospital. She also actively takes part in relief fundraising events and leisure and cultural services of the HKSAR Government.
Mrs Lam has rendered wholehearted support to PolyU fundraising events ever since her appointment as Fund-raising Committee Deputy Chairman of the University Council in July 2010. She was the Organizing Committee Co-chairman and Deputy Chairman of the celebration dinners for PolyU's 75th and 70th anniversaries respectively, and the Organizing Committee Co-chairman of PolyU-Realink Charity Gala Premiere 2010, making significant contributions to the development of the University.
In 2009, Mrs Lam was commended by the HKSAR Government for her tremendous contribution in charity and community work with a Medal of Honour.
Chairman Yang, University Council Members, President Tong and Honoured Guests,
I would like to express my heartfelt thanks to The Hong Kong Polytechnic University for conferring upon me this University Fellowship. I am most delighted and honoured.
More than twenty years ago, I had the opportunity to serve on the Boards of Yan Chai Hospital and Tung Wah Group of Hospitals. During my eight years of service as their Director, I broadened my social network and got to know many people from the public and commercial sectors. As I often attend charity events, I have then been invited by various charitable organizations to assist in their fund-raising activities. Up to now, I have been involved in fund-raising projects for various social welfare organizations, hospitals and schools, as well as charitable trusts. Voluntary work is very demanding, but the experience is rewarding and has brought me both joy and a sense of fulfillment. I am indeed much honoured to have had the opportunity to be involved in fund-raising activities for PolyU. I am thankful for the trust the University has shown in me - my humble opinion is often accepted and I have a lot of flexibility in event management and so we are able to achieve good results. Now, I have become a member of the PolyU community and I will, of course, continue to serve the needs of PolyU.
I would like to express my heartfelt thanks to my husband for his unwavering support, patience and love over the years. Without his understanding, I could hardly have made such achievements in voluntary service. I would also like to thank my three children for their support. They have accompanied me to many charitable activities and fundraising events since they were young, which was a valuable experience for them. I would also like to thank my parents for their guidance.
Most importantly, I would like to extend my gratitude to my friends, donors and companies for the generous support they offered to my fund-raising events.
Today, I would like to share with you all the honour I receive from PolyU, and to wish you all good health and happiness. "Good fruit comes from good causes." Thank you very much.