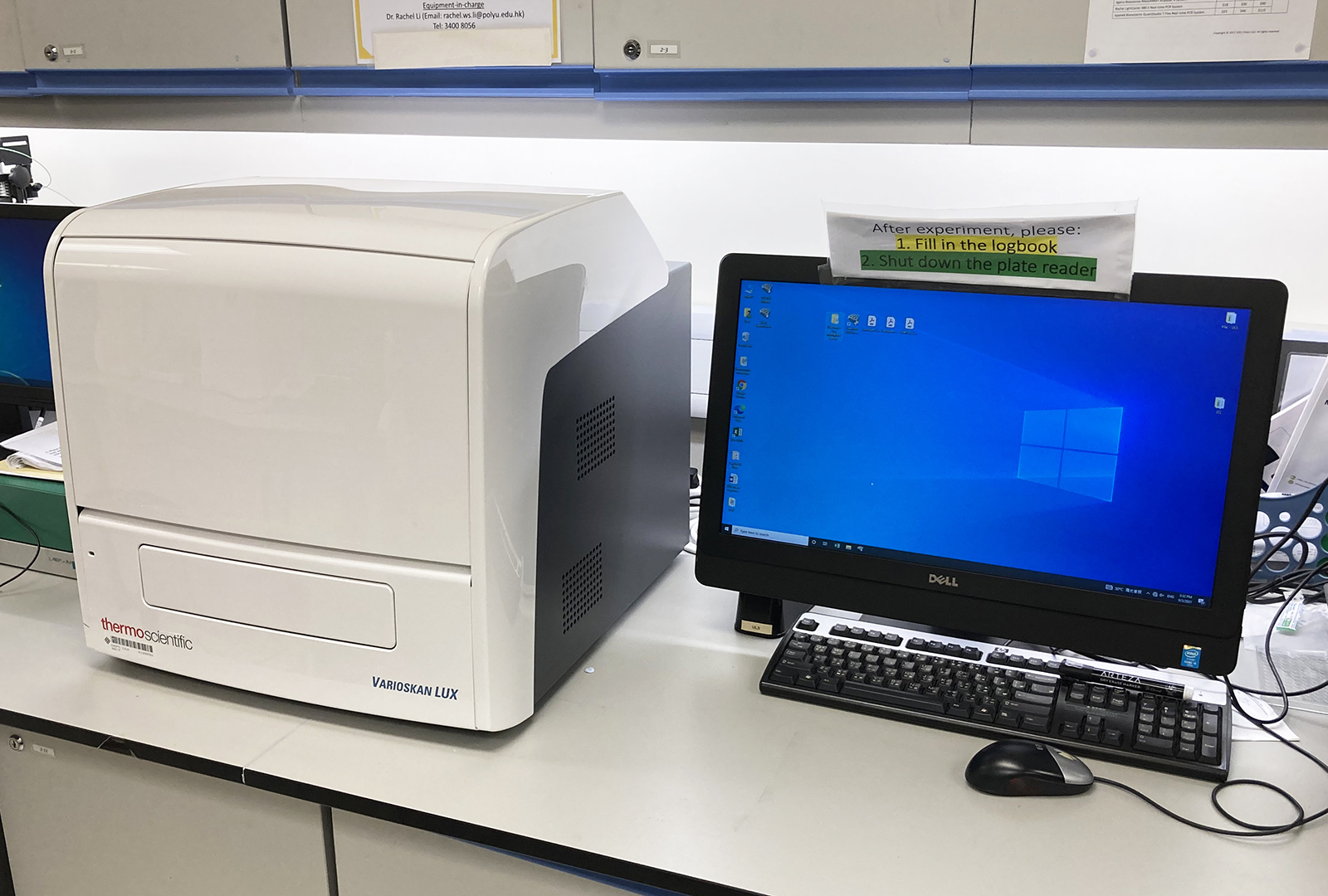 Varioskan LUX Multimode Microplate Reader
The Varioskan LUX is a multimode microplate reader which supports five measurement technologies: Absorbance (UV-Vis), Fluorescence intensity (incl. FRET), Luminescence (direct and filtered), AlphaScreen/AlphaLISA and Time-resolved fluorescence (incl. TR-FRET/hTRF). Monochromators are used in absorbance and fluorescence intensity measurements and filters are used in AlphaScreen and TRF measurements. End point, kinetic and spectral measurements can be carried out in the UV/Vis/NIR range from appropriate microplate formats. In fluorescence intensity, time-resolved fluorescence, luminescence and AlphaScreen™ measurements 6- to 1536-well plates can be used, and correspondingly 6- to 384-well plates in absorbance measurements. The instrument has an incubator for temperature control up to 45°C and a plate shaking capability with orbital shaking mode. The instrument is also equipped with dispensers for automatic reagent addition.
Specifications:
Measurement Technology: Absorbance, Fluorescence intensity, Luminescence, Time-resolved fluorescence and AlphaScreen
Measurement Type: End-point, kinetic, spectra, multipoint and kinetic spectra
Plate Type: 6 – 1536 well plates (absorbance 6 – 384 well plates)
Light Source: Xenon flash lamp and LED
Wavelength Selection: Absorbance – double monochromators; Fluorescence intensity – double excitation and emission monochromators; Time-resolved fluorescence – Filters; AlphaScreen – Filters; Double monochromators for spectral scanning
Wavelength Range: Absorbance (200 - 1000nm); Fluorescence intensity (Excitation: 200 - 1000nm, Emission: 270 - 840nm); Time-resolved fluorescence (Excitation 334nm, Emission 400 - 700nm*); Luminescence (360 - 670nm); AlphaScreen (Excitation 680nm, Emission 400 - 660nm*)
No. of Dispensers: 2
Volume of Dispenser: 1 ml (Range: 2 µl to 5000 µl in 1 µl increments)
Incubator Temperature: From ambient + 4°C to 45 °C
Shaking mode: Orbital
*Emission filters are not included, as they can vary based on the user's application. Please contact staff-in-charge for this.
Hourly rate
No charge for usage below 1 hour per session for internal users
Internal users: $12
Collaborators: $24
External users: $60