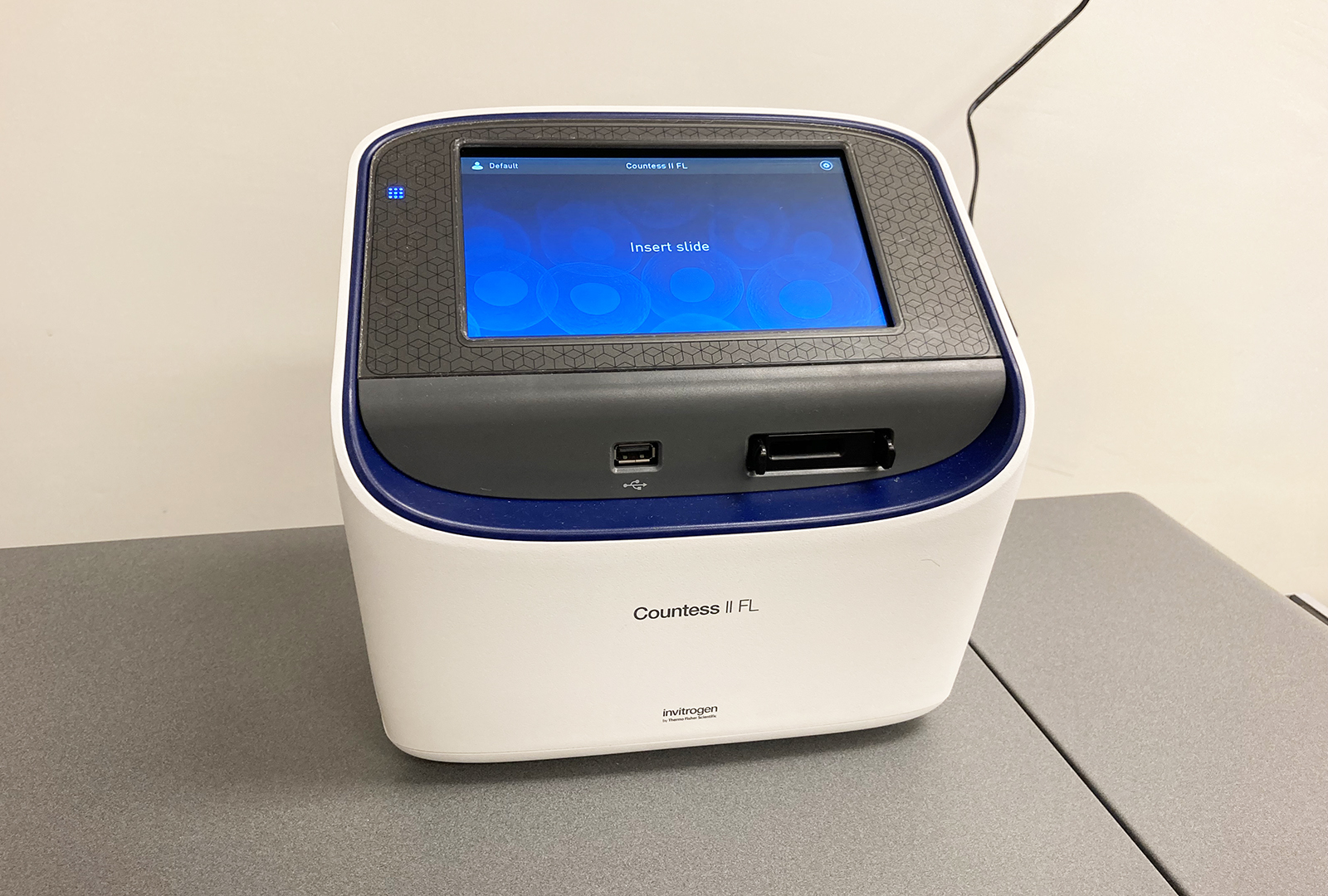 Invitrogen Countess II FL Automatic Cell Counter
The Invitrogen Countess II FL Automatic Cell Counter is a compact system capable of acquiring bright-field and fluorescence images of cell suspensions; and by automatic analysis of the images, allows researchers to instantaneously obtain such information as the cell count, labelling of fluorescent probes, expression of fluorescent proteins, transfection efficiency and cell viability, etc.
Specifications:
Automated bright-field and fluorescence image acquisition
LED light cubes:

GFP (compatible with GFP, FITC, Alexa Fluor 488, SYBR Green, SYTOX Green, etc.)
RFP (compatible with RFP, DsRed, Rhodamine Red, Alexa Fluor 546/555/568, Cy3, SYTOX Orange, etc.)

2.5× objective lens with a final magnification of 50×
Built-in digital camera with a 5-megapixel sensor
Automatic focusing system with optional manual focus override
Compatible chamber slides:

Countess disposable cell counting chamber slides (Invitrogen #C10228)
Countess II FL reusable slides (Invitrogen #A25750)
2 sample chambers per slide
10 µL of cell suspension is required for loading each chamber

Sample requirements:

Cell size: ~4 to 60 µm in diameter
Cell concentration: ~1 × 104 to 1 × 107 cells/mL
Non-motile cells

Built-in dilution calculator
USB port for exporting images, counting data, graphs, etc.
| Item | Price |
| --- | --- |
| Disposable cell counting chamber slide | $16 |
| Box of 50 disposable cell counting chamber slides (includes a 1-mL vial of 0.4% trypan blue) | $800 |