Deep Learning Techniques for Efficient and Accurate Image Classification on UBDA Platform
Workshop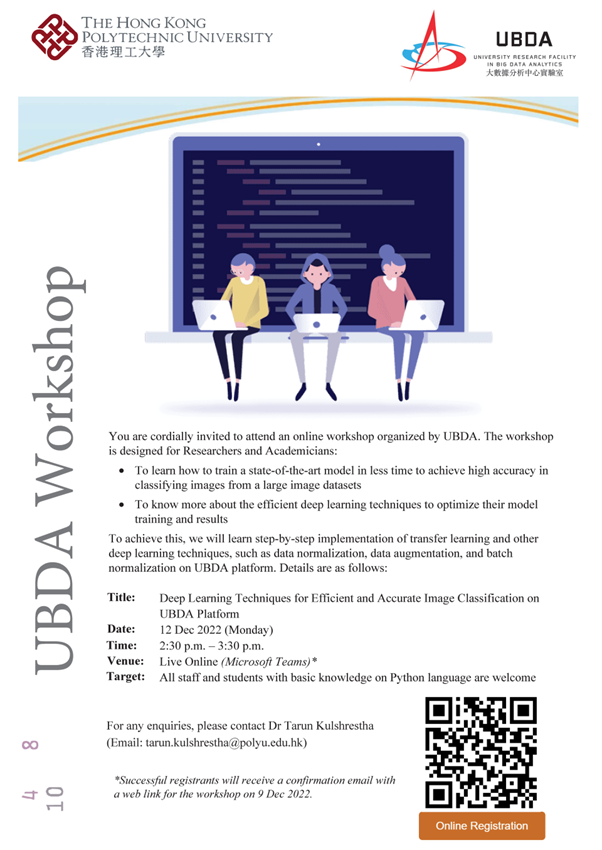 Summary
You are cordially invited to attend an online workshop organized by UBDA. The workshop is designed for Researchers and Academicians:
To learn how to train a state-of-the-art model in less time to achieve high accuracy in classifying images from a large image datasets

To know more about the efficient deep learning techniques to optimize their model training and results
To achieve this, we will learn step-by-step implementation of transfer learning and other deep learning techniques, such as data normalization, data augmentation, and batch normalization on UBDA platform. Details are as follows:
Title

 

Deep Learning Techniques for Efficient and Accurate Image Classification on UBDA Platform  (Poster)

Date

 

12 December 2022 (Monday)

Time

 

14:30 – 15:30

Venue

 
Live Online (Microsoft Teams)

Registration  

 

All staff and students with basic knowledge on Python language are welcome

https://www.polyu.edu.hk/pfs/index.php/118863?lang=en
Should you have any enquiries, please contact Dr Tarun Kulshrestha (Email: tarun.kulshrestha@polyu.edu.hk).