Virtual UBDA Orientation for New Students and New Staff
Orientation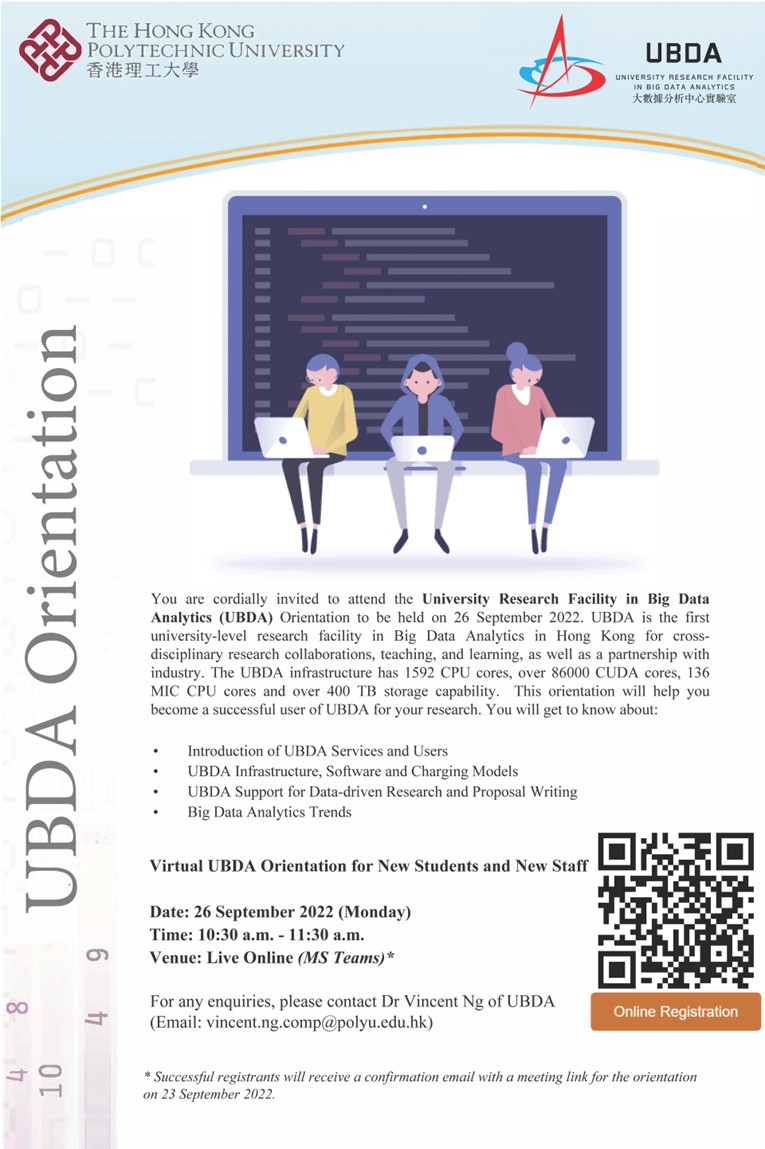 Summary
You are cordially invited to attend the University Research Facility in Big Data Analytics (UBDA) Orientation to be held on 26 September 2022. UBDA is the first university-level research facility in Big Data Analytics in Hong Kong for cross-disciplinary research collaborations, teaching, and learning, as well as a partnership with industry. The UBDA infrastructure has 1592 CPU cores, over 86000 CUDA cores, 136 MIC CPU cores and over 400 TB storage capability.  This orientation will help you become a successful user of UBDA for your research. 
You will get to know about: 
Introduction of UBDA Services and Users
UBDA Hardware Systems, Software and Charging Models
UBDA Support for Data-driven Research and Proposal Writing
Big Data Analytics Trends
Topic
 

Virtual UBDA Orientation for New Students and New Staff (Poster)

Date
 
26 September 2026 (Monday)
Time
 
10:30 – 11:30
Venue
 
Live Online (MS Teams)
Quota
 
-

Registration Link
 
https://www.polyu.edu.hk/pfs/index.php/475293?lang=en
(Successful registrants will receive a confirmation email with a meeting link for the orientation on 23 September 2022.)

For any enquiries, please contact Dr Vincent Ng of UBDA (Email: vincent.ng.comp@polyu.edu.hk).