Research Sharing with UBDA
Workshop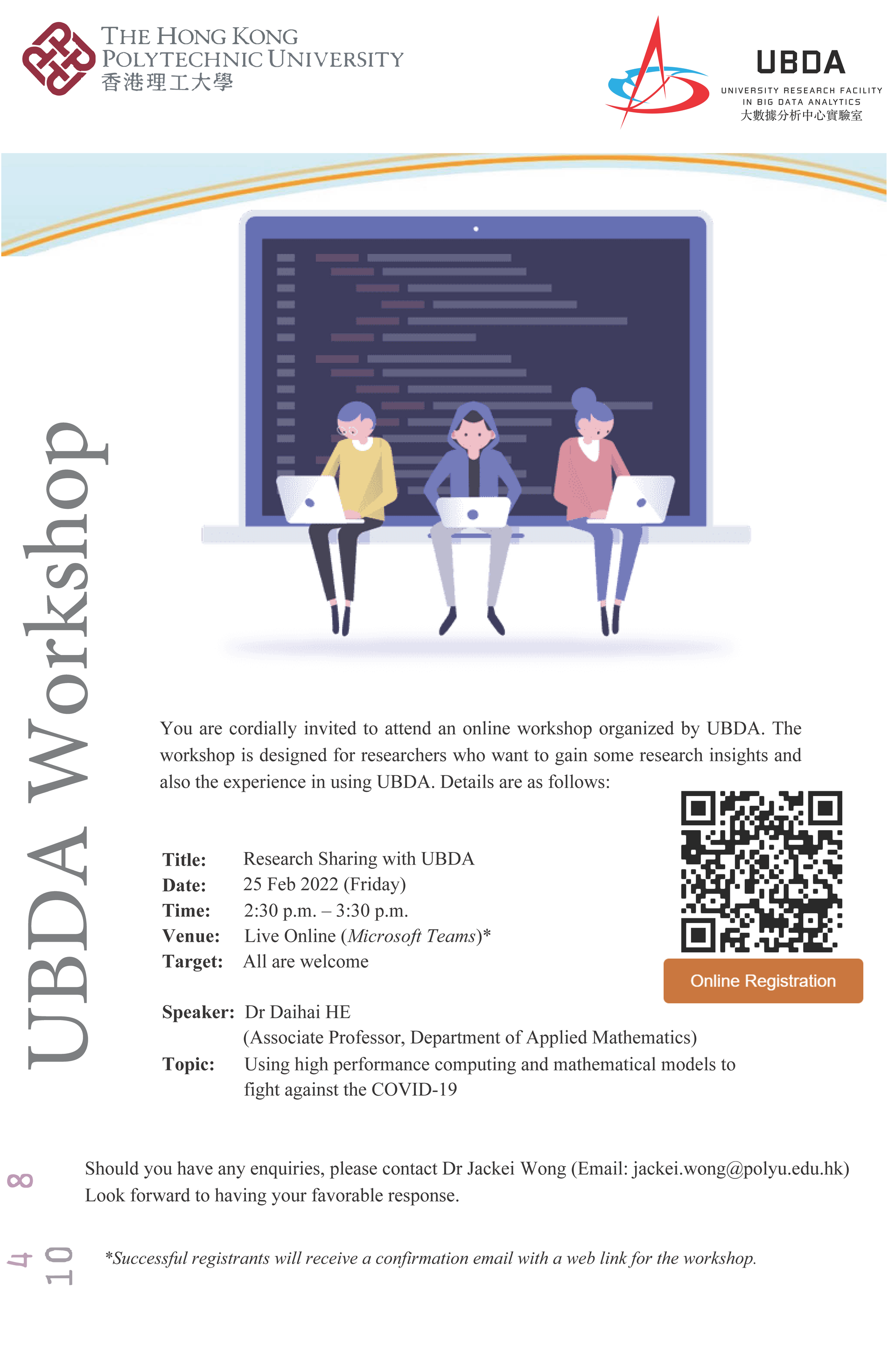 Summary
You are cordially invited to attend an online workshop organized by UBDA. The workshop is designed for researchers who want to gain some research insights and also the experience in using UBDA. Details are as follows:
Speaker: Dr Daihai HE (Associate Professor, Department of Applied Mathematics)
Topic: Using high performance computing and mathematical models to fight against the COVID-19
Abstract: In this talk, Dr He would like to share his work on how to combine high performance computing, mathematical models, state-of-the-art likelihood-based inference, and data analyses to help the mitigation of the COVID-19 pandemic, e.g., to evaluate the effectiveness of vaccination campaign.
Bio: Dr He is an associate professor and a mathematical epidemiologist at the Department of Applied Mathematics of Hong Kong Polytechnic University. His expertise is in using advanced mathematics and statistics to help improving our understanding of the spread of virus in human population. He obtained PhDs in engineering from Xi'an Jiaotong University, China and in mathematics from McMaster University, Canada, and had postdoc experience in Israel, United States and Canada, before joining PolyU in 2012. His work has caught wide media attention. 
| | | |
| --- | --- | --- |
| Title |   | Research Sharing with UBDA (Poster) |
| Date |   | 25 Feb 2022 (Friday) |
| Time |   | 14:30 – 15:30 |
| Venue |   | Live Online (Microsoft Teams) |
| Registration   |   | All are welcome |
Should you have any enquiries, please contact Dr Jackei Wong (Email: jackei.wong@polyu.edu.hk)