SYA Artistic Experience Activities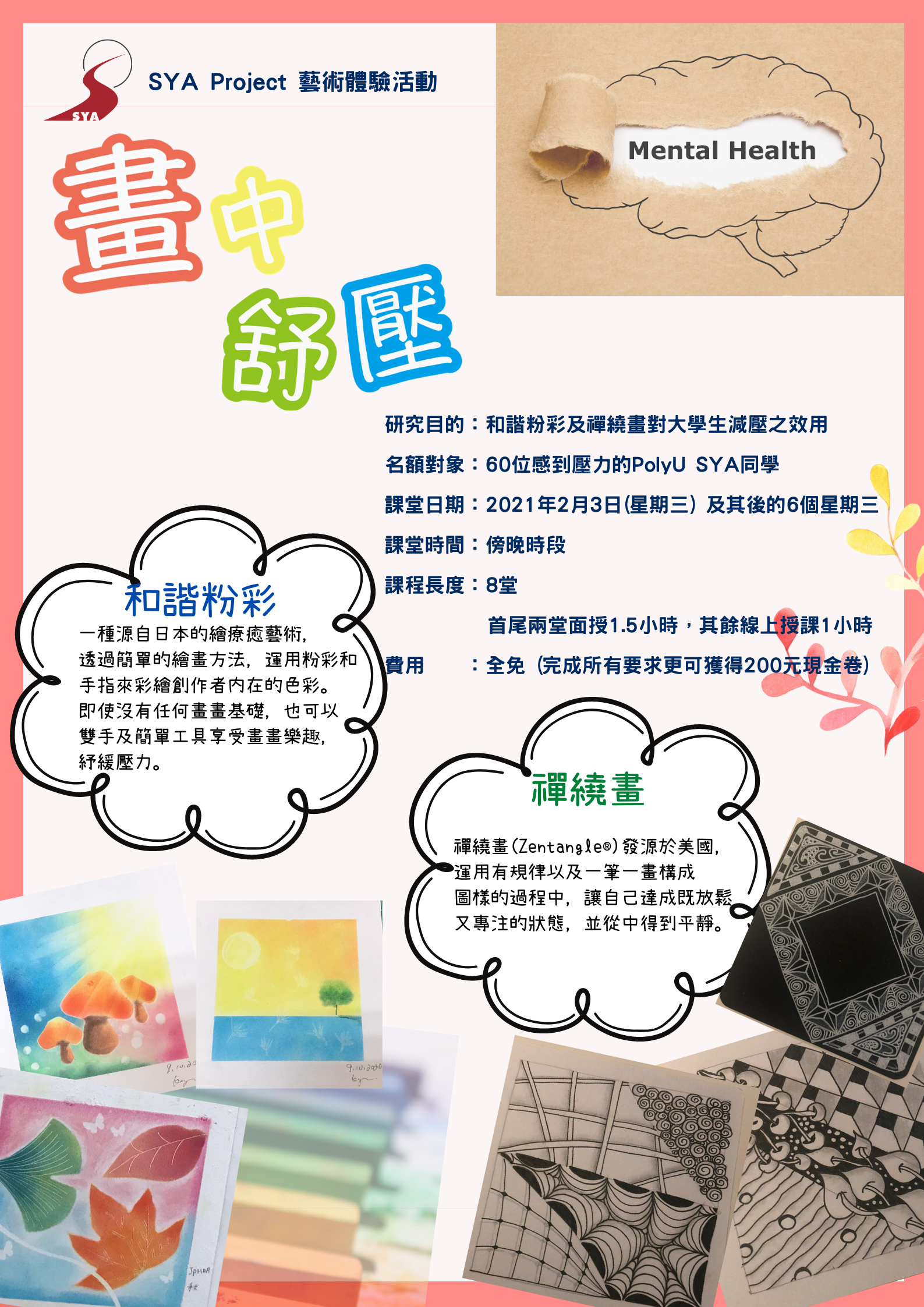 To relieve the stress of SYA students during their busy study schedule, SYA Project specially invites professional instructor to organize Artistic Experience Activities for you to relieve stress through Pastel Nagomi Art and Zentangle. Research elements will be also included to study the effectiveness of captioned arts on stress management to university students. Please read the brief introduction of two arts in the poster on the right.
Time:
3 Feb 2021 (Wed) and six subsequent Wednesdays (8 sessions)
1.5 hours for the first and the last session, 1 hour each for the rest
The class will take place in the evening while the actual time is to be confirmed.
Format:
Mixed mode.
The first and the last session will be face-to-face at PolyU while the rest will be online sessions.
Quota:
60 (first come, first served)
Registered students will be assigned to either class based on your and teacher's availability. If you are assigned to the class that you are less interested in, an experiential workshop of preferred art will be offered after the assigned class.
Eligibility:
All students from different disciplines with good Cantonese proficiency are welcome. (Priority will be given to SYA students)
Fee:
Free of charge. (Material fee exempted)
Students will be awarded 200 HKD cash coupons if they have full attendance, complete all pre and post questionnaire and attend the focus group interview.
Registration:
Students interested in the workshop may register here: https://forms.gle/Z82RxURmMgNP4GV19
The deadline for registration is 29 January 2021.
Registration closed, activity for 2020-2021 ended. Students who are interested in it may stay tuned to our promotion.
Have questions about the activities? Contact us at 3400-8184 or send an email to This email address is being protected from spambots. You need JavaScript enabled to view it..