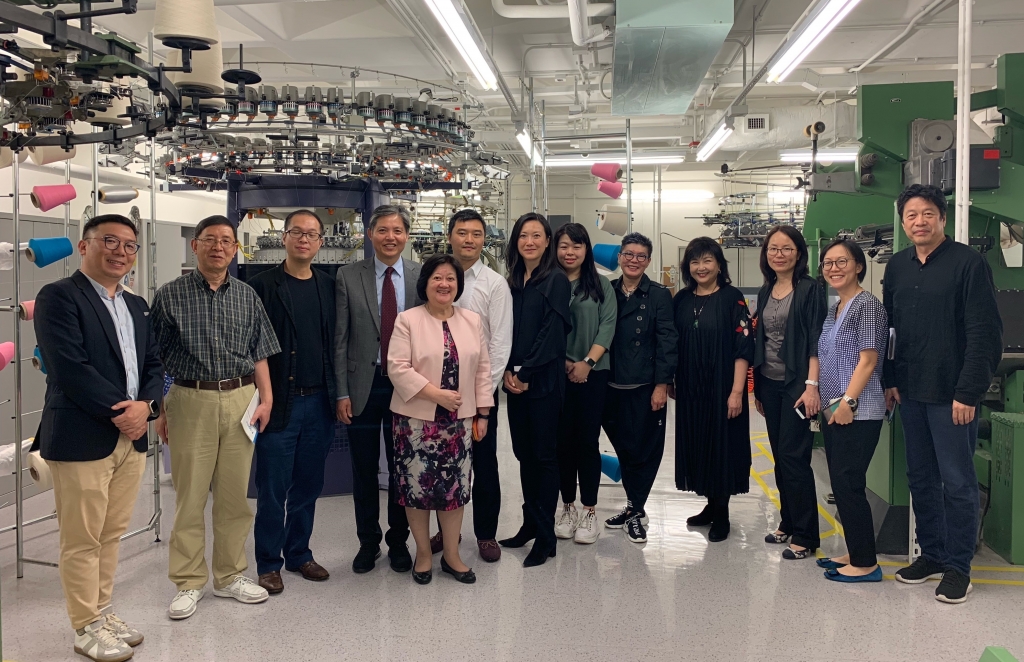 Industry Advisory Committee
Chairlady
Ms Shirley Chan
Vice Chairman of YGM Trading Ltd.

Member

| | |
| --- | --- |
| Ms Janet Cheung | Vice Chairman, Hong Kong Fashion Designers Association |
| Mr Roger Chan | Executive Director & Chief Operating Officer, Cobalt Fashion (Hong Kong) Limited |
| Ms Yan Chan | Senior Advisor for Sustainable Fashion, PIE Strategy Ltd |
| Dr Raymond Chu | Chairman, Chemtax Industrial Co., Ltd |
| Ms Katherine Fang | Director, Fang Brothers Knitting Ltd |
| Mr Bosco Law | Deputy Chairman & Chief Executive Officer, Laws Fashion Group Ltd |
| Mr Lincoln Lau | Director, L Industries Ltd |
| Mr Roger Lee | Chief Executive Officer, TAL Apparel |
| Ms Teresa Tse | Director, Wonderful Enterprises Ltd |
| Ms Teresa Yang | Vice Chairman, Esquel Group |
| Mr Eddie Yeung | Chairman, The Textiles and Clothing Alumni Association |
| Mr George Yeung | Managing Director, Harbour Guidance Pty Ltd T/A Jeanswest |
Current Departmental Academic Advisor
Professor Naren Barfield,

Deputy Vice-Chancellor and Provost of Royal College of Art, U.K

2019-2022

Professor Naren Barfield has held senior leadership positions in a number of UK higher education institutions and has contributed to the strategic development, support, leadership and assessment of learning and teaching, research, knowledge exchange, innovation, and transnational and postgraduate education, both nationally and internationally. Since 2011 he has been Deputy Vice-Chancellor and Provost (Pro-Rector to Oct 2017) at the Royal College of Art, the world's leading university of art and design, and has led significant growth in postgraduate programmes, student enrolments, research intensity and quality, industry partnerships, executive education, internationalisation, and revenue growth and diversification.

He is highly experienced in strategic leadership, policy development, operational management, and goal focused delivery, and is recognised internationally as an expert and advocate for the impact and value of arts and humanities research, design-led innovation, and the societal and economic benefits arising from the integration of STEM with the arts to create STEAM; He has served on advisory groups and panels at national level in the UK and internationally. Professor Barfield is a Council member of Research England, and is also the strategic lead for university engagement for that body. He is a graduate of the Top Management Programme for university senior leaders (TMP18).

Professor David Hinks,

Dean of the Wilson College of Textiles of North Carolina State University, U.S.A.

2017-2022

Currently serving as Dean of the Wilson College of Textiles, Prof. David Hinks leads the College with more than 130 faculty and staff. He published more than 150 research papers in the area of color science,and forensic and environmental textile chemistry. He was named the Cone Mills Distinguished Professor of Textile Chemistry in 2010.
Former Departmental Academic Advisor
Professor Anne Smith,

Professor Emerita of Central Saint Martins,

Dean of Academic Programmes, Central Saint Martins, UK

2013 - 2019

Prof. Smith sets up her own fashion label designing and selling fashion and printed textiles collections for womens, mens and childrenswear after graduating from Saint Martins School of Art in fashion print. Her research developed new approaches in laser cutting and etching for fashion, interior and accessories materials.

Professor Chris Carr,

Professor of Chair of Textile Technology, Head of School, School of Design, University of Leeds, UK

2009 - 2017

Research interests: textile science and technology, textile chemistry, colouration, finishing, historical textiles and conservation science, surface chemistry, recycling, new fibres and healthcare textiles.

Professor LuAnn Gaskill,

Professor of College of Liberal Arts and Human Sciences; Apparel, Housing, and Resource Management Faculty; Virginia Polytechnic Institute and State University, USA

2009 - 2017

The research interests of Prof. Gaskill include business sustainability, entrepreneurship, international development and small business processes.