PolyU Student Entrepreneurial Proof-of-concept (POC) Funding Scheme 2023 cohort 2 - Briefing Session
Conference / Seminar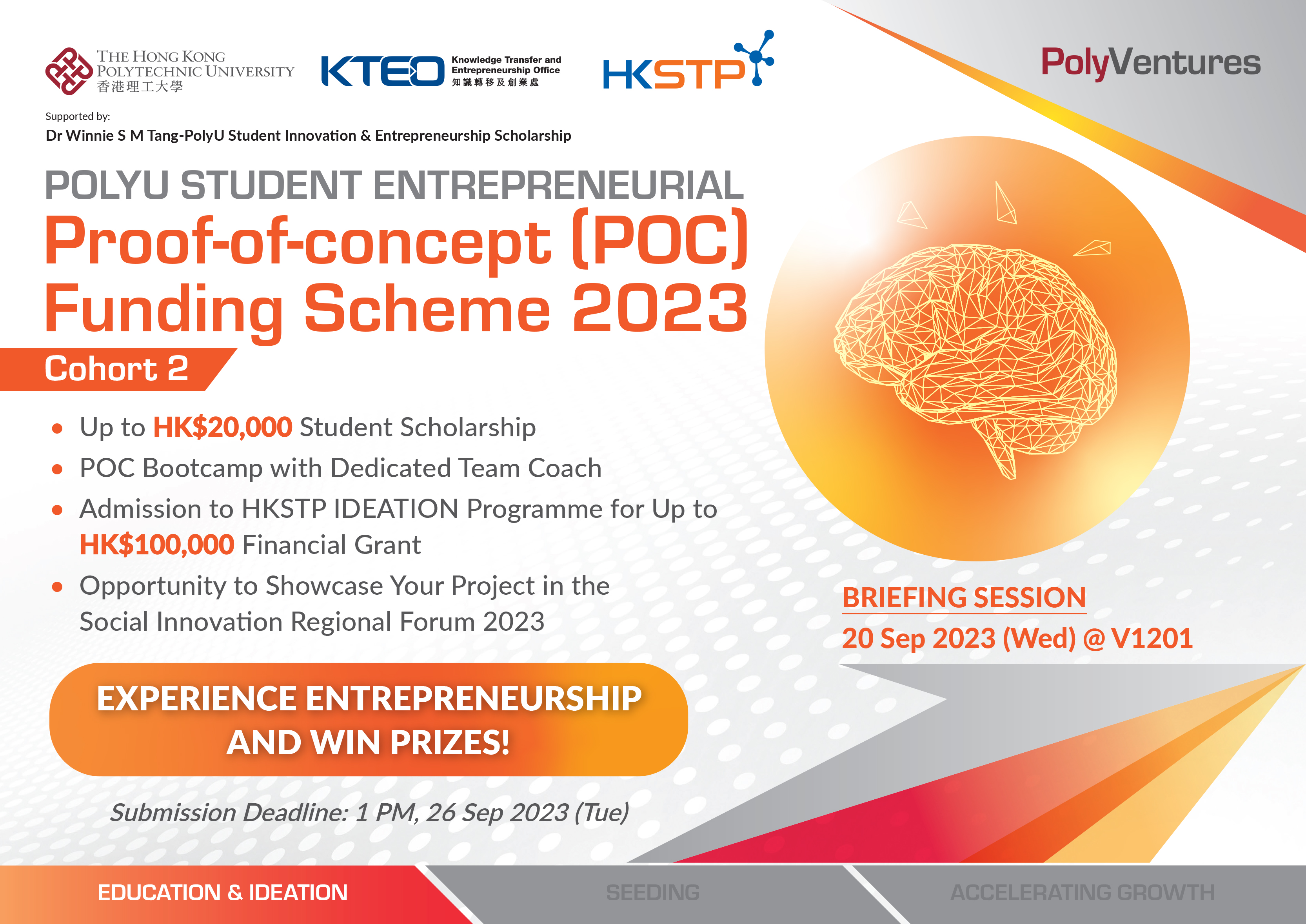 Organiser

Knowledge Transfer and Entrepreneurship Office

Venue

V1201, Block V, PolyU Map
Summary
PolyU Student Entrepreneurial Proof-of-Concept (POC) Funding Scheme is a funding initiative launched in 2017 as one of the key entrepreneurship education components at PolyU. With the kind support from 'Dr Winnie S M Tang-PolyU Student Innovation & Entrepreneurship Scholarship' since 2022, POC Fund aims to instil a problem-driven innovation mindset into young talents through experiential learning and student-initiated research and development.
Sign up the briefing session for more details! SIGN UP Now!
Date: 20 Sep 2023 (Wed)
Time: 5:30 - 6:30PM
Venue: V1202
Language: English  
Rundown:
 5:30 PM
 Registration
 5:40 PM 
 Introduction of POC Funding Scheme
 Representative from Knowledge Transfer and Entrepreneurship Office, PolyU 
 6:00 PM 

 Introduction of Prize: Opportunity to showcase your project in the Social Innovation Regional Forum 2023
 Representative from Jockey Club Design Institute for Social Innovation

 6: 05PM
 Introduction of HKSTP IDEATION Programme & Q&A Session
 Representative from HKSTP
 6:15PM
 Q&A Session and Networking  
Notes:
1. Please sign up *individually*. 
2. You are reminded to indicate if you have access to PolyU campus to attend the briefing session during registration. If no, we will arrange a visitor pass (QRcode) for you in advance. No last minute campus access request will be accommodated.