Hong Kong Techathon 2023
Training / Workshop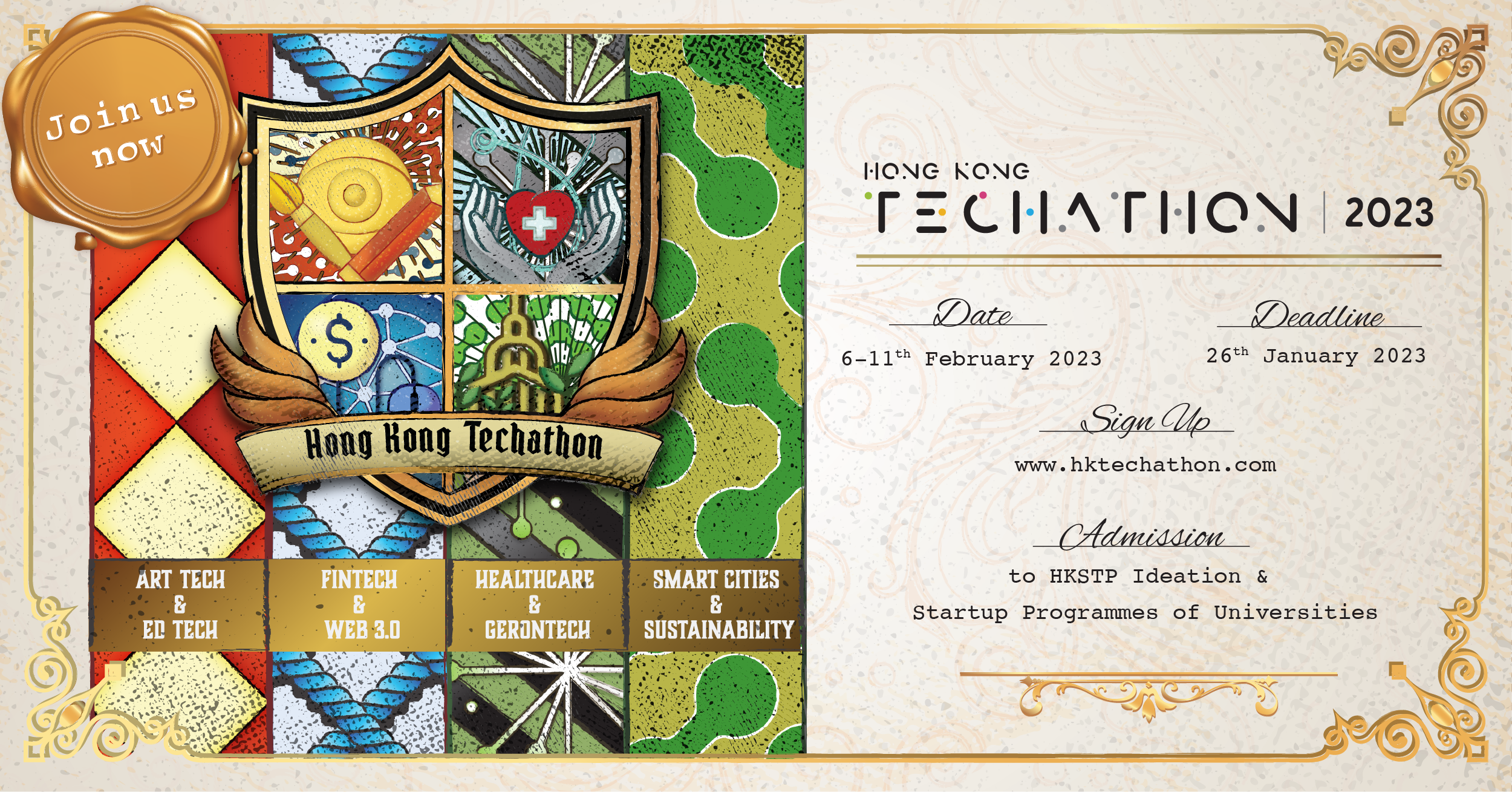 Summary
Aspire to be a TECHNOPRENEUR, but don't know how to start?
Join Hong Kong Techathon 2023, a one-week challenge, to meet new friends, work out an innovative tech-related business plan and pitch for seed funds offered by PolyU, HKSTP and 8 co-organising universities!
Winning teams will get fabulous prizes including cash and laptop computers.  What's more – they will be admitted to HKSTP Ideation Programme for up to HK$100K financial grant and the universities' startup programmes!
4 Themes:
ArtTech & EdTech
Fintech & Web 3.0
Healthcare & GeronTech
Smart Cities & Sustainability
Application Deadline:
26 Jan 2023 (Thu)
Eligibility: 
Students and alumni from PolyU and the other 8 co-organising universities with technology-related business ideas are welcomed!

Register

individually

 by 26 Jan 2023 (Thu).
Submit team list (a team of 2 to 10) with your project theme by 18:00, 2 Feb 2023 (Thu).
*********************************************
Let's Join Pre-event Meetup on 16th Jan 
*********************************************
💁‍♂️ 💁‍♀️ Haven't made up your mind yet?
Join our Pre-event Meetup to meet new friends and form your dream team:
Date: 16th January 2023 (Monday)
Time: 17:30-19:30
Venue: Chamber 1, G/F, InnoCentre, 72 Tat Chee Avenue, Kowloon Tong, Hong Kong
Sign up to join this Meetup: https://lnkd.in/gZ3UwkZT
(You do not need to sign up if you have already registered for the Hong Kong Techathon 2023)
Programme: 
16 Jan 2023 (Mon) | 17:30-19:30 @ InnoCentre

Pre-event Meetup | Networking

26 Jan 2023 (Thu)

Application Deadline

31 Jan - 1 Feb 2023 (Tue - Wed)

Online Networking Sessions

2 Feb 2023 (Thu) | 18:00

Team List Submission

6 Feb 2023 (Mon) | 18:30-20:00 @ InnoCentre

Opening Ceremony | Networking

7 Feb 2023 (Tue)

Online Workshops >more details<

 8 Feb 2023 (Wed) | 14:00-18:00 @ InnoCentre

Mentors Consultation

9 Feb 2023 (Thu)

Online Workshops >more details<

Project Submission by 18:00

10 Feb 2023 (Fri)
Work-in-out

11 Feb 2023 (Sat) @ HKSTP

10:00-13:00 Final Presentation
14:30-16:00 Awards Presentation and Closing Ceremony
Prizes: