Distinguished Lectures in Humanities: Limits on Success in Second Language Learning
Distinguished Lectures in Humanities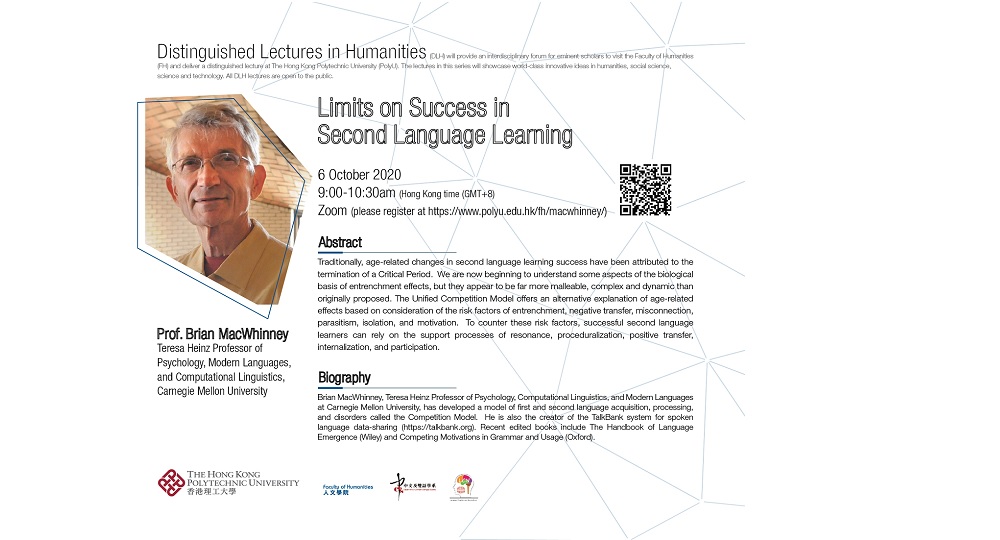 Organiser

Faculty of Humanities, Department of Chinese and Bilingual Studies

Venue

Live webinar (Zoom)
Remarks
The talk will be conducted in English.
Summary
Abstract
Traditionally, age-related changes in second language learning success have been attributed to the termination of a Critical Period.  We are now beginning to understand some aspects of the biological basis of entrenchment effects, but they appear to be far more malleable, complex and dynamic than originally proposed. The Unified Competition Model offers an alternative explanation of age-related effects based on consideration of the risk factors of entrenchment, negative transfer, misconnection, parasitism, isolation, and motivation.  To counter these risk factors, successful second language learners can rely on the support processes of resonance, proceduralization, positive transfer, internalization, and participation.

Bios
Brian MacWhinney,Teresa HeinzProfessor of Psychology, Computational Linguistics, and Modern Languages at Carnegie Mellon University,has developed a model of first and second language acquisition, processing, and disorders called the Competition Model.  He is also the creator of the TalkBank system for spoken language data-sharing (https://talkbank.org). Recent edited books include The Handbook of Language Emergence (Wiley) and Competing Motivations in Grammar and Usage (Oxford).


Read more about the Distinguished Lectures in Humanities