About Faculty of Business Digital Transformation Centre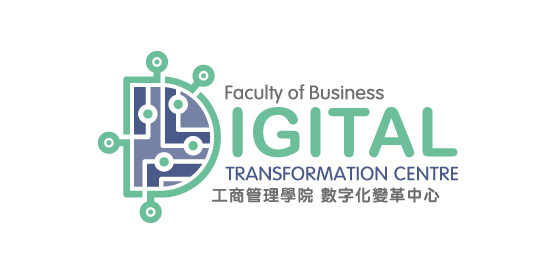 The Digital Transformation Centre (DTC) caters for the needs of individuals and organizations, the academic and business communities and society as a whole. It promotes and enhances the understanding and management of technology innovations and digital transformation mainly through research, training and consultancy. It provides a platform for collaboration and partnership, sharing expertise and resources.
---
Aims
To provide a platform for the collaboration between our faculty members, external experts and the relevant parties who are interested in digital transformation;

To produce high-quality and impactful academic research on digital transformation;

To promote and disseminate the knowledge and research findings related to digital transformation via teaching, training and consultancy.
---
Activities
The Centre has established connections with a number of successful high-tech startups and companies in the Great Bay Area. We will continue to build up new connections to sustain its activities in the following areas:
Collaboration
To establish collaborations between PolyU FB and the public agencies, the academic institutions, and the business community in the key fields of digital transformation, with a focus on the Great Bay Area (GBA).
Professional Training
To provide training and training resources regarding departmental and faculty courses/programs related to digital transformation (e.g., the master program on Business Analytics), such as business cases, data sources, and project-based field experiences.
Consultancy
To invite business organizations to serve as the industrial sponsors/partners of our Centre via our DBA/DMgt connections., based on which consultancy/sponsored projects will be established and conducted.
---
Media
Digital Transformation Frontier Online Forum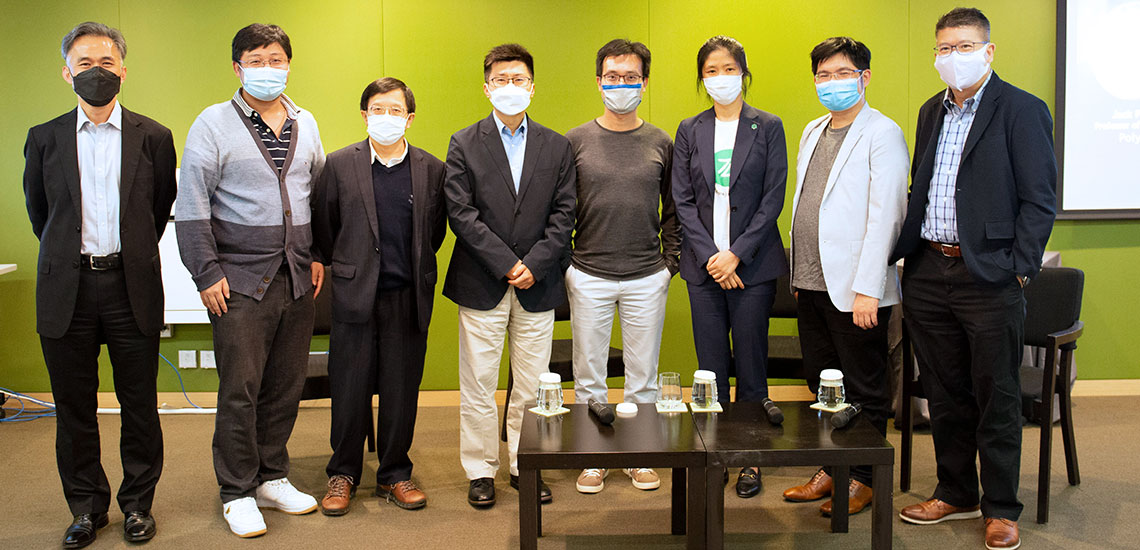 Digital Transformation Frontier Forum has held discussion forums for three years bringing together industry leaders and university students to share knowledge and exchange insights on emerging technologies. The Forum joined hands with the AF Tech workshop this semester on 12 November 2021 to discuss InsurTech, which represents the use of technology by companies towards insurance services analogous to the term fintech.
Dr Tian Feng, Programme Director of Master of Accounting and Finance Analytics hosted the workshop. Dr Xu Xin, Associate Dean (External Relations and Development) of the Faculty of Business and Director of Faculty of Business Digital Transformation Centre, delivered the opening remarks.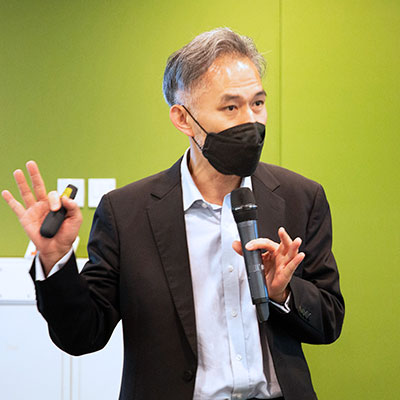 In his presentation themed InsurTech101, Professor Jack Poon from the School of Accounting and Finance briefed on the global and regional landscape of the insurance industry. He mentioned that the global life and nonlife insurance premium written reached $6.3 trillion in 2020, compared to the $5.5 trillion revenue generated by global banks in 2019. Global insurance companies held over $36 trillion in total assets, which is enormous compared to countries' total assets and gross domestic product.
Insurtech constitutes a significant representation among the Global Fintech 250 by type and funding. The investment in InsurTech till October 2021 rose 27% compared to the entire year of 2020. With continuous investment, the insurance sector is expected to adopt more innovation. According to a survey, customers expect more benefits, including lower insurance premiums and quicker contract conclusions and claim settlements with technology adoption.
Three topics were shared by seasoned Insurtech professionals, followed by a panel discussion.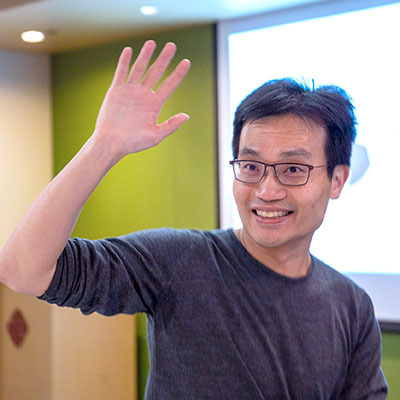 Alvin Kwok, Co-Founder of OneDegree, founded in 2016, introduced the platform as a new generation of InsurTech that makes insurance accessible through technology, innovation, and superior users experience. With over 180 employees and 110,000 insurance users, OneDegree offers three business areas: licensed virtual insurance business, core system SaaS for global insurers, and ecosystem of virtual assets.
According to Kwok, OneDegree recently became the first Asia headquartered insurer to provide insurance for digital assets. It also offers insurance services for pets and e-commence services to expand in the affluent market.
"Our target is to revolutionize the insurance process with proven speed and efficiency and to become the go-to brand for Hong Kong's mass affluent segment," said Kwok. He expected 50% of the general insurance personal lines market to be digital by 2025 globally. The current share in Hong Kong is 7%, which is relatively low compared with 37% in the US and 100% in the UK.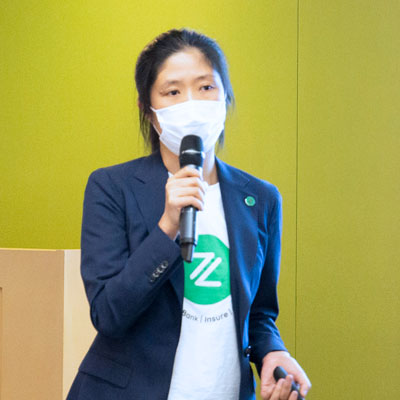 Besides the vast market potential of InsurTech in Hong Kong, Jackie Chu, Chief Actuary of ZA Insure, has witnessed the mortality protection gap in Hong Kong's insurance industry. She said her company aims to leverage technology to close the gap with simple-structured and affordable insurance products.
Backed by ZhongAn Online P&C Insurance, ZA Insure is a digital-only insurance platform that aims to provide insurance that everyone can afford. The ZA Life Protection premium is as low as HK$ 32 per year, and ZA VHIS daily premium is as low as HK$ 3.
In addition to affordable prices, the platform operates 24 hours a day and can process up to 32,000 insurance policies per second. An online application can be completed with 6 clicks, and 99% of applicants can get instant protection.
As Hong Kong's first in-depth collaboration between a virtual insurer and a virtual bank, ZA Insure teamed up with ZA Bank to embed insurance into the whole digital ecosystem. According to Chu, ZA International also worked with Grab to launch GrabInsure, which offers flexible and innovative solutions to everyday insurance needs.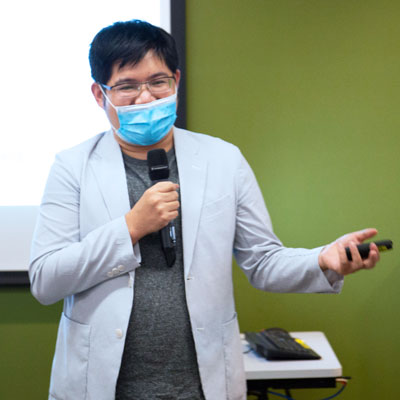 William Yeung shares the same vision with ZA Insure to make insurance affordable to the general public. It concentrates on the pain points of the medical insurance sector.
As co-founder and CEO of MediConCen, Yeung shared his entrepreneurial experience and views on InsurTech. Founded in 2018, his company aims to connect people to the right doctors and solve medical financing by utilizing blockchain to automate insurance claims and an all-in-one app solution that facilitates clinic check-in and claims management.
Yeung said that the platform could efficiently handle high-frequency claims. The capability can power a low-cost automatic individual and group outpatient plan that has truly unlimited usage with no waiting period. The underwriting and exclusions can enable insurers to acquire customers through traffic partners.
As the first in Asia blockchain medical ecosystem, MediConCen serves over 600,000 customers through 10 partner insurers, including BOC, China Life, Taiping, and BlueCross. MediConCen was listed as Forbes Asia 100 to Watch, which features a diverse range of companies spanning biotechnology and healthcare, e-commerce and retail, food and hospitality, and education and recruitment.
In the future, Mr. Yeung hopes to build the company as the Airbnb for all medical needs powered by the bank, insurance, and government financing and a health coach of all, making health credit an asset and addressing both prevention and treatment.
The forum was concluded by a Q-and-A session chaired by Professor Jack Poon.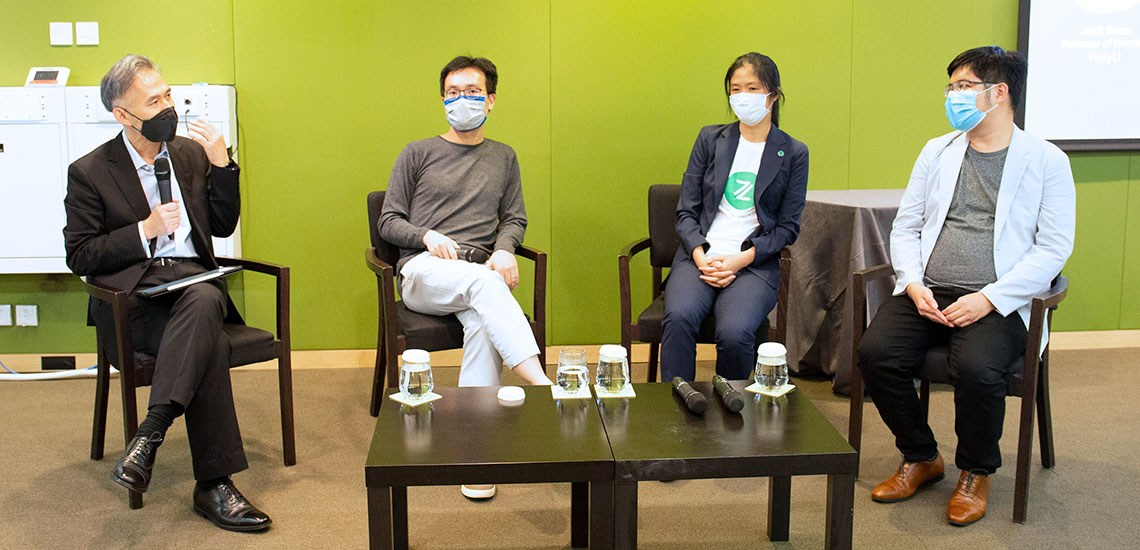 At the recent Digital Transformation Frontiers Online Forum, Dr Carlos Tam shared his insights about digital and smart transformation in the smart city era and detailed on a few practical cases.
Tam has more than 30 years of solid experience in information and communication technology (ICT). He is currently Assistant Vice President and Digital Business Development Director at HKT Limited. He is a graduate of PolyU who holds a BEng (Hon) in Electronic Engineering, an MBA and a DBA degree.
Starting with the background and history of technology transformation, Tam said that in the last 40 years, technology was about computing, webpages, mobile and cloud, but nowadays emerging technologies include Artificial Intelligence, 5G, Internet of Things, and Robotics is at the centre of the stage. In the future, there will be 6G, Autonomous Driving, Humanoid Robot, etc.
"It's a MUST for all industries to transform in the digital age," said Tam
Taking telecom services as an example, Tam explained how technology evolved, especially from digital to smart transformation.
McKinsey defines digital transformation as "an effort to enable existing business models by integrating advanced technologies."
"Technology builds a better future," Tam said, adding that digital transformation is affecting and changing our daily work, entertainment, and lifestyles. It inspires new business models and working processes and disrupts current industries, creating an effective and efficient approach to increase their competitive strengths and making competitors irrelevant.
Going further, the smart transformation will enable new ecosystem partners to take advantage of emerging technologies to co-create smart products, solutions, and services. Tam cited the example of 5G mobile service where customers can enjoy an immersive experience and Smart Services Providers can accelerate their digital transformation to deliver unprecedented user experience. He also elaborated on the smart city development road map in Hong Kong. Hong Kong's version is to embrace innovation and technology to build a world-famed Hong Kong characterized by a strong economy and high quality of living.
In December 2020, the Hong Kong government released an update about Hong Kong Smart City Blueprint 2.0. Moreover, in the 2021 Policy Address, smart city was again brought up. Overall, smart city is aimed at creating a renowned business-friendly and eco-friendly environment and a better community with care to make people happier, healthier and smarter.
Tam said there are six initiatives in the smart city vision, including smart government, smart economy, smart mobility, smart people, smart environment, and smart living. Furthermore, the transformation can be applied in a diversified range of platforms, such as edge computing, cybersecurity, cloud, big data, telecom backhaul, artificial intelligence and open API platform, as well as in public and private sectors.
Tam talked about some of the smart city projects that he has taken part in. He commented that connecting digital transformation and I&T is crucial in the Smart Era, and people should be creative and imaginative to apply digital transformation in real live and business. All industries are going to transform in the digital age and ecosystem partnership can create and accelerate fruitful results and a better future.
The forum was hosted by Dr Xin Xu, Associate Professor and Associate Dean (External Relations and Development) at the Faculty of Business of PolyU. Dr Xu is also Director of the Faculty of Business Digital Transformation Centre.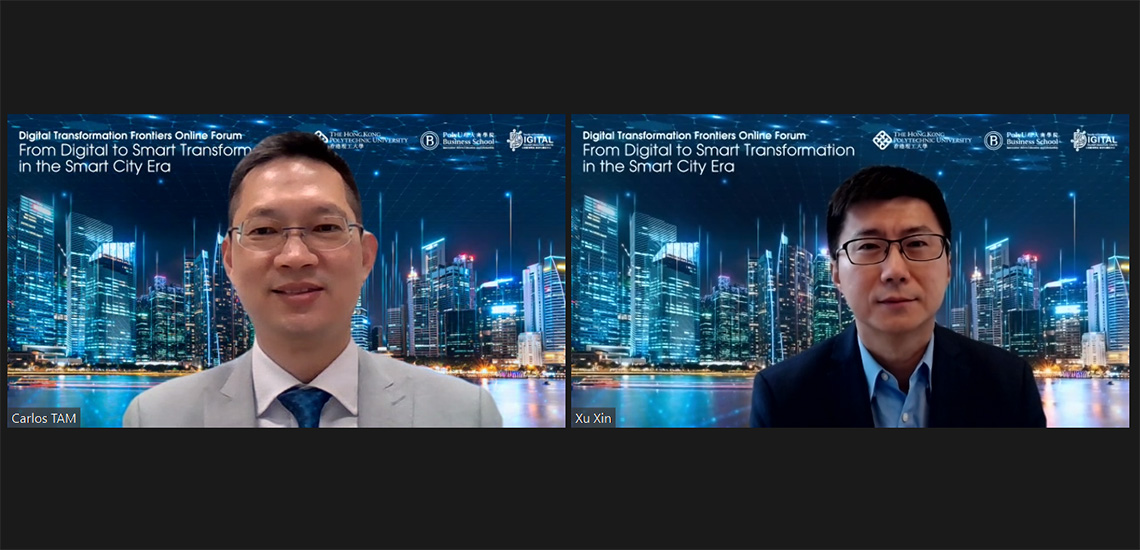 "Digital Transformation Frontiers" is a new series of fora where firms leading in digital transformation share their latest tech developments and visions with faculty members, students, and alumni, and for the Faculty to explore the potential of integrating their solutions/expertise into our research and teaching. To kick off this series, technology industry veteran Mr Mathias Berthelemot from R3 was invited to share his insights on data privacy. The forum was held on 24 August 2021 with a theme on The Age of Data Privacy.
Mr Berthelemot works at R3 looking after Strategy and Operations for APAC. With previous experience as a consultant as well as founding a tech company, his passion for technology has led him to become immersed in Digital Trust technologies, such as Distributed Ledger Technology (DLT), enterprise blockchain, and confidential computing.
During the forum, Berthelemot pointed out that the main challenge facing the industry has been data confidentiality, and that confidential computing could assure users that data are processed as described and in a tamper-proof way.
"Data breaching is increasingly common and data security is of paramount importance," said Berthelemot. He highlighted the emerging need for Privacy Preserving Techniques (PPTs) and Privacy Enhancing Techniques (PETs), which he reckoned could completely change the game and the ways service providers process, protect and use customer data.
PETs make it possible for service providers to address privacy and data misuse concerns without reducing product utility. Berthelemot introduced current approaches to building privacy preserving solutions and techniques in confidential computing, zero-knowledge proofs, cryptographic MPC, homomorphic encryption, etc. He also went over the recent types of PPTs with a focus on Trusted Execution Environment (TEE) and cases of its use and applicability in business today, as well as future direction of the technology.
Hardware-based TEE, according to Berthelemot, provides data integrity, data confidentiality and code integrity. He quoted a source saying that by 2025, half of the large organizations will adopt privacy enhancing computation for processing data in untrusted environments and multiparty data analytics use cases.
Berthelemot gave an introduction to his company R3's confidential computing platform called Conclave and showed how it works. He believed that confidential computing addresses three main types of industry problems, namely risk management, trust and data availability, and industry insight. He cited use cases of data residency in the European Union, analytics solutions and capabilities of third-party firms, and private order matching, as well as trading in financial and commodities markets.
Lastly, Berthelemot explained how confidential computing could yield more brilliant results with the use of blockchain and DLT. He said existing DLT applications paired with confidential computing enable the delivery of new value-added data services, such as detecting sophisticated fraudulent activity, adding benchmarking services, and creating transaction-based pricing models without compromising on data privacy, given that DLT ensures that "what you see is what I see" in multiparty data sharing use cases and drives trust when establishing and maintaining agreements on shared facts.
The opening remark was given by Dr Xin Xu, Associate Dean (External Relations and Development) of the Faculty and Director of Faculty of Business Digital Transformation Centre. The forum was moderated by CW Brian Kei, Professor of Practice at the Faculty.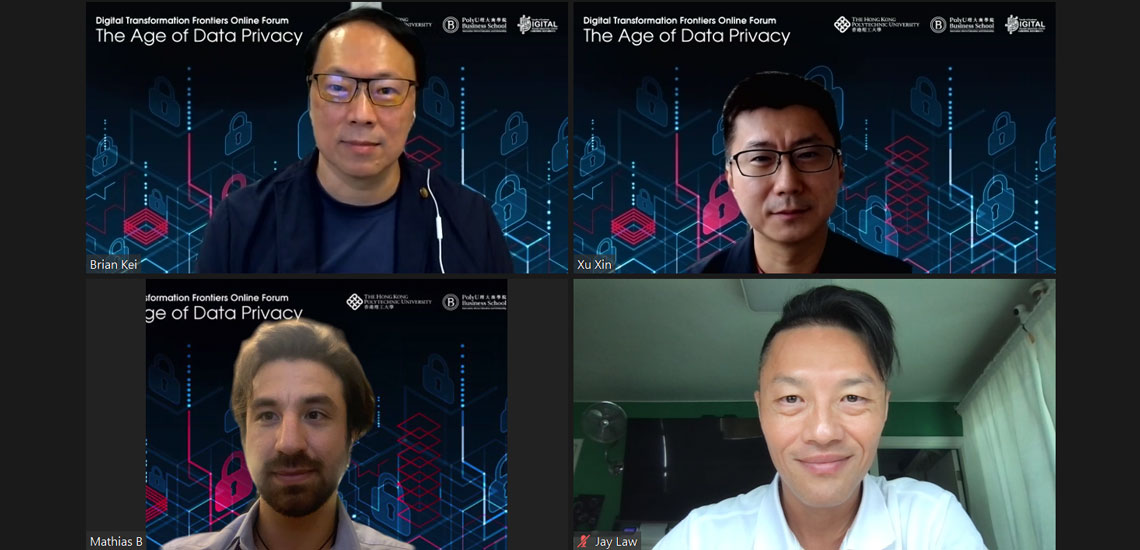 Prof. Xin XU
Centre Director
Associate Dean (External Relations and Development) of Faculty of Business
Professor of Department of Management and Marketing
---
Consulting, Research and Teaching Interests:
IT Service Management, IT Innovation and Consumers, Human Computer Interaction, Mobile Computing, Social Media and Business Analytics
Xu Xin is a professor in the Department of Management and Marketing. He received his Ph.D. in information systems from the Hong Kong University of Science and Technology. His research interests include IT innovation management, data science and social media analytics, Internet of Things and Smart Services, and Human–Computer Interaction. His works have appeared in leading journals such as Management Science, MIS Quarterly, Information Systems Research, Journal of Management Information Systems, Journal of the Association for Information Systems, IEEE Transactions on Engineering Management, and Information Systems Frontiers. He serves as the associate editor for MIS Quarterly.
Xu Xin is currently engaged in a number of projects in the areas of Virtual Reality and Gamification in Education, Driver Analytics for Internet-of-Vehicle Smart Services, Intelligent Chatbot Design for Digital Marketing, and Social and Mobile Data Analytics. His projects focus on the business value of data science. For example, his Driver Analytics project utilizes the huge amount of data from on-board devices and Internet of Vehicles to design better training programs for young drivers and optimize fuel consumption. He has established connections with the high-tech business community with a portfolio of professional training and consultancy opportunities for the Centre.
Eric Ngai is currently an Associate Head and Professor in the Department of Management and Marketing at The Hong Kong Polytechnic University. His current research interests are in the areas of Decision Support Systems, Blockchain Technology, Social Media Technology and AI in Business Intelligence Applications. He has over 135 refereed international journal publications including MIS Quarterly, Journal of Operations Management, Production & Operations Management, INFORMS Journal on Computing, European Journal of Information Systems and others. He serves as associate editor for Information & Management. He is the principal investigator of two large projects supported by the Innovation and Technology Fund on demand forecasting and social media analytics for the Textiles and Clothing sector.
Eric Ngai led his team to design and develop a social media monitoring and management system for a Hang Seng Index Constituent company. The system platform utilizes the Hong Kong Polytechnic University's Natural Language Processing (NLP) engine and web-crawler technology to provide relevant, structured and classified content which can be used to identify marketing issues and needs promptly. It involves statistical models and a text mining sub-system for evaluating information from offline and online sources. He has been working on projects involving applying Blockchain technology in aircraft parts supply chains and artificial intelligence for sales and customer support in apparel retail applications.
Dr Jiang Li is an Associate Professor of Finance and serves as the Deputy DMgt Program Director. He holds BSc in Mathematics from Nankai University, MBA from York University, and PhD in Finance from Concordia University. He worked at York University and Hong Kong Baptist University before joining PolyU. His research interests include corporate investments, IPO, short selling, and international capital markets.
Vincent Cho is an associate professor in the Department of Management and Marketing. He currently researches on "m-commerce technology adoption" and "health care information system adoption". He is also specialized on data mining, stock index forecasting, database marketing, yield management and e-commerce infrastructure and strategy. His research papers are published on various international journals including Information & Management, Journal of Computer information Systems, Expert Systems, Knowledge and Information Systems, Journal of Computational Intelligence in Finance, Journal of Hospitality and Tourism Research, International Journal of Hospitality Management, International Journal of Tourism Research, Annals of Tourism Research. Before joining the university, he had several years of experience in systems development in some prestige international consulting firms. He is also interested in consultancy works.
Katherine Feng is an assistant professor in the Department of Management and Marketing. She received her Ph.D. in Information Systems from the Hong Kong University of Science and Technology. Her research interests include social media analytics, online user-generated content, Reg-Tech in financial industry, and IT innovation adoption and usage. Her work has been published in Information Systems Research, under review at top IS journals, and presented at major IS conferences (ICIS, WISE, PACIS). Katherine has been a visiting scholar at HKUST and taught Business Analytics course. She also worked at industry as a big data modeler in Fintech area.
Katherine Feng is currently engaged in the projects in the areas of online social media and mobile app relying on big data for digital marketing. Her projects focus on understanding online user participation and driving value for downstream business. For example, her mobile app project utilizes the transaction and marketing data collected from Pizza Hut to design targeted and personalized recommendations to consumers in a timely manner.
Yong (Jimmy) JIN is the Faculty Coordinator, Director of China MBA, Assistant Professor in the Faculty of Business, The Hong Kong Polytechnic University. He received his Ph.D. in Finance and Ph.D. in Quantitative Finance from University of Florida in 2016. He obtained his B.Sc. (Hons) and M.Phil. in Risk Management Science from The Chinese University of Hong Kong, and also studied in Nanyang Technological University as a NTU-Temasek Foundation LEaRN Scholar and University of Toronto as an exchange student. His research interests include FinTech, Asset Pricing, Equity Issuance, and Information Systems. Dr. Jin's papers have been published in Risk Magazine, Production and Operations Management and others and also won 2015 Morgan Stanley Prize for Excellence in Financial Markets, the Montreal Institute of Structured Finance and Derivatives (IFSID) Research Grant and several conference best papers. Prior to joining Hong Kong Polytechnic University, he taught at University of Florida where he got the Business School Ph.D. Teaching award. He is a Financial Risk Manager (FRM) holder and contributes to the FRM exams. He worked in Morgan Stanley (New York) Strats and Modelling as a Quantitative Research Associate and co-organized the Morgan Stanley Quantitative Finance Summer Boot Camp.
Michael Mei is an assistant professor in the Department of Management and Marketing. He received his PhD in Information Systems and Operations Management from the University of Florida. His current research aims to extend standard economic models of information systems in two directions: differentiating various forms of social contagion or peer effects in online and offline networks using empirical methods and big data analytic skills; and designing optimal market mechanisms in information systems using game theory, statistics and simulations methods. His work has been accepted by leading journals such as Journal of Management Information Systems.
The projects Michael Mei currently engaged in include differentiating various forms of social contagion or peer effects in online and offline networks, such as studying the effect of online word of mouth on charitable crowdfunding platforms; examining how to promote better healthcare practice by disseminating information strategically among healthcare providers' work-related network. The other stream investigates optimal market mechanisms in information systems, such as establishing a general framework of bundling of information goods that classifies different conditions under which bundling is optimal for sellers of information goods, analyzing the phenomenon of sponsored data using applied game theory to find the effect of this new business model on the profitability of network providers and content providers, consumer surplus and social welfare.
Dicky Shek is Professor of Practice in the Department of Management and Marketing. He is a veteran in the technology industry in the Greater China and APJ regions. He has 22+ years of executive and management experience in ICT companies including IBM, Compaq Computer (HP Enterprise now), Dell (Dell EMC now), Cisco Systems, and NTT Communications. His previous experience includes managing services, sales, marketing, products, business planning, CRM, channel, human resources, finance, and IT infrastructure. Recently, he is appointed as the CEO of the Belt & Road TechFin Association.
Dr Tsz Leung Yip is Associate Professor of Department of Logistics and Maritime Studies, The Hong Kong Polytechnic University. He is the Deputy Director, C. Y. Tung International Centre for Maritime Studies and the Programme Leader of BBA in International Shipping and Transport Logistics. He is currently a member of Port Operations Committee, Hong Kong Marine Department and the Hong Kong Maritime and Port Board. He has widely published on maritime and logistics issues. He has edited several special issues in prestige journals. He is an editor of Maritime Business Review and an associate editor of the Asian Journal of Shipping and Logistics. He has specialized in maritime studies, with particular focus in empirical research of marine safety, navigation planning and port development. His research interests include new perspective of data driven research and innovations in maritime studies, covering maritime blockchains, autonomous transport, SMART logistics, and port community system.
Xu Xin, The Effects of the Definitive Tone in Customer Review on Review Usefulness Evaluation (National Natural Science Foundation of Guangdong, China);

Xu Xin, The Effectiveness of Big Data Breach Response Strategies in the Healthcare Industry: A Mixed Methods Approach (General Research Fund, Hong Kong);

Katherine Feng, Uncovering Sequential Pattern in Online User Opinions based on Deep Learning Techniques (General Research Fund, Hong Kong);

Eric Ngai, Artificial Intelligent Platform for Sales and Customer Support in the New Era - Apparel Retail Applications (Innovation and Technology Fund)

Eric Ngai, Multi-stage Big Data Analytics for Complex Systems: Methodologies and Applications (RGC Collaborative Research Fund)