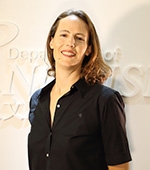 Schluter, Anne Ambler (Dr)
Assistant Professor

Qualifications:
BA (Germanic Language and Literature) Washington University in Saint Louis
MS (TESOL) Florida International University
Ph.D. (Applied Linguistics) The University of Texas at Austin



AG404

2766 7514

This email address is being protected from spambots. You need JavaScript enabled to view it.
Research Overview
As a sociolinguist, I envision language as a product of users' needs in a given time and space. Entry into new contexts brings exposure to setting-specific styles, genres, and registers; communicative resources – both linguistic and extralinguistic – develop to suit the communicative demands of frequently visited domains. If multiple languages serve important functions within these domains, they enhance users' multilingual repertoires. Power relations, language policies, and language attitudes interact at various scalar levels to inform the strategic and appropriate deployment of these repertoires. Rich sites for observing such dynamics include those that feature multilingualism as a result of migration, colonial legacy, and/or repressive dominant language policies.
My research is based on data collected from each of these types of settings. Internal migration and Turkish-only language policies shape the language practices and ideologies of the Kurdish restaurant workers in my Istanbul-based work. This research has informed a new project that evaluates the legacy of these policies in an external migration context: a Kurdish diaspora group residing in Warabi, Japan.
Together with my colleague, Kellie Gonçalves (University of Oslo), I have also been exploring language policy and practice among migrant employees of a Brazilian-run housecleaning company. Set in New Jersey, U.S.A., this project highlights participants' development of accommodation abilities and extralinguistic semiotic communicative strategies that emerge in these English-dominant spaces. The dominance of English varies considerably according to the given context within the post-colonial setting of Hong Kong. A fourth project investigates the language attitudes and linguistic insecurity of limited English proficient speakers employed at a Hong Kong workplace that values English as an important form of symbolic capital.
Teaching Areas
Discourse analysis
Sociolinguistics
Research Interests

Language and power, especially as they relate to relationships in the blue-collar workplace
Language policy and planning
Political discourse
Linguistic landscape
Pragmatics
Socio-phonetics
Publications
Schluter, A. & Gonçalves, K. (forthcoming) Introduction to language inequality and global care work. In K. Gonçalves & A. Schluter (SI Guest Editors) "Language inequality and global care work". Special issue of The International Journal of the Sociology of Language.
Schluter, A. (submitted). When social pressure is more powerful than the boss: workplace language policies by Kurds that restrict Kurdish. In K. Gonçalves (SI Guest Editor) "Managing people with language: language policy, planning and practice in multilingual 'blue-collar' workplaces: a global perspective". Special issue of Language Policy.
Chatterjee, A. & Schluter, A. (submitted). Maid to maiden: Stylized English-language training as packaging for the upwardly mobile Kolkata bride. In K. Gonçalves & A. Schluter (SI Guest Editors) "Language inequality and global care work". Special issue of The International Journal of the Sociology of Language.
Schluter, A. (in press). Hybrid language practices on Turkey's national Kurdish television station: Iconic perspectives on form. In M. Dorleijn & J. Nortier (SI Guest Editors) "Metalinguistic discourse on multilingual urban and youth speech styles and multilingual awareness of linguistic practices" Special issue of Applied Linguistics Review.
Schluter, A. (in press). Agency through the lens of language policy in Istanbul's Kurdish eating establishments. In G. Haig, E. Anonby, E. Opengin, and S. Gundogdu (Eds.) Advances in Kurdish Linguistics. Bamburg Studies in Kurdish Linguistics. Bamberg, Germany: The University of Bamberg Press.
Schluter, A. and Gonçalves, K. (under contract) Domestics talk: Language use and social practices in a multilingual workplace. In J. Angouri (Series Editor). Language at Work series. Bristol, U.K.: Multilingual Matters.
Gonçalves, K. and Schluter, A. (2017). "Please do not leave any notes for the cleaning lady, as many do not speak English fluently": Policy, power, and language brokering in a multilingual workplace. Language Policy 16 (3).
Schluter, A. (2016). "We speak Turkish so much at work that we have become like robots": Language policies of Kurdish managers in Istanbul restaurants. Babel 17.
Schluter, A. and Sansarkan, M. (2014). Language choice as a function of power and solidarity in the Istanbul workplace. In A. Içduygu and Z. G. Göker (Eds.) Rethinking Migration and Integration: Bottom-Up Responses to Neoliberal Global Challenges. Istanbul, Turkey: The Isis Press. 127-175. ISBN 978-975-428-526-0.
Schluter, A. (2014). Competing or compatible language identities in Istanbul's Kurdish workplaces? In K. Kamp, A. Kaya, F. Keyman & Ö. Onursal-Beşgül (Eds), Contemporary Turkey at a Glance. Interdisciplinary Perspectives on Local and Trans-local Dynamics. Springer: Wiesbaden, Germany. 125-138. ISBN 978-3-658-04916-4, DOI 10.1007/978-3-658-04916-4.
Schluter, A. (2010). Kurdish voices in Istanbul workplaces. The International Journal of Diversity in Organizations, Communities, and Nations 10 (4) 127-140.
Schluter, A. (2009). Non-native phonemic distinction and the important role of individual differences. International Journal of the Humanities 6 (10) 125-134.
Schluter, A. (2005). The Brazilian Portuguese language as a politically motivated call to arms: analysis and tips from this new example of an age-old phenomenon. Texas Papers in Foreign Language Education 9, 59-84.
Schluter, A. (2004). Adapting pedagogical practices to include the Korean adult in the ESL classroom. Texas Papers in Foreign Language Education 8, 67-87.