Joint conference: Talking Across the World & Business and professional communication in a changing world
RCPCE Events
Conferences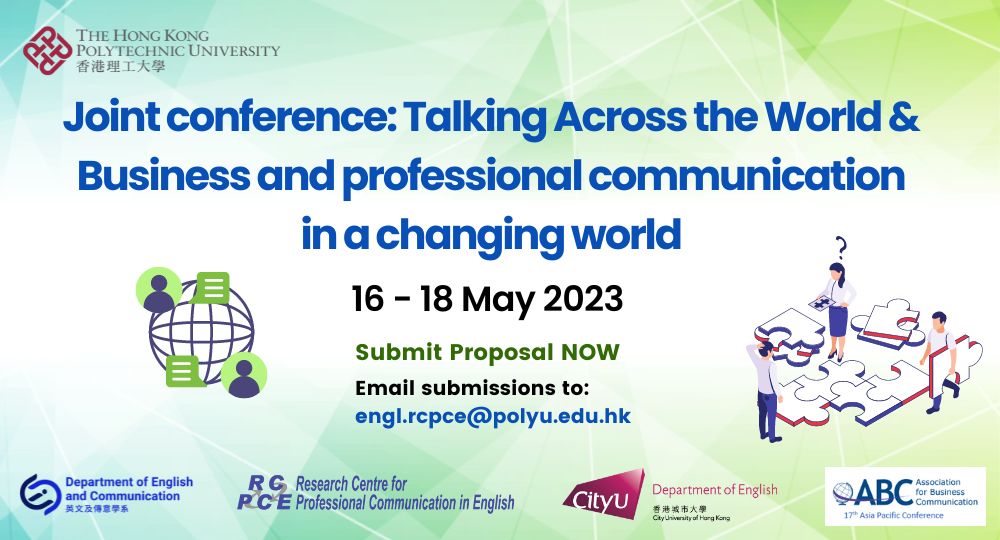 Organiser

Research Centre for Professional Communication in English, Department of English and Communication, PolyU and Department of English, CityU, in collaboration with Asian Pacific Region of Association for Business Communication
Speaker
Prof. Geert Jacobs
Charles Lankester
Jacopo Pesavento
Prof. Franca Poppi
Prof. Lifei Wang
Yunxia Zhu
Summary
The Department of English of the City University of Hong Kong (CityU), and the Research Centre for Professional Communication in English (RCPCE), Department of English and Communication of The Hong Kong Polytechnic University (PolyU) present the first edition of their joint effort in fostering research in business and professional communication. 
Drawing upon the successful framework of the "Talking English Across the World" (TAW) Symposium which reached its 7th edition, this event extends its scope by joining forces for the first time with the Department of English of CityU for a 2-day conference preceded by a workshop aimed at bringing together academics, professionals, and institutions to promote a cross-cultural and interdisciplinary discussion, and to elicit dialogue about business and professional communication in Asia and the world. It is a CityU-PolyU joint conference in collaboration with Asian Pacific Region of Association for Business Communication. 
This conference aims to stimulate discussions about professional communication practices in a changing world by highlighting the role of discourse in reflecting and constructing the changes. The changes can be the emergence of digital genres, the increasing attention to multimodality, crisis management during the pandemic, re-definition of the 'workplace' and globalisation with subsequent changes in leadership and management communication, as well as the shift of corporate discourse to focus on environmental, social, and governance themes (ESG). In response, the conference creates a platform to shed light on new rhetorics disseminated by businesses across sectors and markets, as a result of corporate peer pressure, increased activism and consumer engagement on social media, and growing risks for reputational damage and financial impacts on corporations.
We invite contributions from scholars, teachers, and practitioners from a variety of disciplines, such as business studies, communication studies, and applied linguistics to share their views and experiences.
Themes (including but not limited to)
Leadership
Diversity and inclusion in business communication
Globalisation and localisation
Intercultural communication
Crisis communication and reputation management
Sustainability
Multimodality and business communication
Emerging genres
Digital media
Virtual communication
Organisational communication
Research methods in business communication
Teaching and learning practices for business and professional communication
The call for papers is now open. To receive full consideration, submissions must be submitted before 31 March 2023.
Email your submissions to engl.rcpce@polyu.edu.hk.
Conference website: https://polyu.hk/ldUkG
Keynote Speaker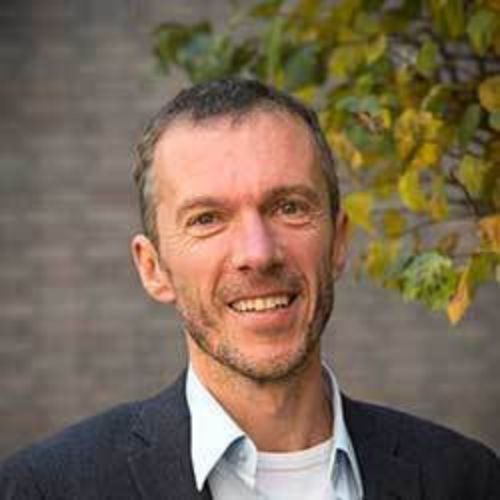 Prof. Geert Jacobs
Professor, University of Ghent, Belgium

Geert Jacobs is a Professor at the Linguistics Department of Ghent University. He is a former President of the Association for Business Communication and has published widely in the field of media and institutional discourse studies.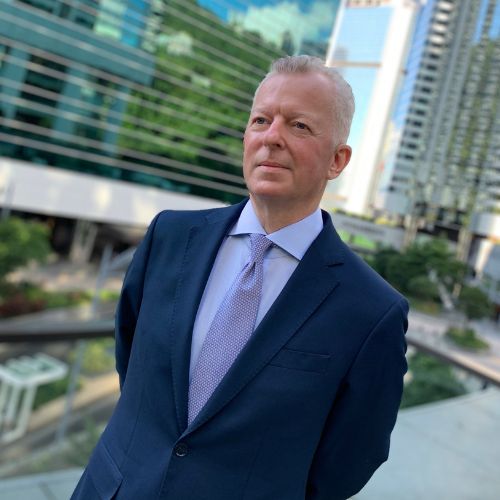 Charles Lankester
EVP Global Reputation & MD Hong Kong, Ruder Finn Asia

Charles Lankester is a financial and corporate communications specialist and manages Ruder Finn's Global Reputation Management Practice, based in Hong Kong. Charles has built a career in reputation management, investor relations and corporate communications and has worked in China, Singapore, South Korea and Europe. He brings experience, quick thinking and a focus on results to all client engagements. He understands today's complex communications and business environment and ensures his clients prevail and win. He has advised clients including L'Oréal, Rosewood Hotel Group, Citigroup, Heineken, Prudential and Marriott International on a range of challenging, business-critical communications assignments. These have included government relations, media relations, transactions and risk/reputation management work. He has also advised the Governments of Hong Kong, Singapore and the United Kingdom. Charles and the Ruder Finn team have been pioneering in the risk/crisis management space, working on complex, high profile cases involving product recalls, high-profile litigation, management change and share price fluctuation. Prior to Ruder Finn, Charles held leadership positions at many of the world's most respected communications firms including Burson-Marsteller, Ogilvy and Weber Shandwick. Most recently Global Chair, Risk Management Practice at Edelman, he also managed the firm's operations in Greater China (based in Beijing) and North Asia (with responsibility for Japan and South Korea). Widely published and quoted in the business and communications industry media, Charles is a regular speaker on the communications aspects of business opportunities and threats.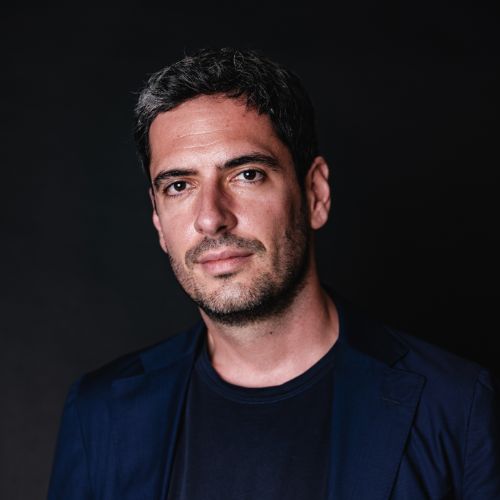 Jacopo Pesavento
CEO & Founder, Branding Records, Hong Kong

Jacopo launched Branding Records in 2013 with a mission of connecting with brands from east to west to define powerful, purpose-driven marketing strategies that put them on the leading edge of their industries. As the firm's vision-holder, he provides big-picture oversight and advises clients on how they can leverage creative branding to maximize their growth. He is currently focused on expanding Branding Record's reach into Europe and the Middle East as the next step in creating a truly game-changing global branding agency.

An expert in branding and a long-time veteran of the European and Asian markets, he has worked with many iconic, ground-breaking brands, including Salvatore Ferragamo, Ralph Lauren, Coca Cola Company, emerging fintech ventures, and more. On top of his 20+ years of on-the-ground experience, he also has expertise in defining and interpreting sociobehavioral and market trends. He lectures at several universities in Hong Kong and is a frequent speaker at entrepreneurial conferences.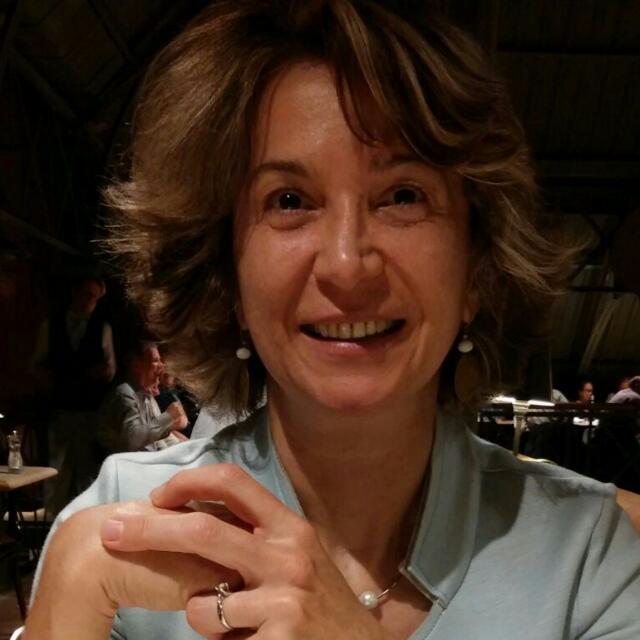 Prof. Franca Poppi
Professor, Università degli Studi di Modena e Reggio Emilia, Italy

Franca Poppi is Full Professor of English Linguistics and Translation at the University of Modena and Reggio Emilia, where she is also the Director of the University Language Centre. After studying the interactional features of discourse, with particular reference to academic settings (economics and marketing textbooks) and the language of the law, she moved her research interests towards intercultural communication. In particular, she has been focusing on English as an international lingua franca, as it is used in written corporate communication and corporate web-sites as a common means of communication to address multiple and multicultural audiences. Paying attention to companies' need to balance local cultural identity and global appeal, she has investigated sustainability issues in the aviation industry, exploring the proactivity of different airlines' (Delta, JAL and Etihad) in the preservation of the environment, as documented in their CSR reports. Moreover, the interest towards sustainability issues has led to a new line of research, which tries to establish whether airlines' environmental policies are actually informed by criteria of transparency rather than a mere embellishment of the company's activities.

She is on the Advisory Board of the Profile Journal, Issues in Teachers' Professional Development and is also a member of the review team of other international Journals, such as, for instance, the Asian ESP Journal and the Journal of Linguistics and Literature Studies.
Prof. Lifei Wang
Professor, Beijing Language and Culture University

Yunxia Zhu
Associate Professor, University of Queensland, Australia