Seminar I Metadiscourse in spoken interaction – anything special?
Seminars / Lectures / Workshops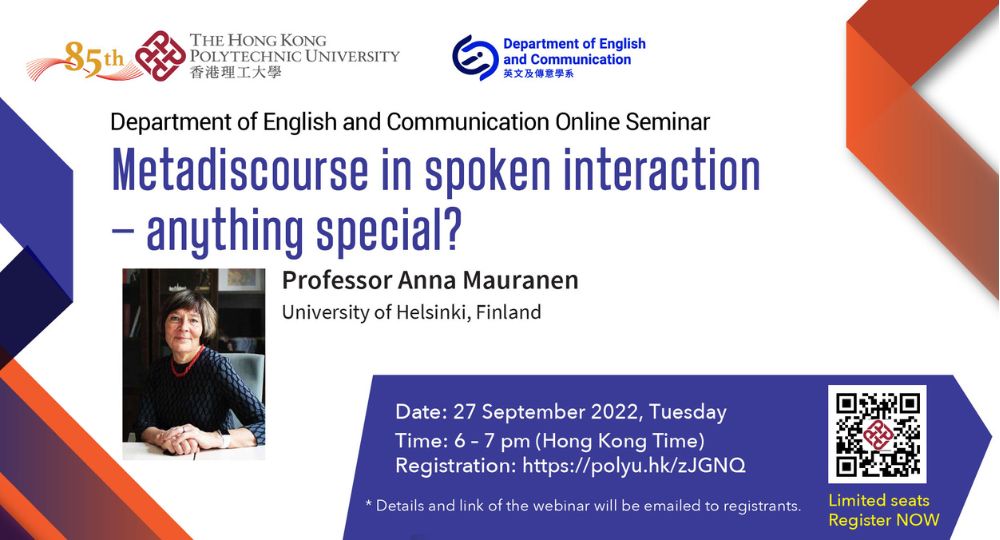 Organiser

Department of English and Communication
Speaker
Professor Anna Mauranen
Summary
Metadiscourse is a fundamental characteristic of human language: the ability to reflect on itself. This may well be one of the features that distinguishes human language from the communication systems of many animal species. Another characteristic of human language is that its foundational mode is spoken interaction. The question arises why these two arguably basic characteristics of language never meet in linguistic research? The analysis of spoken interaction covers a huge domain of linguistics, and even though the research area of metadiscourse is tiny by comparison, it has been steadily growing over the last decade or two. Nevertheless, neither field has shown much interest in the other. In this talk I am going to try to amend the situation a little and discuss metadiscourse as it appears in spoken interaction. The approach is a reflexive one, which has been called 'narrow' or 'thick' and associated with for example Ädel (2006) and Mauranen (1993), as opposed to a 'broad' or 'thin' approach best associated with Hyland (2005). My data comes mainly from academic polylogues, and my approach is primarily qualitative.
It is not quite true that there is no research into spoken metadiscourse. There is some, if not much, but the bulk of it has focused on spoken monologues, not dialogic interaction. Moreover, it has not usually found substantial differences between speaking and writing. So why the fuss? Recently a large-scale register study (Zhang 2022) discovered significant differences between metadiscourse in a dialogic register (conversation) and all others, which were monologic. This concurs with my own findings (Mauranen forthc.): metadiscourse in co-present social interaction differs radically from monologic speech. This, I argue, is because spoken interaction is collaborative, inherently dynamic, and leads to unpredictable outcomes, and therefore needs reflexive discourse for purposes that are not found in monologues, whether written or spoken. The central contribution of reflexive discourse is in providing a resource for interactants to coordinate and align their representations of the evolving discourse, make prospections and predictions of where it is going, and update predictions in the light of confirming or contradicting evidence in their interlocutor's speech. In this talk I am going to show how the most prominent kinds of dialogic metadiscourse operate and how they differ from monologic speech. 
Keynote Speaker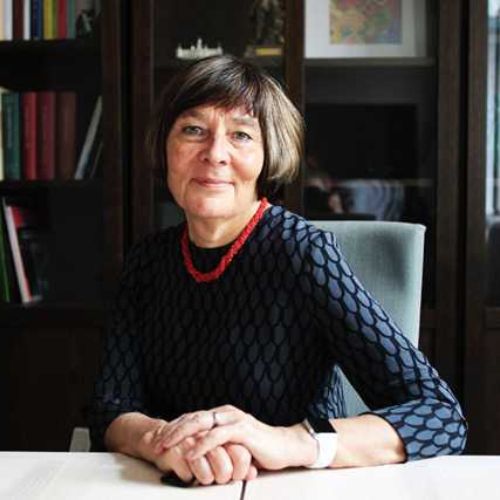 Professor Anna Mauranen
University of Helsinki, Finland
ANNA MAURANEN is Professor and Research Director at the University of Helsinki. Her research and publications include metadiscourse, ELF, academic discourses, corpus linguistics, translation studies, and most recently the modelling of speech processing. Recent books: Reflexively Speaking: Metadiscourse in English as a Lingua Franca (forthc.2022); Metadiscourse in Digital Communication (2021, ed w D'Angelo & Maci); Language Change: The Impact of English as a Lingua Franca (2020, ed w Vetchinnikova). She is a former editor of Applied Linguistics and a founding editor of English as a Lingua franca. Her past academic leadership roles include President of the Finnish Academy of Science and Letters, and Vice-President of Helsinki University.