Distinguished Lectures in Humanities: Trust and the Public Communication of Knowledge: Lessons from Language Translation
Distinguished Lectures in Humanities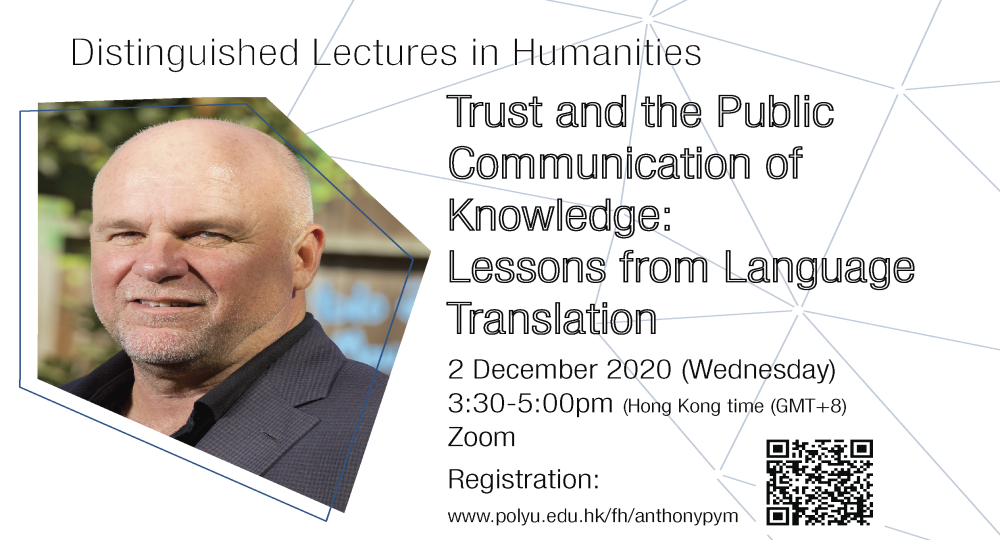 Organiser

Faculty of Humanities and Department of Chinese and Bilingual Studies

Venue

Live webinar (Zoom)
Remarks
The talk will be conducted in English.
Summary
Abstract
If the university's task is to engage with wider publics in the production and use of knowledge, we must somehow learn to speak to people's hearts, not just their minds. This is particularly so in the case of behavior-change communication, of the kind that concerns pandemics and climate emergencies. The term "translation" has been used in several ways to address this problem: "translation studies" traces how medical knowledge is moved from research bench to bedside; "translation sociology" maps in minute detail the way scientific discoveries move across and between social groups, "translation theology" is found by Derrida in exchanges between university faculties. But can non-metaphorical translation, the kind that renders whole texts in other languages, also help us think about how to communicate knowledge? Here we seek answers by reviewing what has happened in basic translation theory over the past few decades: the new primacy of purpose, the recognition of uncertainty, the use of strategic adaptation, creative transformation, and above all the importance of creating and maintaining trust.

About the speaker
Anthony Pym is Professor of Translation Studies at the University of Melbourne, Australia, Distinguished Professor of Translation and Intercultural Communication at Universitat Rovira i Virgili in Spain, and Extra-Ordinary Professor at Stellenbosch University in South Africa. He was President of the European Society for Translation Studies from 2010 to 2016. He has published or edited 28 books and more than 200 articles in the general field of translation and intercultural studies. His current research focuses on risk management and trust as a frame for understanding cross-cultural communication. 
Read more about the Distinguished Lectures in Humanities