Chinese Painting Appreciation — Collector and Philanthropist Perspectives by Mr Ho Sai-chu
Highlights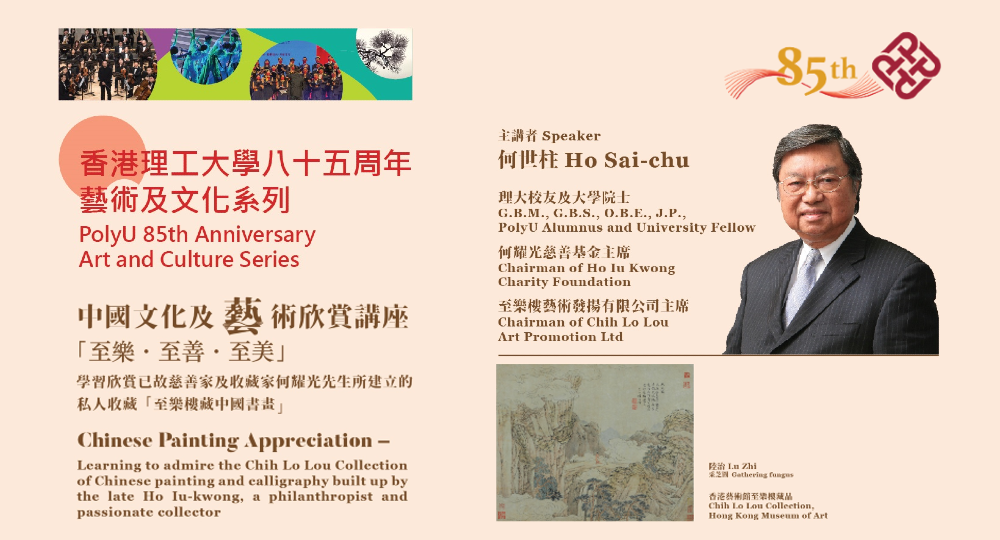 Venue

Jockey Club Auditorium
Summary
The PolyU 85th Anniversary Art and Culture Series presents the talk on Chinese Painting Appreciation. We sincerely invite you and your guests to join us.

Date : 23 September 2022 (Friday)
Time : 4:00 pm
Venue : Jockey Club Auditorium, PolyU
Language : Cantonese (Simultaneous interpretation in Putonghua)
Limited seats available on a first-come, first-served basis.
Abstract
In this talk, Mr Ho Sai-chu will walk through curated work of Chinese painting and calligraphy from the Chih Lo Lou Collection with us. Let's appreciate Chinese art through immersing ourselves in the artists' stories and the historical backdrops of the artworks. Chinese art will not only inspire us to reflect on our modern lives, it will also enhance our cultural literary and refine our aesthetic sense. Join us to embrace the essence of "chih lo" — to cherish and to share — through this artistic encounter.
About The Speaker
Mr Ho Sai-chu is a prominent business figure and a philanthropist well known for his remarkable contributions to construction industry, education, social well-being. As the Chairman of Ho Iu Kwong Charity Foundation, Mr Ho carries on his family's philanthropic spirit, to make contributions to the construction of various facilities in Hong Kong, including PolyU's seven-storey Ho Iu Kwong Building (Block W) and Ho Iu Kwong and Kwok Pui Chun Square, which connects the Ho Iu Kwong Building and the Jockey Club Auditorium, where the talk will take place.

As the Chairman of Chih Lo Lou Art Promotion Ltd, Mr Ho carries on his family's dedication towards art and culture, as well as the passion of preserving Chinese cultural heritage. He has represented his family and donated his late father's private collection of over 300 Chinese painting and calligraphy artworks to HKSAR Government as the permanent collection of The Hong Kong Museum of Art (HKMoA) in 2018 and 2021 respectively to promote the quintessence of Chinese culture. This exceedingly rare collection of painting and calligraphy is currently located in a dedicated gallery named the "Chih Lo Lou Gallery of Chinese Painting and Calligraphy" at HKMoA to give visitors insight to the late Ho Iu-kwong's concept of Chinese art collection, as well as the development of Chinese painting and calligraphy.
Register now: https://polyu.hk/ZVWZG
Please contact 3400 2433 or pccpeo@polyu.edu.hk for any enquiries.
We shall keep you posted should there be any changes to the Programme due to the COVID-19 situation in Hong Kong.
Free admission by tickets. Tickets are available on a first-come, first-served basis. For ages six and above.