Professor Wang Guo-tong and Mr Ray Wong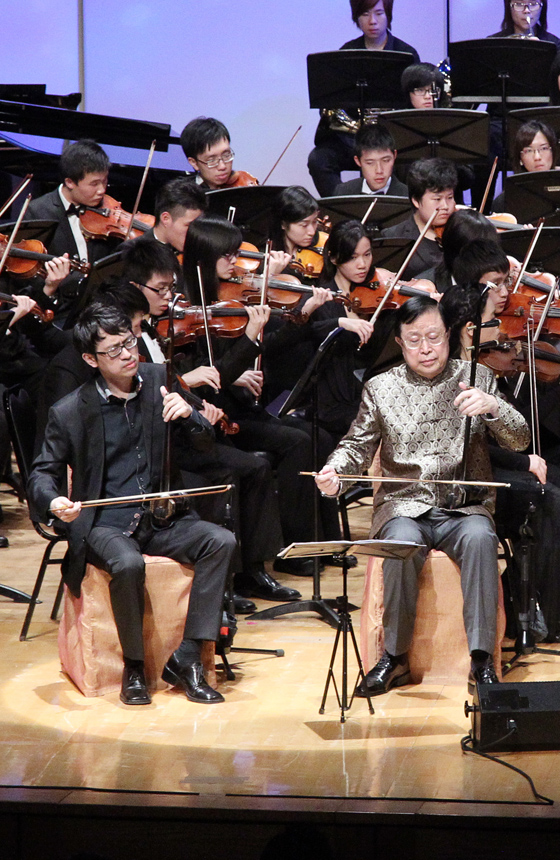 Professor Wang Guo-tong and Mr Ray Wong
Professor Wang Guo-tong
Professor Wang Guo-tong is currently President of the Hong Kong Erhu Arts Centre and Visiting Professor at Central Conservatory of Music, Beijing. Professor Wang has been a major figure on the musical scene since the 1960s. He has been invited to perform and lecture in over thirty countries, performed together with famous orchestras from all over the world. In recent years he has produced numerous albums, videos, and erhu instructional materials. He has composed new erhu pieces like "Ode to Goddess of Mercy", "Heaven", and "Caprice of the Taihang Mountains." He has also created, in collaboration with Man Ruixing, three new types of erhu, which earned him the Technical Achievement Award from the Ministry of Culture in China. These were included in A Pictorial Book on Chinese Musical Instruments, and helped to raise the prominence of the erhu among a wider audience. In 1992 Wang was awarded the title of "Outstanding Young Contributor at National Level" by the Chinese government. His artistic achievements have been recognized in reference works like Who's Who in Contemporary Chinese Culture and the Arts and Portraits of Famous Persons in Arts in Chinese and Overseas.

Mr Ray Wong
Versatile erhu artist, Ray Wong, has recorded numerous albums of original compositions such as "Touching" and "Longing in Autumn". All together he has composed over sixty original pieces including "Leaving", "Feelings" and "A Smiling Life". One special piece, "Autumn Feeling", won the 1998 "Most Performed Work" award in the category of Local Traditional Music, from the Composers and Authors Society of Hong Kong. In 2006 the Ministry of Education and the Ministry of Culture in China awarded Ray the "Outstanding Erhu Teacher" award, in recognition of his longstanding contribution towards the promotion of the erhu.