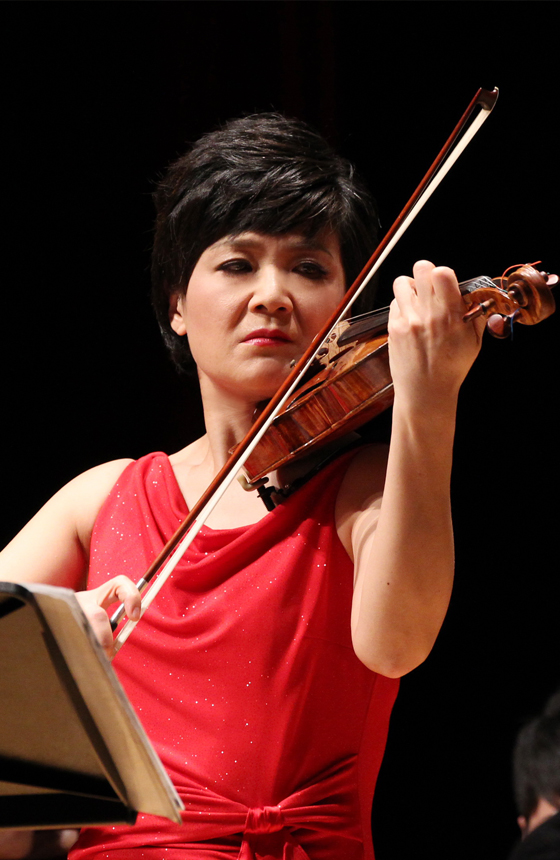 Ms Yao Jue
Born in Shanghai, China, Ms Yao Jue is the only violinist to be included in the 1995 book China's Famous Females published by the International Women's Congress in Beijing. Her photo graces the cover with the caption "Jue Yao's playing shows that the Chinese have reached a world class level in music making."

Ms Yao was awarded a full scholarship by the San Francisco Conservatory of Music to continue her violin studies with Zaven Melikian. Later she graduated from the Juilliard School of New York where she studied under Dorothy DeLay.
In a relatively short period of time Ms Yao has performed many concerts and at music festivals world-wide. She has also appeared on radio and television both in China and the United States, including live national telecast concerts in Los Angeles, Shanghai, Beijing, Hong Kong and Taiwan. So far, Ms Yao has released a total of nine CD & DVD solo albums.

Ms Yao founded the Yao Jue Music Academy and the Hong Kong Children's Chamber Orchestra in 2002. In order to nurture local young music graduates and provide them with opportunities to become professional musicians, she also founded the Hong Kong String Orchestra in 2013.

She was the first Chinese musician to be received by President Castro of Cuba. Ms Yao was a council member of the Hong Kong Academy for Performing Arts the Chairlady of the Academic Affairs Committee from 2000 to 2006, and a council member of the Hong Kong Arts Development Council from 2005 to 2010. Currently, Ms Yao serves as a council member of the Shanghai Political Consultative Committee, on the Board of Trustees of the Hong Kong Jockey Club Music and Dance Fund, and as a member of the programme committee of the Hong Kong Arts Festival.
Ms Yao was awarded the Outstanding Violinist Rado Timeless Award in 2002, the Ten Outstanding Young Persons of Hong Kong in 2004, the Ten Most Successful Women in 2005 and the Outstanding Women Professionals Award in 2008. Last but not least, one of the Outstanding Women of the Year in 2012. She served on the International Jury Panel for the Montblanc Arts Patronage Award in 2003 and was appointed as the University Artist of Hong Kong University from 2008 to 2010. Ms Yao was appointed a Justice of the Peace by HKSAR in 2013. She plays on a 1713 Stradivarius violin.