Champion in World Harmonica Festival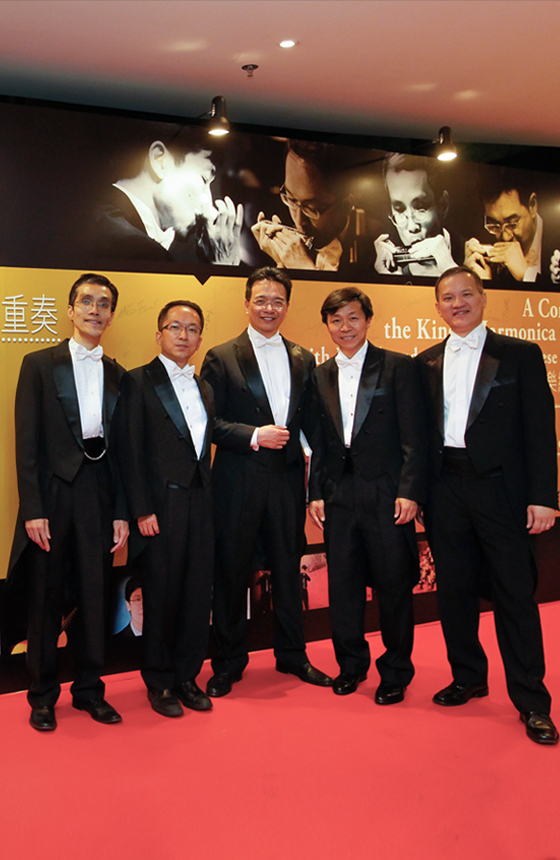 King's Harmonica Quintet
Ho Pak-cheong - Treble Harmonica
Chan Shu-keung Kenneth - Treble Harmonica
Lau Chun-bong - Tenor Harmonica
Lok Ying-kei Rocky - Tenor Harmonica
Kuan Man-hou Johnny - Bass Harmonica
The King´s Harmonica Quintet, consisting of two treble, two tenor and one bass chromatic harmonicas, was established in 1987 by five of Hong Kong's King's College alumni. While each of them has their own professions, they share the common passion and goal of advancing the harmonica performing art. They have created a revolutionary form of harmonica performing art, transcribing classical chamber music into the repertoire of harmonica ensemble and fully exploiting the capabilities of the harmonica as a concert instrument. Since 1999, they have pioneered the commissioning of new works for harmonica quintets. The original repertoire for such quintets has now been expanded to close to 30.
In 1997 the Quintet made history for Hong Kong by winning the champion title in the World Harmonica Championship in Germany. In the two World Harmonica Festivals of 1995 in Yokohama, Japan, and 1997 in Trossingen, Germany, members of the Quintet seized a total of 16 awards, including 2 champions, 3 first runners-up and 2 second runners-up.
Since 1996 the Quintet has appeared regularly at the biennial Asia Pacific Harmonica Festivals as adjudicators, seminar speakers and guest performers. They also led the formation of the Hong Kong Harmonica Association in 2002 which hosted the mega-scale 5th Asia Pacific Harmonica Festival 2004 in Hong Kong. In 2005 and 2009, the Quintet and its members were invited to be special performing guests and adjudicators at the World Harmonica Festival in Germany.
The Quintet has collaborated with the Hong Kong Philharmonic Orchestra (2002), the Hong Kong Chinese Orchestra (2004 and 2008), the City Chamber Orchestra of Hong Kong (2004) and the Hong Kong Sinfonietta (2011). They were invited to perform in the prestigious Hong Kong Arts Festival twice, in 2000 and 2010, and were appointed Artist-in-Residence of Radio Television Hong Kong Radio 4 in 2006. They are frequently invited by the Hong Kong Special Administrative Region (HKSAR) Government to perform in official functions both locally and overseas, such as the Ministers' Dinner for the International Telecommunication Union Conference in Hong Kong (2006), the Closing Ceremony of the Beijing 2008 Olympic Torch Relay in Hong Kong, and the HKSAR Government Chinese New Year Trade Promotion Functions in Europe (2007 and 2011), to name just a few.
To date, the Quintet and its members have appeared on international concert stages in 30 cities of nearly 20 countries throughout Asia Pacific, Europe and USA.
The website of the Quintet is
www.khq.hk
.