PolyU Virtual JUPAS Consultation Day 2022
Admission Talk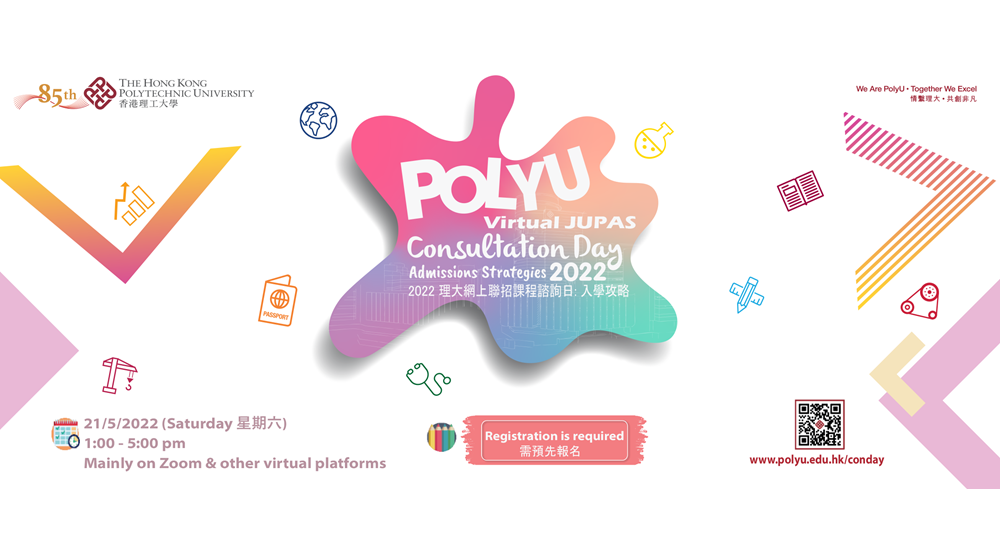 Organiser

The Department of Chinese and Bilingual Studies
Summary
Be well-prepared for JUPAS application! Join our online info seminar on BA (Hons) Scheme in Linguistics and Translation (BALT) [JUPAS code: JS3230] to find out more about our one-of-a-kind undergraduate programme. Meet our deputy programme leader and learn about important and up-to-date information, e.g., entrance requirement, programme curriculum, career prospects, unique strengths and the newly added "AI and Data Analytics" elements.
Video Recording: https://youtu.be/wzHfa-_0PMU
Date & Time: 21 May 2022 (Saturday) 2:00 – 2:45 pm
Registration link: https://polyu.hk/QOOXg (Deadline: 20 May)
Programme details of BALT: https://polyu.hk/KmgTR
PolyU JUPAS Consultation Day: https://www.polyu.edu.hk/conday/
Note: The talk will be conducted in Cantonese.