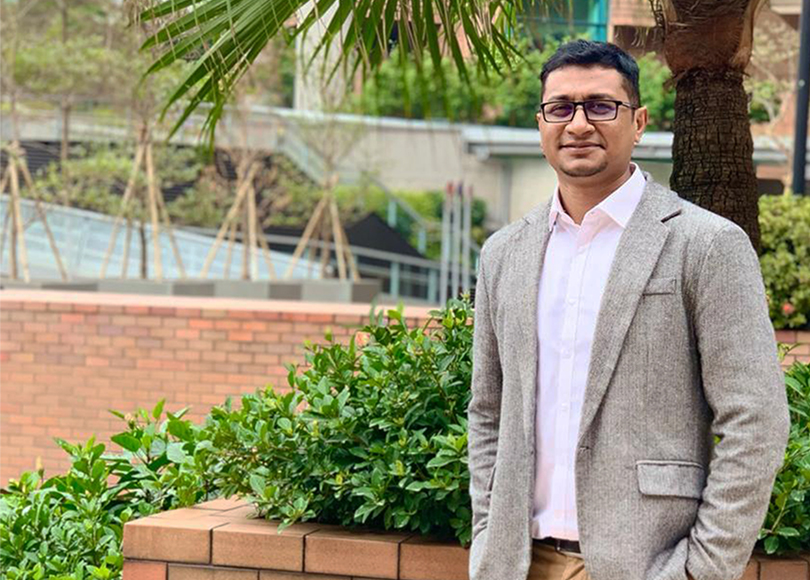 【#WeArePolyU】How were you able to realise your dream of pursuing your PhD studies abroad?
"I've never stopped dreaming of getting a PhD. With hard work and perseverance, I made it through the Hong Kong PhD Fellowship Scheme. I'm lucky to have the chance to pursue my dream at PolyU."
Mohammad Ismail Hossain is an Electrical Engineering specialist from Bangladesh. After receiving his bachelor's degree from the American International University-Bangladesh (AIUB), he joined a reputed company in Bangladesh as a Systems Engineer and was later promoted to Project Engineer. After that, Mohammad decided to leave Bangladesh for Germany to study for his master's degree. He then returned to his hometown and served as an Assistant Professor at AIUB for almost four years.
Impressed by PolyU's world-class education and research facilities, Mohammad travelled from Bangladesh to PolyU to study for a PhD in Hong Kong. Despite feeling anxious as a "newcomer" to PolyU (and Hong Kong), his Chief Supervisor and fellow researchers offered him advice and academic support. He also had memorable experiences while residing in the student hall. During his three-year stay at PolyU, he produced more than 20 quality journal articles and 25 conference papers. He furthermore received an overseas research scholarship from PolyU to conduct research at the University of Connecticut, USA. An old aphorism states, "What doesn't kill you, makes you stronger." In line with this saying, Mohammad believes that the demanding learning process and the challenges he encountered during his PhD studies have only led him to grow and think bigger.
Mohammad Ismail Hossain
Department of Applied Physics alumnus
(Posted on 15 March 2021)