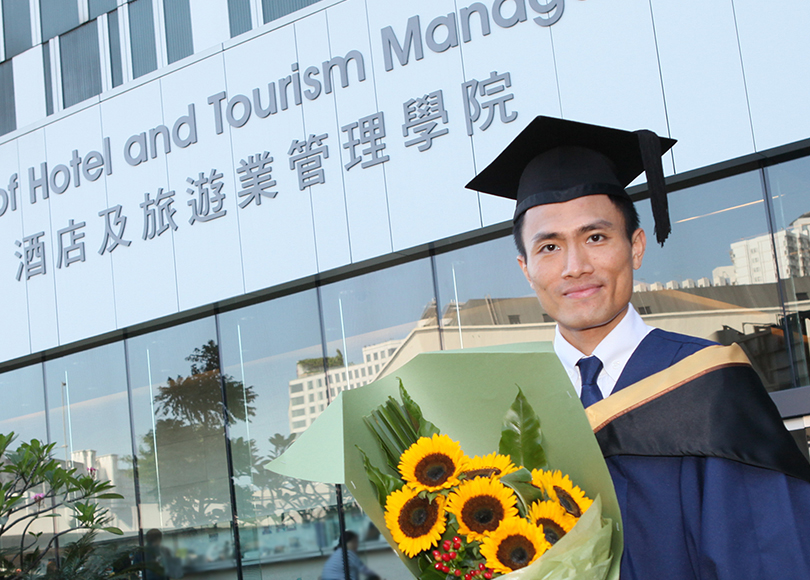 【#WeArePolyU】Given that you already had prior experience in running hostels and planned to open a boutique hotel, what motivated you to enrol in the MSc in International Hospitality Management programme offered by PolyU's School of Hotel and Tourism Management (SHTM)?
"I wanted to increase my knowledge of hotel operations and sharpen my entrepreneurial skills. The MSc programme strengthened my knowledge in design concepts, revenue management, inventory management and marketing."
David Lau Ka-wai, an SHTM graduate, started running his first guesthouse in 2008 while he was still an undergraduate student, and subsequently opened a second guesthouse in 2011. With a plan to open a new 20-storey boutique hotel – Popway Hotel – in Tsim Sha Tsui, he decided to enrol on SHTM's MSc programme in International Hospitality Management. During that period, David worked on his hotel project during the day and rushed to the nearby PolyU campus in the evening to attend classes. He studied hard and completed the programme in one year, which is half the time usually required.
David applied what he learnt from PolyU in his hotel project. He did this by sharing a fixed portion of the hotel's income with his staff, thereby increasing their sense of ownership and motivating them to excel. Over the years, he has stayed connected to his alma mater, sharing his experience as a young and successful entrepreneur at talks organised by PolyU faculties and schools.
David Lau Ka-wai
School of Hotel and Tourism Management alumnus
(Posted on 2 March 2021)