The Architecture
The Jockey Club Innovation Tower (JCIT) is home to PolyU's School of Design and is the new driving force in the development of Hong Kong as a design hub in Asia.
The Tower is located at the northeastern tip of the university campus. Construction work began in 2009 and the whole project was completed in August, 2013. It has 15,000 square metres of net floor area and can accommodate about 1,800 staff and students. It houses a lecture hall, 10 classrooms, design studios and workshops, as well as exhibition spaces and a communal viewing lounge.
The Design

"The fluid character of the Innovation Tower is generated through an intrinsic composition of its landscape, floor plates and louvers that dissolves the classic typology of the tower and the podium into an iconic seamless piece. These fluid internal and external courtyards create new public spaces of an intimate scale which complement the large open exhibition forums and outdoor recreational facilities to promote a diversity of civic spaces."
– Zaha Hadid (1950-2016), Architect, Innovation Tower



Urbanism
PolyU is an urban endeavor by virtue of addition and growth over the last 70 years. The rich patchwork of various faculties, communities and facilities are strung together by a community of visually coherent yet different buildings. From a process of outward expansion, the PolyU is now looking inwards to develop itself by making creative use of its remaining void on the northern side of the campus. The Innovation Tower aims to use these voids to create an accessible urban space which will transform how the PolyU is perceived and the way it will be used. The building unashamedly aims to stimulate and protect a vision-of-possibilities for its future, as well as reflect the history of the PolyU by encapsulating in its architecture the process of change.


Architecture
The vision of the Jockey Club Innovation Tower presents a unique opportunity to reexamine and address a creative, multidisciplinary environment. The design concept, in its first instance, collects the variety of programs of the school. Having undergone a strict process of examination of the multiple relationships amongst their unique identities they have been arranged in accordance to their 'collateral flexibilities'.

Priority lies in the drawing in of the campus staff, students and public into a welcoming new space that acts as both the building's entrance and organizer for the existing complex. Podium level of the new Innovation Tower is established as an open public foyer that channels deep into the building through a column-free, open showcase forum.

The long integrated path from Suen Chi Sun Memorial Square guides visitors to the main entrance and from here, a generous and welcoming space openly provides access to supporting facilities (such as shops, cafeteria and museum) through its generous series of open exhibitions and 'showcase spaces'.

From the entry foyer, a long escalator penetrates deep upwards through openly glazed void to teaching spaces above. The myriad of workspaces accommodated within the new building offer themselves as a variety of visual showcases. The route through the building becomes a clear upward cascade of showcases and events allowing the student or visitor to visually covet and engage work and exhibits throughout its circulation passage. These routes aim to promote new opportunities of interaction between the diverse types of users through its spaces on every level. Voids bring in natural daylight, fresh air and the sense of continuity of space. In this way, the programmes of the tower, which comprise of learning clusters and central facilities, are allowed to create coordinated repertoires and dialogue between respective volumes of space.


End Users
All of us pass by buildings, enter buildings, live and work in buildings. Products of the construction industry affect everyone and a decision is therefore needed in each project about the extent to which people outside the immediate scope should be involved. For the Innovation Tower project, this is one of the purposes of consultation with prospective end-users: to undergo a process taking into account of the environment and potential impact that it will have on the new school of design and the campus as a whole. Because so many people are affected in so many different ways, it is important to develop approaches which take account of some of these affects. Feedback from progressive iterations would shed light and enhance development in so that the Innovation Tower responds effectively to its environment.



Architectural Awards
RIBA Award for International Excellence 2016
Iconic Award (Architecture)
Commendation of Merit, Structural Excellence Awards Hong Kong
Shortlisted entry, 2014 My 10 Most Liked Hong Kong Architecture of the Century
Finalist, CTBUH 2014 Best Tall Building Awards for the Asia & Australasia Region
Shortlisted entry, World Architecture Festival 2014 awards
The most anticipated buildings of 2014, Architectural Digest
TOP 10 educational facilities of 2013, designboom
2011 Autodesk Hong Kong BIM Award
JCIT Directory
See also: Facilities
13/F


Dean's Office
Innovation Think Tank
V1301 School of Design Dean's Office
V1310 Innovation Think Tank
12/F
Jockey Club Design Institute for Social Innovation
V1201 Social Innovation Lecture Space
V1210 Do Ground
V1211 Lookout
V1213 Work Space
V1214 Centre for Innovation Programmes for Adolescents and Families
V1215 Work Space
V1216 Work Space
V1217 Meeting Space
V1218 Jockey Club Design Institute for Social Innovation
11/F
Postgraduate Programmes
V1101 V1120 Lecture rooms
V1102 V1121-1124 Postgraduate studios
10/F


Environment & Interior Design
Postgraduate Programmes
V1001 V1003 Meeting rooms
V1002 Academic staff offices
V1012 Project room
V1013 Urban Environments Lab
V1014 V1020 Postgraduate studios
V1021-1024 Environment & Interior Design studios
9/F


Digital Media
Interactive Media

V901 V904 Meeting rooms
V902 V910 Academic staff offices
V912 Creativity and Design Education Lab
V913 Teaching resource room
V914 Teaching studio
V915 Computer studio
V920 Digital Entertainment Lab
V921 V922 Interactive Media studio
V923 V924 Digital Media studio

8/F

General Office
Digital Print Shop

V801 Video conference room
V802 Marketing and administrative staff offices
V810 School of Design General Office
V812 IT support office
V813 Teaching studio
V814 V820 Computer studios
V821 Digital print shop

7/F

Product Design


V701 V715 V716 Seminar rooms
V702 Academic staff offices
V703 V717 Meeting rooms
V710 Social Design studio
V711 V712 Asian Ergonomics Design Lab
V713 V714 Asian Lifestyle Design Lab
V720-722 Product Design studios
V723 Foundation Year studio

6/F
Communication Design Researchers' Office


V601 Seminar room
V602 Academic staff offices
V603 V617 Meeting rooms
V610 Researchers' office
V611 V612 Interaction Design Lab
V613 V614 Research Centre for Future (Caring) Mobility
V616 Public Design Lab
V620-622 Communication Design studios
V623 Foundation Year studio

5/F

Advertising Design
Material Resource Centre


V501 Seminar room
V502 Academic staff offices
V503 V514 V515 Meeting rooms
V510 Material Resource Centre
V512 Information Design Lab
V513 Computer studio
V520-522 Advertising Design studios
V523 Foundation Year studio

4/F

Innovation Collaboratory

V401 Project room
V402 Design for Assistive Technology and Education (DATE) Collaborative Space
V410-415 Project rooms
PolyU InnoHub

3/F

Lecture Theatre

V302-304 Classrooms
V311-316 Classrooms
V321 Classroom
V322 Lecture theatre

Podium


Podium Exit
Innovation Gallery

Foyer Gallery
Innovation Gallery

1/F

Production Workshops

V101 V104 Model making workshops
V102 Design Fab Lab
V123 Technicians' office
V103 Electronics prototyping workshop
V105 Laser cutting workshop
V110 Electroencephalograph studio
V111 3D Printing Workshop
V112 Future Design I Joint Lab
V113 Sound suite
V120 Stop motion studio
V121 Animation studio
V122 Media control room
V130 Sound mixing studio
V133 Sound studio
V134 Screening room

G/F

Production Workshops & Living Lab

V010 Photography studio
V011 Colour management studio
V012 Dimmer room
V020 Media production studio
V031 PolyU Sports Team Centre
V040 Metal and wood workshop
V050 Living Lab

Venue Booking
Located at the podium level of the Jockey Club Innovation Tower (JCIT) of The Hong Kong Polytechnic University, the Innovation Gallery comprises three individual art galleries. Designed by world-renowned architect Zaha Hadid, the galleries provide a uniquely designed space for various kinds of exhibitions. For further details, please email – sdmktg@polyu.edu.hk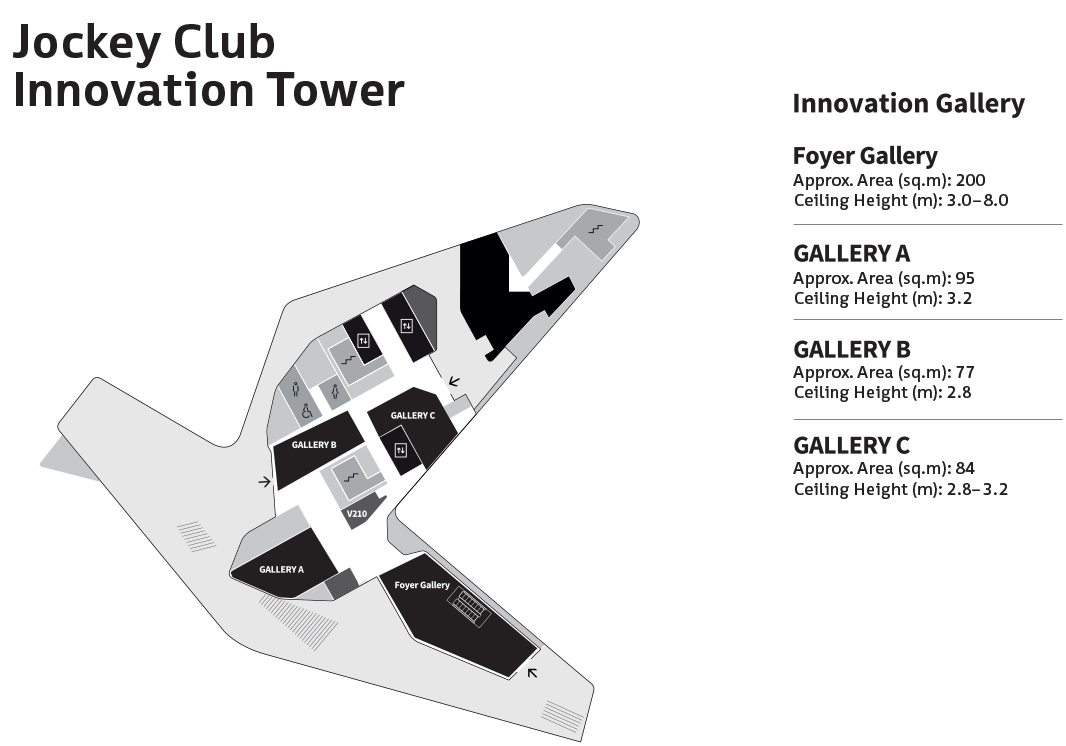 Visit
Please find details here.