2023 TechConnect Global Innovation Awards - Call for Innovations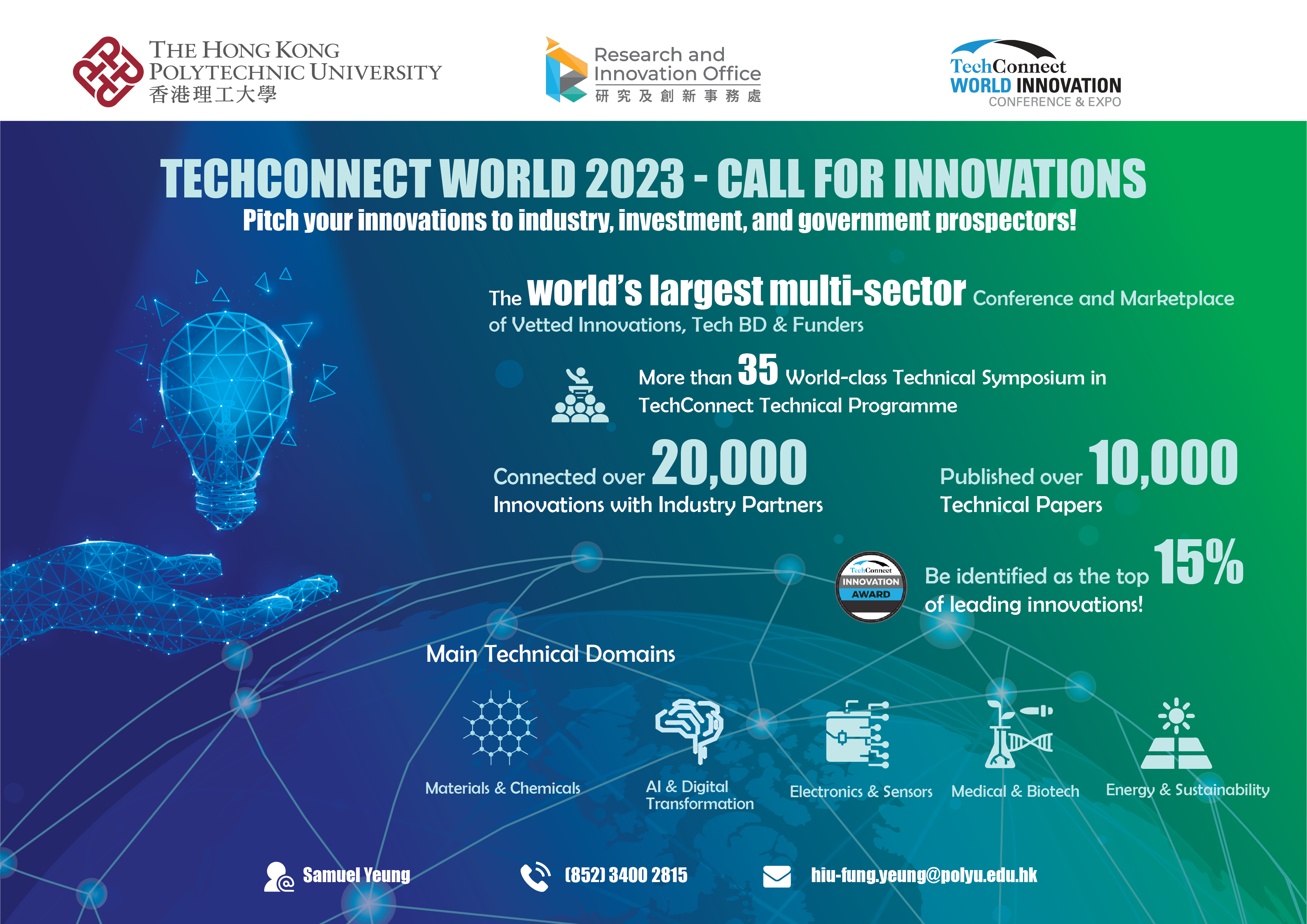 Summary
Call for Innovations!
TechConnect World Innovation Conference & Expo 2023 is one of the world's largest multi-sector commercialisation platform for emerging technologies. You are encouraged to submit your Innovations for this global event scheduled for 19 - 21 June, 2023 in Washington DC.
Pitch your innovations to industry, investment, and government prospectors
The Innovation Showcase offers a unique and vetted pipeline for leading corporate, investment and federal prospectors to discover new technologies. The three-day programme includes IP, Venture Presentations, Networking Receptions, Marketplace Expo and Corporate Partnering Presentations.
Over the past 6 years, PolyU has won over 15 "TechConnect Global Innovation Awards", along with NASA, US Department of Energy, Berkeley National Laboratory, Argonne National Laboratory, Fermi National Accelerator Laboratory, Naval Research Laboratory, Sandia National Laboratories, Stanford University, MIT, Princeton Lab, UCLA, Georgia Tech, University of Melbourne, IBM Research, etc.
PolyU "TechConnect Global Innovation Awards" in 2017 >> 2018 >> 2019 >> 2020 >> 2021 >> 2022
Pre-submit your applications to the Research and Innovation Office by 30 Dec 2022 by filling the application form. Submissions are free of charge and sponsorships may be provided for selected innovations/applicants.
Pre-submission procedures:
1. Click here to download the "Pre-submission Guide and Application Form"
2. Complete the Pre-submission Application Form (Innovation) 
3. Fill in basic information at LINK; upload the completed Pre-submission Application Form and submit it to RIO