PolyU programmes historically carry a strong professional emphasis and we have accumulated a lot of experiences in developing students as professionals. Nevertheless, it will be interesting and useful to explore in more depth what professional competence means and how it should be represented in outcome statements.
Take a minute to judge for yourself whether the following outcome statement is one for professional competence for practitioners in the field of environmental protection.
Learning Outcome: 'To know the laws relevant to environmental protection'
This is definitely knowledge required for the profession in environmental protection, so the answer is a resounding YES!
BUTíK before jumping to a happy conclusion, think about it more critically:
Does it say how the practitioner actually uses that knowledge?
Does simply knowing and recalling the laws already enable the environmental protection agent to solve some problem that he/she may face in his/her job?
NOW consider this alternative:
'To critically evaluate the laws relevant to environmental protection and to apply them in urban planning policies'
Obviously, this one has specified the desirable qualities and what the environmental protection agent is expected to perform. So stating 'knowing' or 'understanding' in the outcome statement does not necessarily guarantee a performance. Therefore, it is important to state the desirable qualities explicitly, like the second outcome statement.
University Knowledge vs Professional Knowledge
The knowledge emphasised in university programme is usually academic in nature. However sophisticated, it may differ from the professional knowledge required and expected in the graduates' chosen professions. To put this in perspective, would-be professionals might have learned how to label a certain process; however, they may not be able to execute that process while in the field. As such, according to Leinhardt et al. (1995), there is a mismatch between university knowledge and professional knowledge.
The distinction between these two kinds of knowledge is illustrated in Table A below:
University Knowledge

Typical things that students are required to do at
university

Professional Knowledge

Typical things that professionals are required to
do at work

Analyse
Apply
Articulate
Compare
Contrast
Criticise
Describe
Differentiate
Discuss
Distinguish
Elaborate
Evaluate

Identify
Integrate
Interpret
Justify
Label
List
Match
Name
Outline
Recognise
Summarise
Synthesise
Theorise

Appraise
Assess
Assist
Collaborate
Communicate
Compile
Create
Decide
Design
Develop
Diagnose
Execute
Extract
Forecast
Formulate
Handle
Implement
Initiate
Investigate

Liaise
Negotiate
Organise
Plan
Predict
Prepare
Present
Prioritise
Produce
Recommend
Review
Select
Solve
Supervise
Support
Undertake
Use
Write
Work
Table A: University Knowledge vs. Professional Knowledge

Typically such procedural knowledge is related to the professional context. However, it should be noted that although procedural knowledge and professional knowledge are sometimes synonymous, this does no, by itself, represent the 'professional competence' we have aimed for.

Functioning Knowledge as Professional Competence

Biggs (2003) provided a framework of different kinds of knowledge which is also very useful in helping us understand what professional competence actually entails. Figure A is a simplified version adapted from Biggs' framework.

Figure A: Different Kinds of Knowledge and their Relationship (adapted from Biggs, 2003)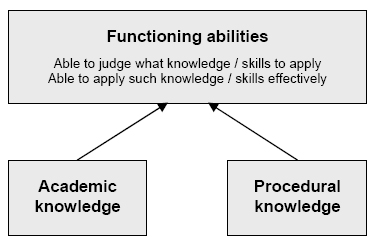 As illustrated in the diagram, even the possession of both academic knowledge (theories, information, etc.) and procedural knowledge (procedures and skills) is still not adequate for our graduates to perform competently and effectively in their chosen professions. A professional, in order to perform effectively in real life situations, needs to know what knowledge to draw upon to make decision and to be able to apply the knowledge flexibly and appropriately in response to various tasks.
Put simply, academic knowledge and procedural knowledge are both necessary knowledge; yet neither is sufficient to ensure professional competence. As per the illustration, academic knowledge and procedural knowledge are the foundations. On top of this foundation, students need another kind of knowledge of when and how to use knowledge in real-life problems in their professions, which Biggs labelled functioning knowledge to highlight its importance in allowing the professionals to perform effectively.