Hong Kong stages the Plastic-free Fun Fair
To celebrate World Environment Day and World Oceans Day, the Environmental Campaign Committee (ECC) held the Plastic-free Fun Fair on 9 June 2019 under the theme 'Go Plastic-free' at Tai Kwun in Central. The second phase of the 'Plastic-free Takeaway, Use Reusable Tableware' promotion campaign, extended to cover more restaurants, was also launched at the event to encourage members of the public not to obtain disposable tableware when they order takeaways and to cultivate plastic-and-disposable-free habits.
With the 'four plastic-free must-haves', namely reusable cutlery, a food container, a water bottle and an eco-bag in hand, the officiating guests invited the public to show their commitment to discard plastic together and enjoy the Plastic-free Fun Fair.
The Fair involved nearly 30 different entities to jointly highlight the plastic-free message through various activities, including interactive educational booths, sharing sessions, upcycling workshops, and music performances.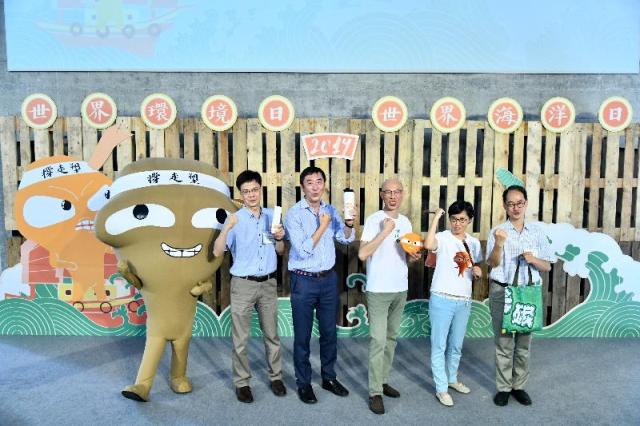 Officiating guests with the 'four plastic-free must-haves' in hand at the Plastic-free Fun Fair
(Photo source and information from: Information Services Department, HKSARG, available at https://bit.ly/2Ov2NUk)