Tsinghua-UM-PolyU Student Exchange Summer Camp 2023
Others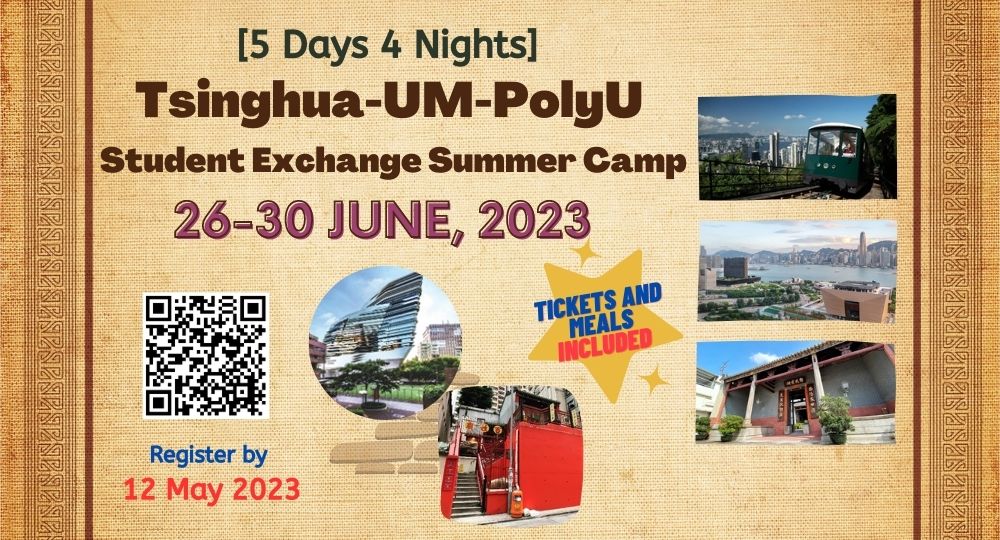 Organiser

Research Centre for Chinese History and Culture

Venue

Please refer to Programme Schedule
Summary
Tsinghua-UM-PolyU Student Exchange Summer Camp 2023
PolyU's Research Centre for Chinese History and Culture proudly presents Tsinghua-UM-PolyU Student Exchange Summer Camp, a programme allowing students from Beijing, Hong Kong and Macau to explore Chinese history and culture together during 26-30 June 2023. During this 5 days 4 nights Summer Camp, you will stay with student representatives from Tsinghua University and University of Macau for cultural exchange on issues related to history and culture of modern or traditional China. Moreover, during this camp, you will accompany the student representatives to explore some of the Hong Kong's cultural attractions, such as The Peak, the Hong Kong Palace Museum, the Central and Western Heritage Trail, as well as the Ping Shan Heritage Trail.
All participating students will need to submit an essay, either in Chinese or English, related to topics on Chinese history and culture before the commencement of the programme (it can be a term paper previously written for any PolyU's CAR or relevant subject). Moreover, each student is expected to give a 3-minute presentation during the activity.
All costs (including accommodation, meals, and admissions tickets) will be covered by the programme. Interested students should check out the attached promotional material, and sign up for the programme via the following link as soon as possible.
Date: 26-30 June 2023
Registration fee: $800 per person [will be refunded upon full completion]
Registration link and QR code: https://www.polyu.edu.hk/pfs2/index.php/831166?lang=en
Application deadline: 12 May 2023
Successful applicants will receive a notification by the end of May. Priority will be given to students who have previously taken subjects related to Chinese history and culture! Besides, students who have completed the camp this year will be given a priority to join next-year tour to Tsinghua University in Beijing.
For further question, please contact Ms Waiyin PANG or Miss Alison WONG by email at rcchc@polyu.edu.hk (or tel: +852 34008921).
Hope to see you in June!!!
Programme Schedule Download: