Specialist Lectures on Chinese History and Culture - Archery, A Ruist Metaphor & Ritual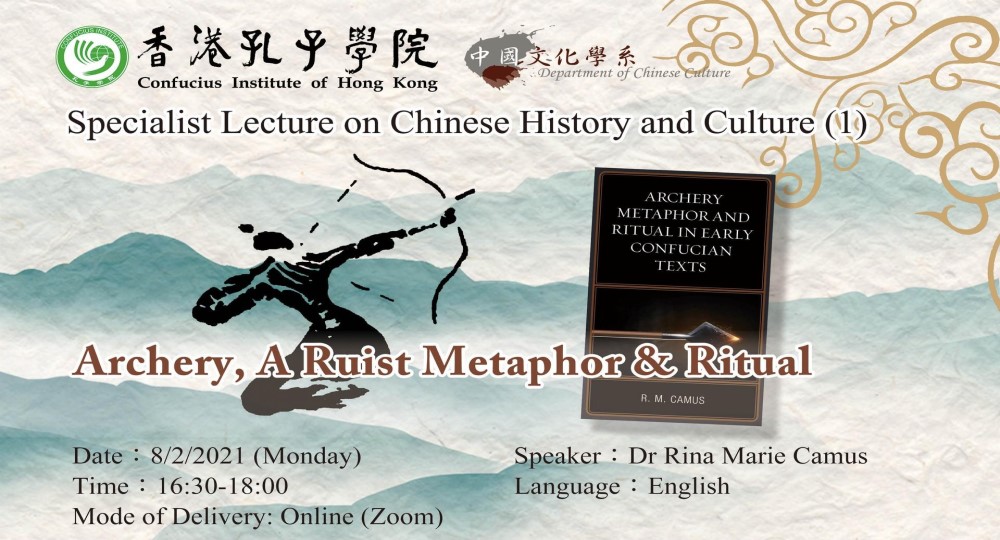 Organizer

Confucius Institute of Hong Kong and Department of Chinese Culture
Remark
The talk will be conducted in English.
Summary
Abstract
Archery was one of the so-called Six Arts 六藝 of ancient China: the foremost military skill, an instrument for education, and an important custom of rulers and aristocrats. In early philosophical discourses, archery also appears as a ritual practice and image source. In this lecture, Dr Camus will talk about her recent monograph Archery Metaphor and Ritual in Early Confucian Texts (Lexington Books, October 2020). She will discuss archery in Zhou tradition and society, then present vivid archery passages in the Analects 論語, Mencius 孟子 and Xunzi 荀子. She argues that archery is a fundamental metaphor in classical Confucian literature. She will also demonstrate the cognitive value of literary metaphors. As archery-inspired metaphoric utterances show, literary metaphors are more than linguistic ornamentation: they have features and resonances that can disclose their speakers' saliencies of thought.
Speaker bio
Rina Marie Camus is trained in both Western and Chinese humanistic traditions and describes herself as a "sociable, bi-cultural scholar." A Eurasian born and raised in Manila, she studied Chinese language and culture in Hong Kong before pursuing Philosophy in Rome (Licentiate) and Taipei (PhD), specializing in Ethics and History of Ideas. She has published journal articles on Confucianism and Comparative Philosophy in Philosophy East and West, Dao, Asian Philosophy, and Frontiers of Philosophy in China. Dr Camus joined the Hong Kong Polytechnic University in 2017 as visiting lecturer in the former General Education Centre. She currently works on research and development projects in the Service-Learning and Leadership Office.