Results of RGC Competitive Funding Schemes 2014/15
The 2014/15 application results for the RGC General Research Fund (GRF) and Early Career Scheme (ECS) were announced on 30 June 2014. Due to their similar nature, the application results for these two schemes have been combined in the following analysis, which does not include the Public Policy Research (PPR) Scheme, since it is no longer managed by RGC.   
Dept.

GRF Grants
ECS
Grants
Overall success rate
Total amount of competitive funding (including GRF& ECS) (HK$)
Amount per eligible staff member (HK$)
BRE
4

0

20%
$ 2,410,341
$ 104,797
BSE
8
N/A
44%
$ 5,144,849
$ 233,857
CEE
12

3

48%
$ 9,965,941
$ 269,350
LSGI
5

1

40%
$ 4,259,731
$ 236,652
Total
29
4
39%
$21,780,862
$ 217,809
Comparisons of departmental performance over the past 10 years using 2 indicators, namely the number of grants per year and the average funding amount per academic staff member (only eligible staff members are counted) are shown in Figures 1 and 2 respectively. In terms of the number of grants per year, the rankings of our four departments are CEE, BSE, LSGI and BRE. In terms of average funding amount per academic staff member, the rankings of our four departments are: CEE, LSGI, BSE and BRE but the differences between the first three departments are small. In general, the performances of the four departments in recent years have varied in their ups and downs, but both the average funding amount and the total number of grants awarded to our Faculty have shown a gradual and steady increase over the past five rounds (i.e. since 2010/11). For the GRF scheme, the Faculty also leads other Faculties/Schools in the University in terms of the submission rate, success rate, and average funding amount per academic staff member this year.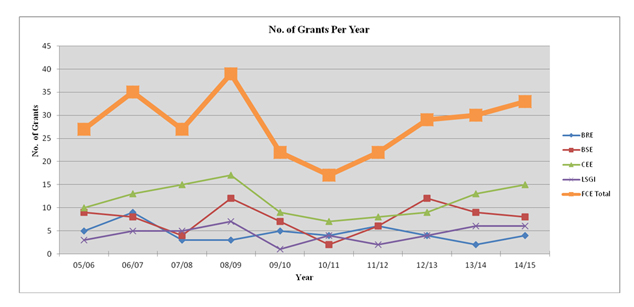 Figure 1: Comparison of Number of Grants per Year between Departments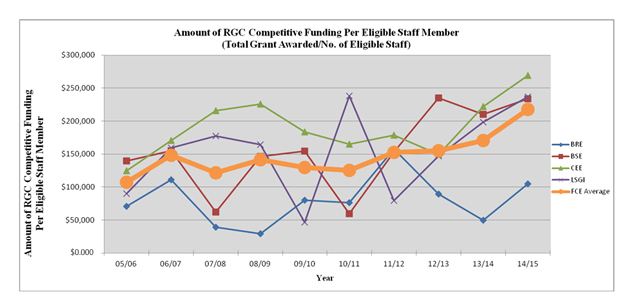 Figure 2: Comparison of Amount of RGC Competitive Funding per Eligible Staff Member between Departments
Within the broad field of construction and environment, we still lead all other local universities by a big margin in the GRF/ECS exercises. In the Civil Engineering, Surveying, Building and Construction (CESBC) disciplines of the Engineering Panel, PolyU has ranked number 1 since 1994/95 in terms of both the number of GRF/ECS projects supported and the total grant value won, consistently winning around or over 40% of all GRF/ECS grants allocated in these disciplines. The distribution of the amount of GRF/ECS funding in the 2014/15 round among local universities is shown in Figure 3. We received 44.55% of the total amount of available funding in the CESBC disciplines.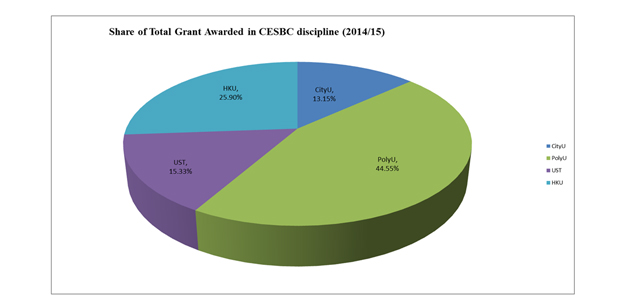 Figure 3: Distribution of GRF/ECS Funding in the CESBC Disciplines among Institutions in the 2014/15 Round
Of the 33 GRF/ECS grants awarded to the Faculty this year, 4 were awarded outside the CESBC disciplines. As a result, the Faculty won 29 grants (or 39%) totalling HK$19,582K out of the 74 GRF/ECS grants awarded by RGC in the CESBC disciplines in the present (i.e. 2014/2015) round. The University as a whole was awarded with 31 GRF/ECS grants in the CESBC disciplines, 2 of which were awarded to other Faculty Department(s)/School(s).
This year, the funding results of both GRF and ECS Scheme are encouraging. The average funding per project is HK$671K which is the highest among all local universities in CESBC disciplines. For GRF, PolyU shares of the total grant value awarded in the CESBC disciplines exceeded 40%. For ECS, we have been awarded 6 grants, which represent 75% of the 8 grants awarded by RGC in the CESBC disciplines.

6 proposals by FCE academics vying for Collaborative Research Fund 2014/15
The Faculty of Construction and Environment is pleased that six preliminary proposals by FCE academics for the Collaborative Research Fund in 2014/15 have been shortlisted by the Research Grants Council for submitting full proposals. Following are the details:    
| | | |
| --- | --- | --- |
| | Project Coordinator (Dept.) | Proposal Title |
| | Prof. Albert CHAN (BRE) | Effecting a Safe, Healthy, And Productive Environment (eSHAPE) for the Construction Industry |
| | Prof. Edwin CHAN (BRE) | Flagship - Led Urban Renewal: A Catalyst for Change |
| | Prof. MAK Cheuk Ming (BSE) | Development of Design Methodologies for the Improvement of Wind and Thermal Comfort in the Urban Environment |
| | Prof. CHAN Siu Lai (CEE) | Development of an I-cloud based Computer Design Software Suite for Efficient, Economical and Safe Structural Design of Buildings in Hong Kong |
| | Prof. William LAM (CEE) | Reliability-based Intelligent Transportation Systems: Theories, Characteristics & Dynamics |
| | Prof. WANG Tao (CEE) | Heterogeneous Chemistry of Atmospheric Reactive Nitrogen Oxides: An Integrative Programme for Cutting-edge Science |

Let's hope they are all successful!

Chairman of BRE Advisory Committee awarded SBS
Mr AU Choi-kai, Chairman of the Department of Building and Real Estate's Advisory Committee, was honored with a Silver Bauhinia Star in early July for his distinguished and dedicated service to the Government and the Hong Kong community. Known for his promotion of building safety and sustainable built environment in Hong Kong, Mr Au recently retired as the Director of Buildings after serving over 40 years with the Government. He will be remembered for the substantial contributions he made in his illustrious career.

Exhibition of findings from research study by LSGI
On 27 June 2014, an opening ceremony for an exhibition on monitoring Hong Kong's Urban Heat Island was held at the Hong Kong Science Museum. Giving the public an idea of the temperatures in Hong Kong's urban areas and global warming trends, the contents of the exhibition were provided by Prof. Janet NICHOL of the Department of Land Surveying and Geo-Informatics (LSGI) and her research team, who have been monitoring Hong Kong's urban heat island effect using satellite and aerial images for over a decade.

Besides Prof. NICHOL, officiating guests at the ceremony included Mr LAI Sau Tak, Edwin, Assistant Director of the HK Observatory; Professor Xiao-li DING, Head of LSGI; Professor YEUNG Yau Yuen, Professor and Associate Head of the Department of Science and Environmental Studies at the Hong Kong Institute of Education (Expert Advisor of the Hong Kong Science Museum) and Ms SIT Man, Karen, Acting Chief Curator of the Hong Kong Science Museum.

On display at the Science News Corner of the Science Museum till the end of December 2014, the exhibition features thermal satellite images captured on hot summer days and nights as well as 3-dimensional thermal models, which can show how different building designs, materials, and planning practices affect the formation of urban heat islands.

LSGI's innovative lunar mapping techniques on show at Science Museum
An exhibition on China's Lunar Exploration Programme was launched on 21 July 2014 at the Hong Kong Science Museum. Featuring specially designed interactive exhibits, including the lunar lander for Chang'E-3, the Yutu Lunar Rover, Long March rockets, simulations of the launch site and the lunar rover, the exhibition highlights PolyU's participation in the space technology used for the Chang'E-3 mission, such as the innovative lunar mapping techniques and products developed by Dr Bo Wu, Assistant Professor of the Department of Land Surveying and Geo-Informatics (LSGI), and his team. Funded by the China Academy of Space Technology, their research findings were deployed in the topographical analysis of the Chang'E-3 landing area and the selection of the landing site, ultimately contributing to the successful landing of Chang'E-3 on the moon last December.
Organized by the Home Affairs Bureau and the China National Space Administration, the exhibition is open to the public and runs until 24 August 2014.

Motor Vehicle Emissions Control Workshop (MoVE) 2014
On 25-27 June 2014, more than 250 people gathered on the campus of PolyU for the Motor Vehicle Emissions Control Workshop (MoVE) 2014. Co-organized by the Ministry of Environmental Protection of the People's Republic of China, the Environmental Protection Department of the Hong Kong Government, and PolyU's Department of Civil and Environmental Engineering, the workshop promoted the dissemination of information on the latest technologies for reducing emissions in order to protect public health.

The opening session was officiated by Mr Wang Jian, Deputy Director-General, Ministry of Environmental Protection, China; Ms Anissa WONG, Permanent Secretary for Environment and Director of Environmental Protection and Professor Timothy TONG, President of PolyU. Keynote speeches were delivered by Mr Mike WALSH and Dr Carlos DORA. With six focus sessions and over 25 presentations, the workshop was a great success for all its participants.

PolyU hosts visitors from Cambridge
On 3 July 2014, the Research Institute for Sustainable Urban Development (RISUD) and the Faculty of Construction and Environment (FCE) hosted two visitors from Clare Hall, one of the colleges of the University of Cambridge. Mr Ranj Majumdar, Development Director, and Ms Alex Courage, Project Manager for International Programmes, were on a mission to seek the partnership of PolyU scholars in a project focusing on air pollution in China, its challenges and possible solutions. Besides meeting Prof. Alex Wai, Vice President (Research Development), and Prof. Angelina Yuen, Vice President (Institutional Advancement and Partnership), the visitors also met Prof. Y.L. Xu, Dean of FCE; Prof. Jin-Guang Teng, Director of RISUD; and Prof. Tao Wang, Chair Professor of Atmospheric Environment, to discuss opportunities for research collaboration. It is expected that the proposed research programme will be part of a long-term partnership between the two institutions.

Visit by QUT
A group of four delegates from the Queensland University of Technology (QUT) visited PolyU on 4 July 2014 for a meeting with the Dean of the Faculty of Construction and Environment (FCE), Prof. Y.L. Xu, and the Director of the Research Institute for Sustainable Urban Development (RISUD), Prof. Jin-Guang Teng. Led by Prof. Ian MacKinnon, Director of QUT's Institute for Future Environments, the Australian delegates proposed the establishment of an Australia-China Centre for Advancements in Air Quality Science and Control, whereby academics from QUT and PolyU could collaborate in research to further scientific understanding of the multidimensional problem of air pollution and its impact on human health and the environment. Also at the meeting were Prof. Ko Jan-ming, Senior Advisor of RISUD, and a few professors from the Department of Civil and Environmental Engineering (CEE), including Prof. Wang Tao, Chair Prof. of Atmospheric Environment; Prof. Lee Shun-cheng and Dr Hung Wing-tat; and Prof. Cheung Chun Shun, Professor of Department of Mechanical Engineering. The visitors were given a tour of FCE's Air Labs and Odour Lab. A letter of intent to work towards an International Cooperation Agreement once specific collaborative activities have been identified was later signed by both universities.

LSGI cohosts workshop for engineers in Berlin
On 19-25 June 2014, a group of 20 engineers from all over the world attended a workshop on non-destructive damage assessment and environmental measurement methods. Co-organized by the Federal Institute of Materials Research and Testing (BAM) in Berlin and Ir Dr Wallace W.L. Lai of the Department of Land Surveying and Geo-Informatics, this is the second year that the workshop has been held. Participants were an international group, with nationalities including Japan, Brazil, USA, Slovenia, Sweden, Mauritius and Hong Kong. They were taught a range of technologies for nondestructive testing in civil engineering (NDT-CE), from classical NDT, concept of validation, principles and hands-on practice of ground penetrating radar, to ultrasonics, thermography, laser-induced spectroscopy, geophysical methods, pile testing, electrochemistry of corrosion process, to NDT data fusion, etc. They also visited a test site in Horstwalde (a forest 50km away from Berlin), where they observed a few practical site work demonstrations and enjoyed a German-style BBQ lunch. The workshop turned out to be very successful and highly rated by the participants.

The Federal Institute of Materials Research and Testing (BAM) in Berlin is made up of 11 departments and 53 divisions, one of which specializes in non-destructive damage assessment and environmental measurement methods.
| | |
| --- | --- |
| | |

New Academic Staff
| | | |
| --- | --- | --- |
| Dr Queena K QIAN has been appointed Research Assistant Professor in the Department of Building and Real Estate with effect from 1 August 2014. She was a post-doc Fellow in the same department from 2012 to 2014. Her PhD thesis, entitled "Barriers to Promote Building Energy Efficiency- A Transaction Costs Perspective" was selected for an FCE Outstanding PhD Thesis Award by the Hong Kong Polytechnic University in 2012. She was awarded an Endeavour Australia Cheung Kong Fellowship to conduct post doc research at the University of South Australia in 2013. She was also a Fulbright recipient (2010) at Lawrence Berkeley National Laboratory, UC Berkeley and Washington University in St Louis, USA. Her post doc fellowship was awarded by the Central Bidding Scheme by PolyU. During her two-year post-doc period with BRE, she drafted proposals and won a few research grants, such as PPR, CIC, and CIIHK, etc., amounting to over 2M HK dollars. Her research interests are green building promotion, building energy efficiency, transaction costs, low carbon city development, elderly friendly precinct design, sustainable urban planning, waste management, governance and incentive schemes, etc. She will be teaching research methodology. | | |
---
Another new assistant professor in the Department of Building and Real Estate is Dr Esther Hiu Kwan YUNG, who has MSc and PhD degrees from the Department of Construction and Real Estate at the University of Hong Kong. She also has a Bachelor of Architecture from the University of New South Wales, Australia in 1997.

Dr Yung worked as an assistant architect in two architectural firms in Hong Kong before studying for her PhD. Esther has also been employed as a visiting lecturer in the Department of Building and Real Estate, PolyU since 2001. After obtaining her PhD, she worked as a research officer in a NGO for the handicapped for two years. Dr Yung joined the Hong Kong Polytechnic University as a Postdoctoral Research Fellow in BRE in 2009. She has published extensively in top refereed journals including Landscape and Urban Planning, Urban Affairs Review, Cities and Habitat International, etc. Dr Yung has played the important role equivalent to a Co-I of four winning GRF and PPR projects. Her research interests include urban sustainability, built heritage conservation, urban planning and active ageing.



---
Dr Tak-Ming Chan joined the Department of Civil and Environmental Engineering in July 2014 as an Assistant Professor in Structural Engineering.

Dr Chan graduated from the University of Hong Kong in 2001 with a First Class Honours degree in Civil Engineering. He started his structural engineering career by joining Arup as a Graduate Structural Engineer. He received his Master's degree with Distinction in Structural Steel Design in 2004 and was awarded a PhD in the area of Tubular Structures in 2008, both from Imperial College London.

Dr Chan joined the University of Warwick as an Assistant Professor in 2007 and was promoted to Associate Professor in 2012. In 2007, he received the First Prize in the Young Researchers' Conference from the Institution of Structural Engineers (IStructE). His first and second PhD students also won the First Prize in the 2012 and 2013 competition respectively. Currently an Honorary Associate Professor at the University of Warwick, Dr Chan is a Chartered Member of the IStructE, committee member of the UK mirror group for Eurocode 3 and the Education and Training committee of the HK Constructional Metal Structures Association. He is also an Associate Editor for Advances in Structural Engineering and a member of the editorial board for Structures and Buildings.

Dr Chan's research interests focus on the structural stability and resistance of metallic, concrete-metallic, pultruded FRP and smart structures under extreme events, with particular emphasis on using an appropriate combination of experimentation, theoretical analysis, and computational techniques to obtain knowledge for the development of design guidance.



---
Dr Zhe Wang received his PhD degree in Environmental Engineering from Shandong University, China, in 2011. During 2008-2009, he was awarded a government scholarship from the China Scholarship Council and spent one year as a joint PhD student at Harvard University. After graduation, he joined the Department of Civil and Environmental Engineering at PolyU as a Research Associate in March 2012 and became a Postdoctoral Fellow in January 2013. He commenced his appointment as Research Assistant Professor in the same department on 28 July 2014.

Dr Wang's research interests include field and laboratory measurements of air pollutants, atmospheric heterogeneous chemistry, secondary aerosol formation, aerosol hygroscopicity, and cloud-aerosol-gas interactions. He has participated in several large atmospheric field studies in urban and rural areas of China (including Hong Kong), investigated the characteristics of carbonaceous aerosols and secondary organic aerosol formation, and also developed experimental system and initiated laboratory and modeling studies on cloud condensation nuclei property of particles. He has published 16 peer-reviewed scientific papers and presented at international conferences and workshops. His recent research focused on the heterogeneous chemistry of reactive nitrogen and production of atmospheric secondary aerosols, by using state-of-the-art instruments and multiphase modeling.





FCE Postdoctoral Fellowship Scheme
The following application for the FCE Postdoctoral Fellowship Scheme was approved by the FRC Working Group at its 48th Meeting:   
PDF candidate

Principal Investigator (Dept)
Project Title
Decision and
Source of Funding
Dr LIU Si-wei
Prof. Siu-Lai CHAN (CEE)

Simulation-based Design of Efficient Steel-concrete
Composite Structures with Concrete Core and Shear Walls

Supported
CEE: $157,500
FCE: $157,500

FCE One-year Top-up Studentship Scheme
The following PhD candidates have recently been supported by the one-year top-up studentship scheme:

| | | | |
| --- | --- | --- | --- |
| Name of student | Dept. | Supervisor | Status |
| HE Ping Ping | CEE | Prof. C.S. POON | Supported and allocated $97,150 from FCE |
| ZHAO Ke Cheng | CEE | Dr Yuhong WANG | Supported and allocated $97,150 from FCE |
| YANG Zhe | LSGI | Dr George LIU | Supported and allocated $97,150 from FCE |

BRE alumnus promoted to senior lecturer
| | | |
| --- | --- | --- |
| An alumnus from the Department of Building and Real Estate, Dr Bo (Paul) Xia, has recently been promoted to Senior Lecturer at the School of Civil Engineering and Built Environment at Queensland University of Technology in Australia. He obtained his PhD degree in late 2010 under the supervision of Prof. Albert Chan. His main research interests focus on construction management, project delivery systems, and sustainable building and construction (with particular interest in sustainable retirement villages for older people). Though he is in the early stages of his academic career, he has published many papers in leading international journals, secured a number of publication awards and research grants, and acted as editorial board member for international journals. A dedicated teacher that is constantly striving to improve student learning outcomes, he is currently serving as principal supervisor to three PhD students. | | |

Faculty Public Lectures

The Faculty of Construction and Environment was honoured to have the following speakers giving public lectures at PolyU:

Prof. Siew Hwa CHAN

FCE Public Lecture
"Power to Gas"

Speaker:
Prof. Siew Hwa CHAN
Maritime Institute
Nanyang Technological University, Singapore

Date: 3 July 2014 (Tue) (Details)
---

Prof. Henrik Linderoth

FCE Public Lecture
"BIM – Will It Transform the Industry, or Will It Be Business as Usual?"

Speaker:
Prof. Henrik Linderoth
School of Engineering
University of Jönköping, Sweden

Date: 9 July 2014 (Wed) (Details)
---

Prof. J.H. Yin

Chair Professor Inaugural Lecture
"Elastic Visco-Plastic Modeling of the Time-Dependent Stress-Strain Behavior of Soils and Applications"

Speaker:
Prof. J.H. Yin
Department of Civil and Environmental Engineering and
Research Institute for Sustainable Urban Development, PolyU

Date: 16 July 2014 (Wed) (Details)

Forthcoming Events

FCE Public Lecture:
Designing for Construction Workers' Health and Safety: Organizing Projects to Achieve Technological Risk Controls
Date & Time: 20 August 2014 (Wed), 6:00p.m. to 7:00p.m.
Venue: Room PQ303, The Hong Kong Polytechnic University
Details: https://www.polyu.edu.hk/fce/events/20140820_lecture/
---
Ronald Coase Institute Workshop
Date: 7-13 December 2014
Venue: Manila, Philippines
Details: http://www.coase.org/whatsnew.htm

---




Copyright © Faculty of Construction and Environment, The Hong Kong Polytechnic University. All rights reserved.