Date: 8 April 2019 (Monday)
Time: 09:30 - 12:50
Venue: M1603 Senate Room, Li Ka Shing Tower, PolyU campus
* The Forum was conducted in English
09:00 – 09:30


Registration and Reception

09:30 – 09:35

Scholarship Agreement Signing Ceremony

09:35 – 09:40


Group photo taking

09:40 – 10:10

Speech by Scholarship Partner

Mr Pun Tit Shan
TC Concord Financial Group

Symposium on Infrastructure Development in South East Asia

10:10 – 10:15

Welcoming Remarks


Session I: Private Sector Participation in the Belt and Road Initiative

Chairman:
Dr Shaojun Zhang
Deputy Director, PolyU Faculty of Business – Belt and Road Centre

10:15 – 10:45

The Role of the Private Sector in the Belt and Road Initiative Infrastructure Building


Prof. Gu Qingyang
National University of Singapore

10:45 – 11:15


The Belt and Road Initiative and Infrastructure Development in Malaysia


Prof. Cheng Ming Yu
Universiti Tunku Abdul Rahman, Malaysia

11:15 – 11:25

Q&A



11:25 – 11:40


Coffee Break

Session II: Infrastructure Development and Protection in Indonesia and Singapore


Chairman:
Dr Yang Lei
PolyU Faculty of Business – Belt and Road Centre

11:40 – 12:10


Indonesia Infrastructure: Challenges and prospects


Prof. Irwan Adi Ekaputra
Universitas Indonesia

12:10 – 12:40

Infrastructure Protection Applications in Infrastructure Development in South East Asia


Dr Liu Chunlin
K&C Protective Technologies Pte Ltd, Singapore

12:40 – 12:50


Q&A
Organizers:

Sponsors:

Supporting Organization:

Session I: Private Sector Participation in the Belt and Road Initiative


Chairman:
Dr Shaojun Zhang
Deputy Director
PolyU Faculty of Business – Belt and Road Centre

Prof. Gu Qingyang
Associate Professor, Lee Kuan Yew School of Public Policy
National University of Singapore

Prof. Cheng Ming Yu
Professor of Economics, Faculty of Accountancy and Management
Director, Institute of Management and Leadership Development
Chairperson, Belt and Road Strategic Research Centre
Universiti Tunku Abdul Rahman, Malaysia
Session II: Infrastructure Development and Protection in Indonesia and Singapore

Chairman:
Dr Yang Lei
PolyU Faculty of Business – Belt and Road Centre

Prof. Irwan Adi Ekaputra
Professor of Finance
Universitas Indonesia

Dr Liu Chunlin
Founder and CEO
K&C Protective Technologies Pte Ltd, Singapore
Belt and Road Initiative (BRI) facilitates regional connectivity and economic development but challenges existing infrastructure development, according to experts at the recent Knowledge Transfer Forum on Infrastructure Development in South East Asia organized by the Faculty of Business at The Hong Kong Polytechnic University and its Belt and Road Centre.
BRI development in South East Asia enhances regional communication and brings inclusive and sustainable socio-economic development in the long run, said Gu Qingyang, Associate Professor at the Lee Kuan Yew School of Public Policy of the National University of Singapore.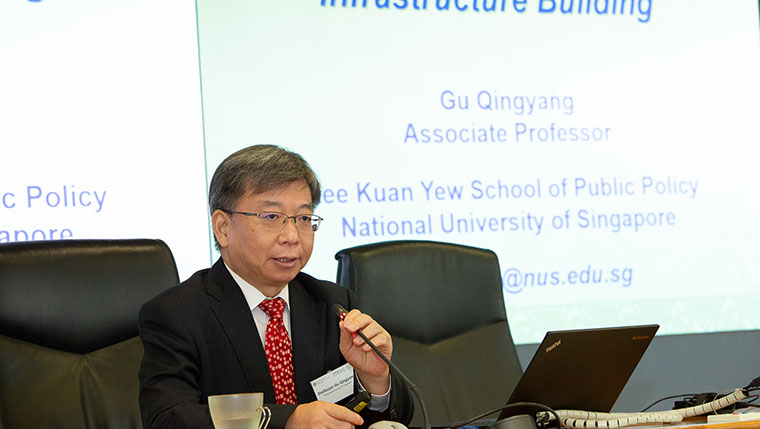 According to one recent World Bank report by de Soyres et al. (2018), the BRI transport projects that are completed or planned will significantly reduce cross-border shipment time and trade costs. South East Asian countries will be among the economies to experience the biggest reductions in trade costs because of BRI projects.
However, Gu pointed out that executing BRI projects remains a challenge because BRI investments involve large amounts of capital, long maturation cycles, as well as political and economic cooperation among governments.
"Belt and Road Initiative projects are mainly driven by governments and SOEs, especially for those resource-based projects, and there has been limited private sector participation," said Gu, adding that public-private partnership facilitates the participation of private enterprises.
He discussed a range of infrastructure development issues related to BRI and then illustrated ways to mitigate risks and leverage private investment in long-term BRI infrastructure projects.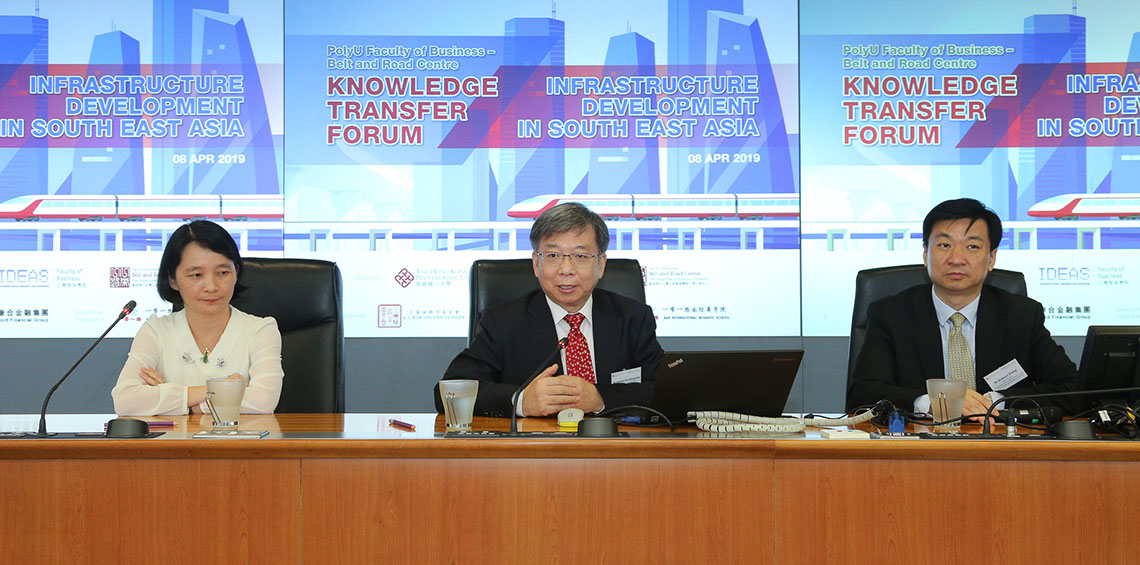 This symposium brought together experts from Malaysia, Indonesia, and Singapore to share their knowledge and views on infrastructure development in these countries.
In terms of infrastructure development in Malaysia, Cheng Ming Yu, Professor at Universiti Tunku Abdul Rahman in Malaysia, mentioned that challenges include imbalance of the country's development, lack of integrated transportation networks and limited flexibility of government financing channels.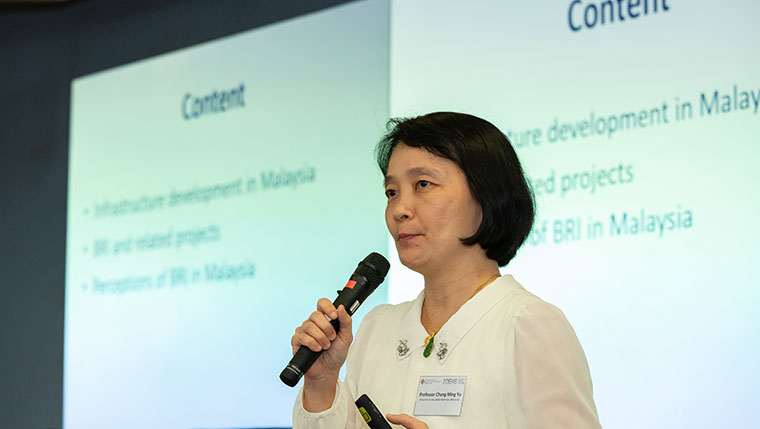 She added that according to the results of a survey conducted recently on public perceptions of BRI in Malaysia from both business and society perspectives,respondents were generally positive about the development of BRI although some of them were not very sure about the implications and ways to participate. It was largely agreed that BRI would continue to bring positive impacts to local economic development, cultural exchange as well as educational interactions.
Cheng also elaborated on the implications of BRI-driven mega infrastructure projects in Malaysia, like the ongoing Malaysia China Kuantan Industrial Park and Gemas-Johor Bharu Double Track Project as well as a few high-speed railway projects.
Irwan Adi Ekaputra, Professor at Universitas Indonesia, delivered his speech about prospects and challenges of Indonesia infrastructure sector.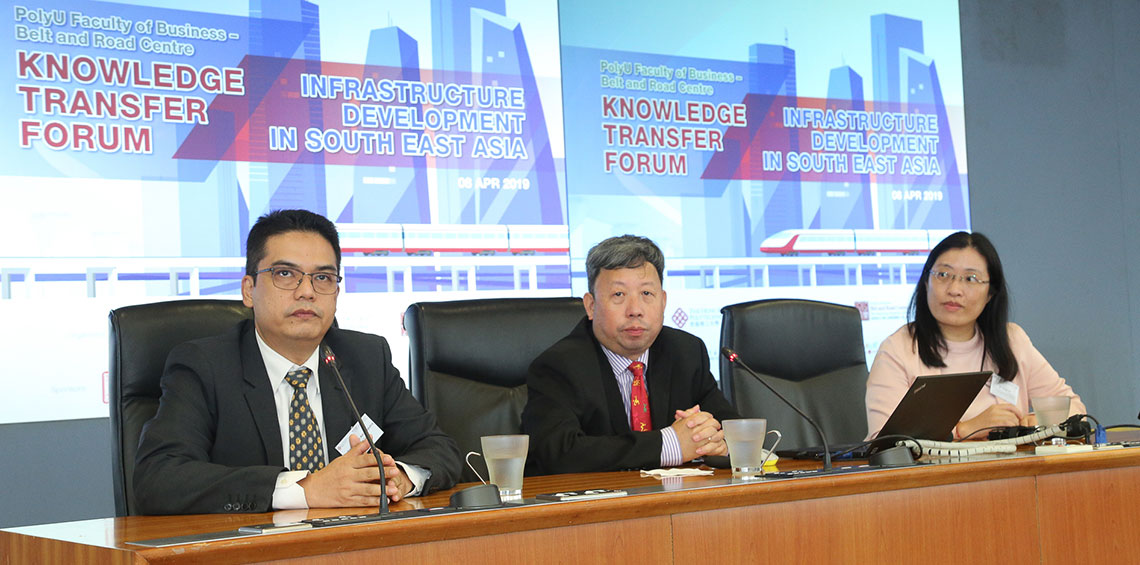 "Indonesia is a good destination for infrastructure investment as the country's infrastructure stock to GDP ratio of 38 percent in 2012 was way behind the average global standard of 70 percent. Estimated total value of investment required for infrastructure in 2015 to 2019 is US$359.2 billion," said Ekaputra.
Massive urban infrastructures across the country are expected to be developed and enhanced in order to fulfill basic human needs, support local leading sectors including agriculture, manufacturing, service and tourism, according to Ekaputra.
Four different types of vast infrastructure project investments in MRT Jakarta, Trans Sumatra Toll Road, Umbulan Drinking Water Project, and Mandalika Special Economic Zone were discussed, focusing on financing methods of the projects, the risks associated with such financing, as well as the opportunities for private sectors.
Liu Chunlin, Chief Executive Officer at Singapore K&C Protective Technologies Pte Ltd, pointed out the importance of infrastructure protection and explained potential threats to building security and security measures for urban buildings. He elaborated on six core platforms of infrastructure protection technology, namely perimeter protective system, wall and glazing façade protective system, structural anti-progressive collapse system, AI electronic surveillance and access control and security system, TVRA methodology, and protective measure economic optimization model.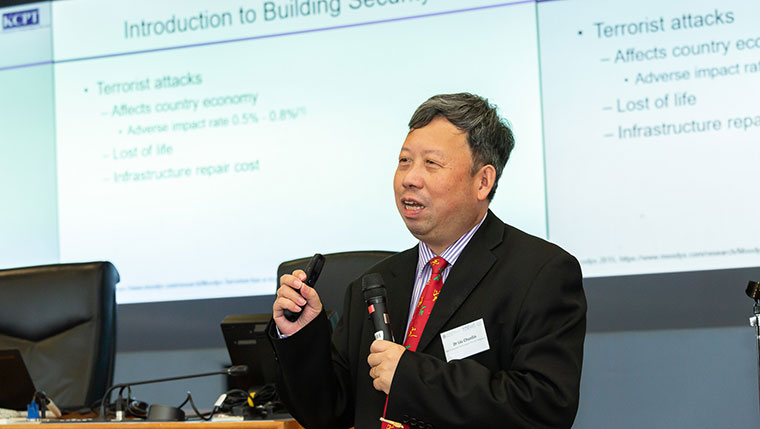 Using Singapore as an example, Liu discussed the legal aspects of infrastructure security. The city was ranked second in the overall ranking of global safe cities according to the Safe Cities Index 2017 released by the Economist Intelligence Unit. On September 11, 2017 the Infrastructure Protection Bill was introduced and the Infrastructure Protection Act came into effect on December 18, 2018 in Singapore. The act aims to provide for the protection of new buildings, special development projects and special infrastructures in Singapore against security risks.
Cases of protection applications in infrastructure development in South East Asia were illustrated at the forum, including security design concept, physical and structural protection measures, Integrated Security Management System (ISMS) Design, as well as Duress Alarm System and Guard Tour System.