Business and Economics at PolyU Ranks 25th in the World and First in Hong Kong
Times Higher Education (THE) World University Rankings 2022 by subject: Business and Economics show that PolyU ranks 25th in the world and first in Hong Kong.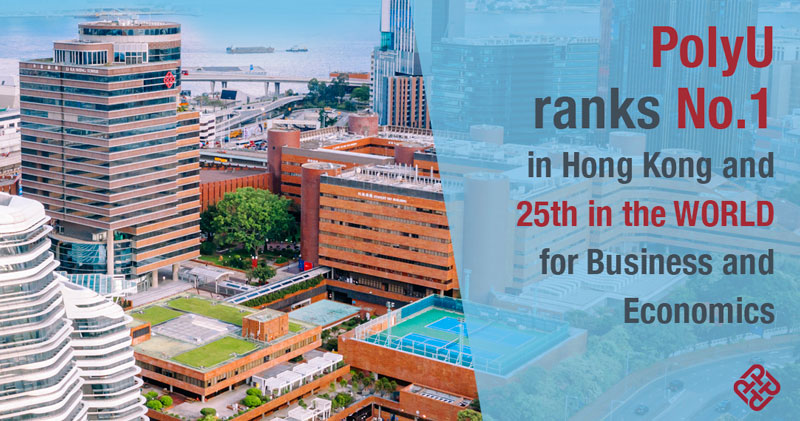 Source of image: Communications and Public Affairs Office at PolyU
The rankings cover the three areas of Business and management, Accounting and finance, and Economics and econometrics. They employ 13 performance indicators under the five categories of Teaching: the learning environment; Research: volume, income and reputation; Citations: research influence; International outlook: staff, students and research; and Industry income: innovation.
Faculty Members Rank among the World's Top 2% Scientists by Citation
Ten members of PolyU's Faculty of Business (FB) are among the world's top 2% of scientists in their main disciplines for career-long citation impact (Baas et al., 2021). Nine of them are current faculty members in the School of Accounting and Finance (AF), Department of Logistics and Maritime Studies (LMS), and Department of Management and Marketing (MM). Tracking seven million scientists worldwide, the study has identified about 186,000 top 2% of scientists, among whom 195 are PolyU academics.
The database contains the career-long data updated to citation year 2020. The latest dataset is based on the 1 August 2021 snapshot from Scopus.

(From left) Ir Professor T.C. Edwin Cheng, Professor Michael Harris Bond, Professor Eric W.T. Ngai, Professor Kee-hung (Mike) Lai, Professor James Ohlson, Professor Shuaian (Hans) Wang, Professor Chin-Shan Lu, Professor Chung-Lun Li and Professor Andy C.L. Yeung
Faculty of Business Top 2% Scientists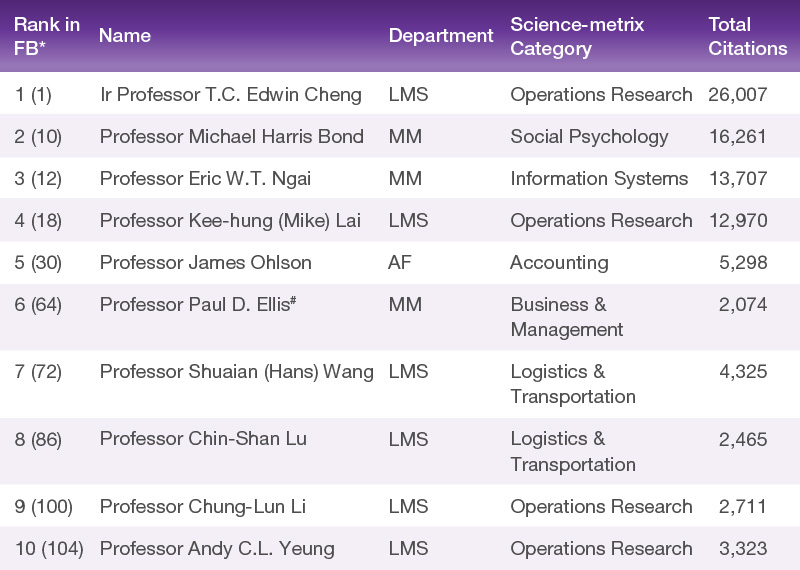 *
The ranks are based on a composite score with self-citations excluded. The numbers in the brackets represent the ranks of the staff among the 195 PolyU scientists listed in the study

.
# Former faculty member
Baas, J., Boyack, K.W. and Ioannidis, J.P.A. (2021) August 2021 data-update for "Updated science-wide author databases of standardized citation indicators". Mendeley Data. Available at: https://doi.org/10.17632/btchxktzyw.3.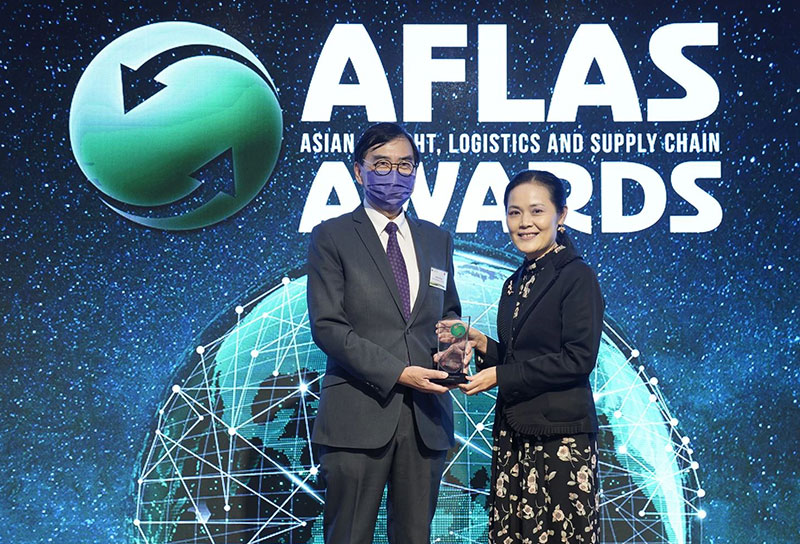 Faculty Dean Professor Edwin Cheng (left) at the AFLAS awards presentation

Photo courtesy of Asia Cargo News
The Faculty of Business is Named Best Logistics Educational Course Provider
The Faculty received the recognition of the Best Logistics Educational Course Provider at the 2021 Asian Freight, Logistics and Supply Chain (AFLAS) Awards presentation on 21 October 2021.
AFLAS awards, hosted by Asia Cargo News, honour leading service providers such as air and shipping lines, airports and seaports as well as logistics, including third-party logistics, and other associated industry professionals for their leadership, consistency in service quality, innovation, customer relationship management, and reliability.
Dr Hazel Lee Delivers Consultancy Research Session
Dr Hazel Lee, in the Department of Management and Marketing, delivered a knowledge transfer session on consultancy research on 22 October 2021.
The online session, designed for Standard Chartered Bank's People Capability team in the Asia Pacific region, was well received by participants, mainly in Singapore and Dubai, with a variety of backgrounds.
Research Insights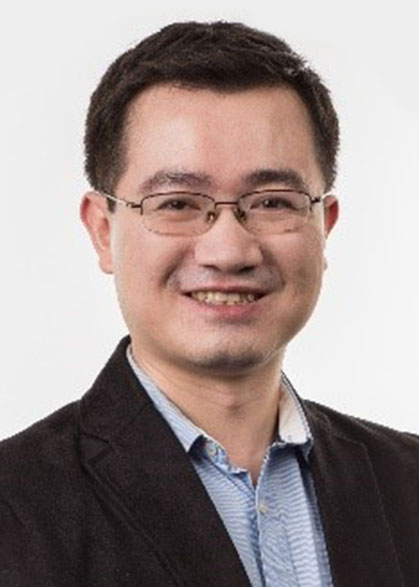 Dr Dai Yao

Taxi Drivers' Response to Cancellations and No-shows: New Evidence for Reference-dependent Preferences
Management Science

, forthcoming
Duong Hai Long, National University of Singapore
Junhong Chu, National University of Singapore
Dai Yao, The Hong Kong Polytechnic University

The authors study how daily labour supply responds to unanticipated earnings shocks among Singapore's taxi drivers using a novel identification strategy that makes use of idiosyncratic variation in booking cancellations and passenger no-shows (CNS) that drivers repeatedly receive. The results provide new and more compelling evidence in support of the income-targeting model of labour supply. Not only the average responses on the extensive margin, but also the responses on the intensive margin as well as the heterogeneous response at different income levels and across driver characteristics are all consistent with the income-targeting model. Drivers work longer and earn more per hour following CNS. The CNS effects exhibit a U-shaped pattern, are strongest when cumulative income is close to the average shift income, and become insignificant when the income level is too low or too high. The effects are most pronounced in the first hour of CNS and fade away quickly afterward. Drivers achieve higher productivity by reducing break time, taking more jobs, driving faster, driving to places with more earning opportunities, and having more time with passengers on board. They choose the response strategies that are complementary to their ability and circumstance such as schedule flexibility and potential for productivity improvement: Those with flexible working schedules tend to prolong their shifts further, while those with flexibility in earnings rate tend to increase their subsequent productivity more. The authors' novel identification strategy strengthens the empirical literature on daily labour supply, while their findings of the heterogeneity effects offer new insights on income-targeting behaviours.