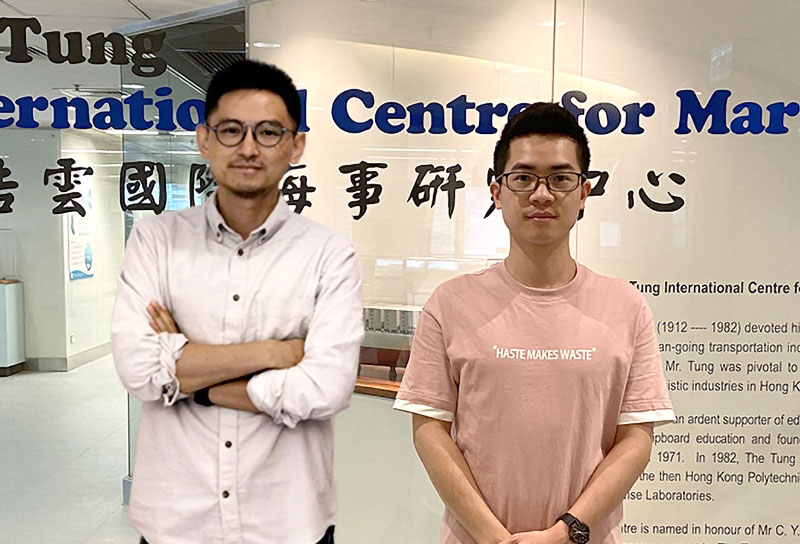 Dr Dong Yang (left) and Mr Shiguan Liao
Dr Dong Yang's Team Comes Third in UN AIS Big Data Hackathon
Dr Dong Yang and research assistant Mr Shiguan Liao, in the Department of Logistics and Maritime Studies, teamed up with three members from Tsinghua University to secure third place in the overall teams section of AIS Big Data Hackathon hosted by the United Nations in September 2020.
The hackathon was designed to highlight the capabilities of the UN Global Platform, which contains data from ship automatic identification systems (AIS), including information on ship location, speed, and type. It featured 17 teams selected from a pool of 43 applicants from around the world, including government and international organizations, students and academics, and the private sector. Dr Yang's team redefined three key port performance indicators using AIS and other data sources. It also developed a real-time port performance monitoring platform to illustrate the changing environment of ports and the status of international trade.
Mr Poon Tsz Chung's Team is Champion in PwC STEM Challenge (Customer Experience)
Mr Marco Poon Tsz Chung, reading for the BBA (Hons) degree in Accountancy, teamed up with a student from The Hong Kong University of Science and Technology to win championship in PwC STEM Challenge (Customer Experience) in August 2020.
The Challenge, open to university students of different backgrounds, consisted of two rounds. Participants, mentored by professionals, did research, applied their data analysis knowledge and skills to find business solutions, and made presentations. Tsz Chung's team joined the Customer Experience category and worked on the topic of Local Application by Digital Maker.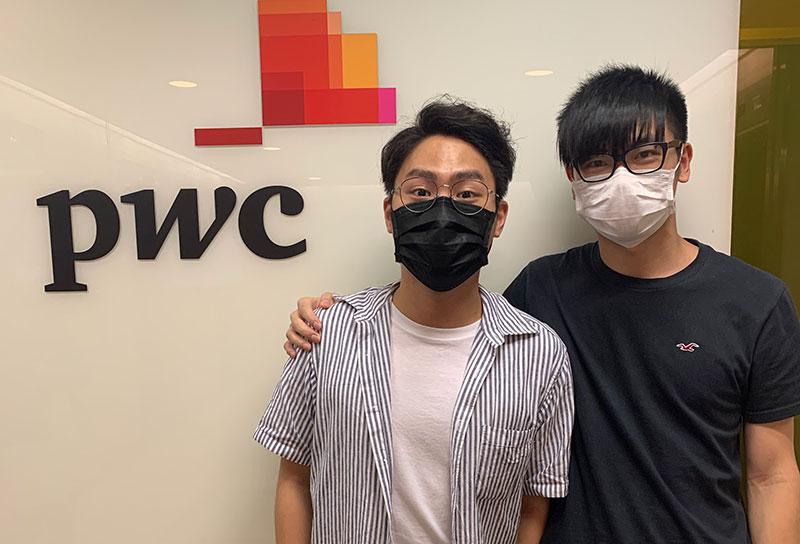 Poon Tsz Chung (left) and teammate
Professor Yuwei Jiang
Professor Yuwei Jiang Wins PBS Fellow Award
Professor Yuwei Jiang, in the Department of Management and Marketing, has been selected by the assessment panel as winner of PBS Fellow Award in the year 2019-2020. The award honours his outstanding contribution to the Faculty's global research ranking.
PBS (PolyU Business School) Fellow Award is aimed at acknowledging faculty members' hard work and contribution to raising the reputation of the Faculty and PolyU.
Knowledge Transfer Forum Examines Wealth Technology
Wealth technology (wealthtech) holds the promise of democratizing financial services by serving the underserved market segments but critics doubt if all wealth technologies are well designed with competency and integrity. For a discussion on wealthtech, the Faculty and its AMTD FinTech Centre and Digital Transformation Centre hosted a knowledge transfer forum themed "The Promises and Pitfalls of WealthTech: Evidence from Online Marketplace Lending".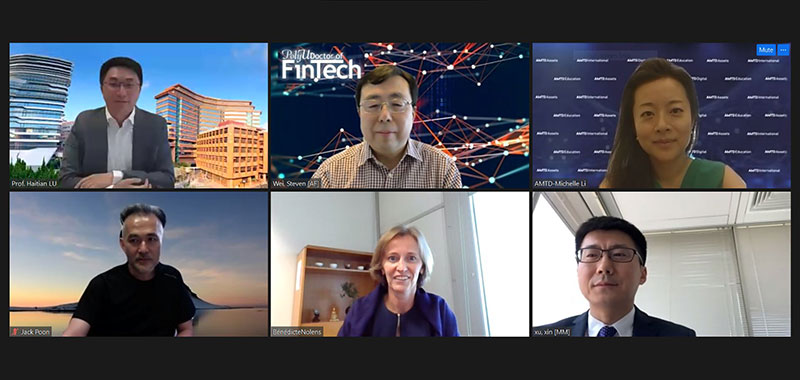 At the online forum
During the forum on 9 October 2020 Professor Haitian Lu, from the Faculty's School of Accounting and Finance and PolyU's Chinese Mainland Affairs Office, shared his research findings related to wealthtech and its impact on consumer welfare and financial markets. His presentation was followed by a discussion with Ms Bénédicte Nolens, Head of BIS (Bank for International Settlements) Innovation Hub Hong Kong Centre; Ms Michelle Li, CEO of AMTD Digital; and Mr Jack Poon, Professor of Practice as panellists.
Research Insights
The Impact of Revealing Auditor Partner Quality: Evidence from a Long Panel
Review of Accounting Studies, 25(4), 1475-1506 (2020)
C. S. Agnes Cheng, The Hong Kong Polytechnic University
Kun Wang, Tsinghua University
Yanping Xu, Jinan University
Ning Zhang, Queen's University
The authors examine whether the revelation of individual audit partner reputation affects client firms' external financing choice. Specifically, they investigate whether a firm switches its financing choices once its auditor partner is perceived to be a low-quality partner, captured by whether one of the audit partner's other clients is sanctioned for financial misreporting. They identify firms audited by a low-quality partner as the treatment firms and designate firms audited by other audit partners from the same audit office as the control firms. Using a long panel of data with audit partner identity, the authors find that, on average, the treatment firm switches from equity financing to credit financing after the discovery of individual audit partner quality. In addition, reduced equity financing is primarily concentrated among firms that choose to keep low-quality partners. By building an implicit link between the non-sanctioned firm and the sanctioned firm through a common audit partner, the authors show that investors can infer the quality of external audits using the auditor-level information, thus empirically supporting to the new PCAOB rule that requires disclosure of the partner-level information.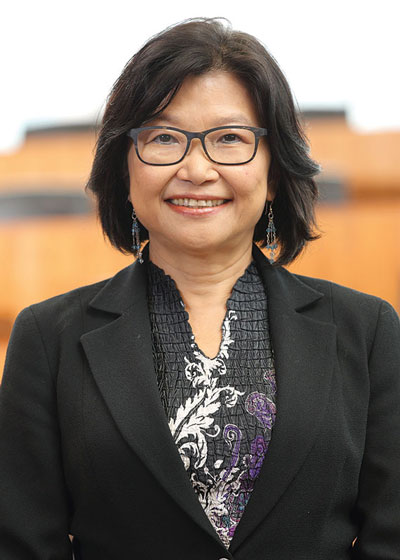 Professor C. S. Agnes Cheng