Business and Economics at PolyU Ranks 27th in the World and First in Hong Kong
In the 2023 Times Higher Education (THE) World University Rankings by subject, Business and Economics at PolyU ranks 27th in the world and first in Hong Kong.
The rankings cover the three areas of Business and Management, Accounting and Finance, and Economics and Econometrics. They employ 13 performance indicators in the five categories of Teaching: the learning environment; Research: volume, income and reputation; Citations: research influence; International outlook: staff, students and research; and Industry income: innovation.
Faculty Members Rank among the World's Top 2% Scientists by Citation
Nine members of PolyU Business School (PBS) are among the world's top 2% of scientists in their main disciplines for career-long citation impact (Ioannidis, 2022). Among them, eight in the Department of Logistics and Maritime Studies (LMS), Department of Management and Marketing (MM), and School of Accounting and Finance (AF) have been listed as the world's top 2% for three consecutive years. Tracking millions of scientists worldwide, the study has identified about 195,600 top 2% of scientists, among whom 201 are PolyU academics.
The database contains the career-long data updated to end of citation year 2021. The latest dataset is based on the 1 September 2022 snapshot from Scopus.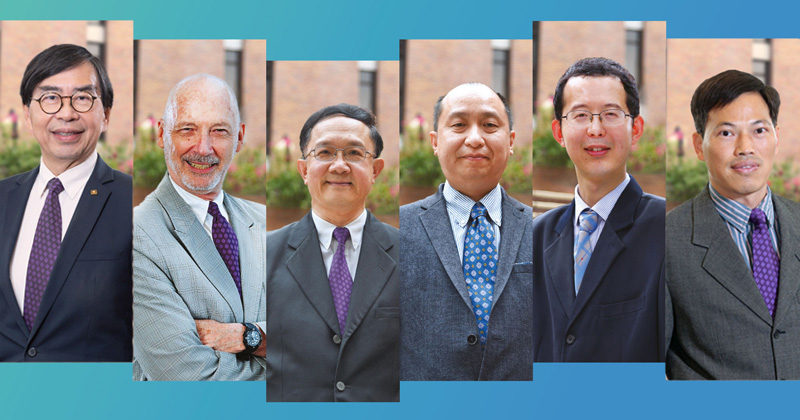 (From left) Ir Prof. T.C. Edwin Cheng, Prof. Michael Harris Bond, Prof. Eric W.T. Ngai, Prof. Kee-hung (Mike) Lai, Prof. Shuaian (Hans) Wang and Dr Vincent W.S. Cho
PolyU Business School Top 2% Scientists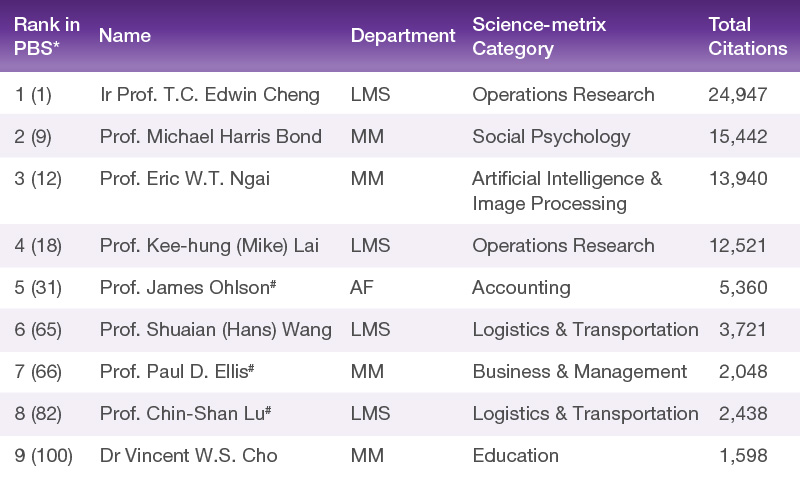 *The ranks are based on a composite score with self-citations excluded.
The numbers in the brackets represent the ranks of the staff among the 201 PolyU scientists listed in the study.
# Former faculty member
Ioannidis, J.P.A. (2022) September 2022 data-update for "Updated science-wide author databases of standardized citation indicators". Mendeley Data, V4. Available at: https://doi.org/10.17632/btchxktzyw.4.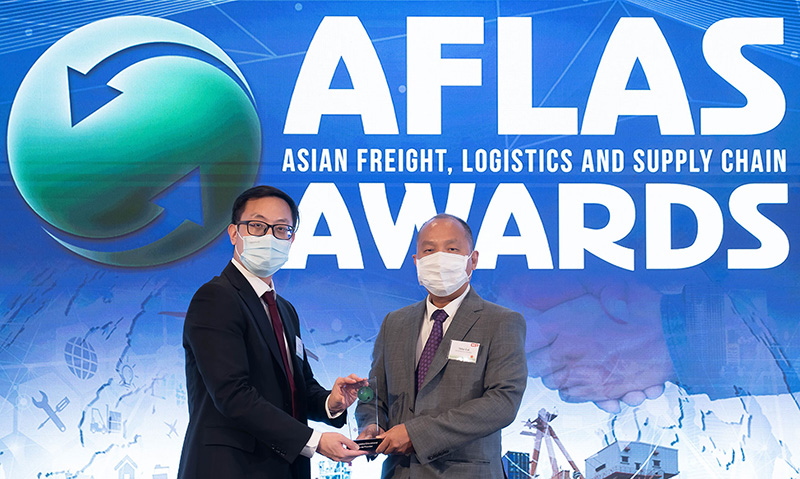 Prof. Mike Lai, Associate Dean of the Faculty of Business (right), at the AFLAS awards presentation (Photo courtesy of Asia Cargo News)
PolyU Business School wins Best Logistics Educational Course Provider award again
The PolyU Business School has again been recognised as Best Logistics Educational Course Provider at the 2022 Asian Freight, Logistics and Supply Chain (AFLAS) Awards on 7 September 2022. The Faculty won the same award in 2021.
The AFLAS awards, hosted by Asia Cargo News, honour leading service providers such as air and shipping lines, airports, and seaports. They also honour logistics providers, including third-party logistics, and professionals in associated industries for their leadership, consistent service quality, innovation, customer relationship management, and reliability.
The PolyU Business School ranks third outside the US and 9th in the world in Production and Operations Management. These rankings are based on publications in four premium journals used for The University of Texas at Dallas (UTD) Top 100 Worldwide Business School Rankings based on Research Contributions 2017 to 2021. The Department of Logistics and Maritime Studies is the sole provider of comprehensive logistics and maritime education at tertiary level in Hong Kong. Its shipping research is ranked first in the world, based on Clarivate Web of Science 2019 to 2021 data.
Asia Cargo News provides intelligence for cargo, logistics and supply chain companies located in and doing business in Asia. The newspaper includes in-depth features, news and analysis on air freight, sea freight, and logistics to meet the needs of industry decision-makers.
FB Professor is recognised as a 'Visionary Educator 2022'
Professor Brian Kei, Professor of Practice in the School of Accounting and Finance, was recently recognised as a Visionary Educator 2022 by the UiPath Academic Alliance, the educational partnership arm of UiPath, a global software company.
UiPath is the global leader in making software robots using Robotic Process Automation (RPA), a software technology that makes it easy to build, deploy, and manage software robots that emulate human actions. By automating some of their business services, companies can improve their operational efficiency.
The Visionary Educator award is awarded every year to distinguished educators who have demonstrated exceptional initiative to grow the adoption of automation skills and improve the employability of students.
Professor Kei was recognised for his successful efforts to build a RPA talents community in Hong Kong, thus providing the tools for his Capstone project students to explore career opportunities through project engagement with diverse companies using automation technologies. For example, his students developed a software robot that enabled a company to replace the demanding manual process of producing 400 customised monthly financial statements with an automated process that took just 20 minutes.
PolyU was the first university in the region to offer doctoral programmes in business administration and fintech. The Faculty of Business continues to maintain a strong reputation for innovation and original thinking in these crucial areas.
Record Breaking Five Teams of Undergraduates Enter I.C.B.C. Final
For the first time, five teams of ten students across the Faculty of Business have qualified for the finals at the prestigious 45th Inter-Collegiate Business Competition (I.C.B.C.), an international business case competition hosted by the Smith School of Business at Queen's University in Canada. This year's qualifying events are: Finance, Accounting, Marketing and Digital Strategy. There is also a special invitation to the bonus debate event.
The teams will be flying out to Canada to compete in January 2023, executing their cross-major teamwork and applying their knowledge in real-life case scenarios.
Special thanks and acknowledgement to coaches Dr Chen Te Feng (Finance team), Dr William Wong (Accounting team), Dr Vincent Cho (Digital Strategy team), and Dr Hazel Lee (Marketing team and Debate team) for their time and efforts.
The finalists are from the School of Accounting and Finance, the Department of Management and Marketing, and the Department of Logistics and Maritime Studies: Gong Zihan, Chen Yusong, Ngai Yee Ting, Leung Chun Kit, Hung Man Sze, Yuan Kuisheng, Tam Ching Yin, Chan Yung-Ting, Lun Koc Ki Thomas, Lee Gun.
Faculty Graduation Ceremony
The Faculty held its graduation ceremony from 10 to 12 November for this year's 2,094 graduates. This year's cohort comprised 753 undergraduates, 1,294 taught postgraduates, and 47 research students. During the six sessions of the ceremony, Bachelor's degrees, Postgraduate diplomas, Master's degrees, MPhil degrees and Doctoral degrees were presented to graduates.
School of Accounting and Finance launches its first Fintech Adoption Index Survey
The School of Accounting and Finance, in collaboration with AI investment trading start-up Asklora, has released the inaugural PolyU-Asklora Fintech Adoption Index (FAI). The FAI is the first locally developed index to measure Hong Kong consumers' adoption of fintech and its impact.
The FAI surveyed over 1,000 Hong Kong residents about their adoption of key fintech applications including virtual banking and cryptocurrencies. Overall, the FAI was measured at 55. This figure captures both the proportion of respondents who have adopted fintech products, and the spectrum of fintech services they have adopted. 51% of respondents identified as active fintech users. Other key takeaways were overall security concerns among fintech users, and the relatively strong adoption of fintech by digital insurance users.
The PolyU-Asklora project is led by Dr Jingran Zhao, Associate Professor of the School of Accounting and Finance; Mr Jack Poon, Professor of Practice from the same school; and Mr Stephen Joon Choi, Co-founder and Chief Technology Officer of Asklora.
The FAI is planned as a long-term quarterly research project. The next survey will start in January 2023. For more information on the PolyU-Asklora FAI, please visit www.polyufai.org.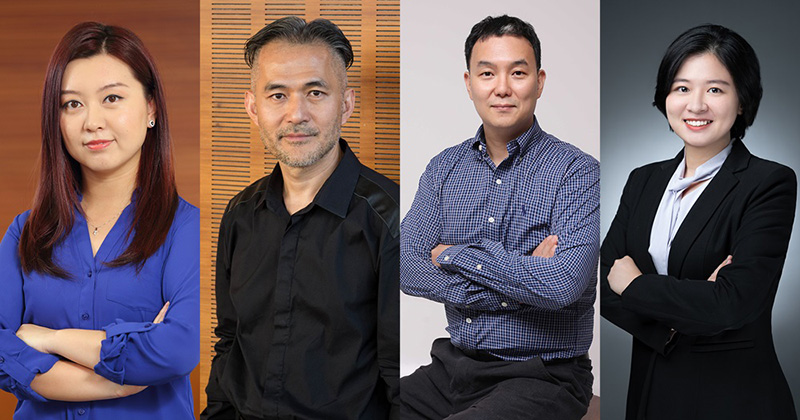 (From left) Dr Jingran Zhao, Prof. Jack Poon, Mr Stephen Joon Choi and Ms Gemmy Cheng (FAI Project Coordinator)
MAFA Workshop x 2022 DAS Seminars
The Faculty's Digital Transformation Centre, and School of Accounting and Finance organised two DAS (Digital Asset Series) seminars in October 2022, naming them the MAFA (MSc in Accounting and Finance Analytics) Workshop x DAS Seminars.
The first seminar was held on 12 October to explore the world of Central Bank Digital Currencies (CBDC) – digital tokens issued directly by governing authorities and backed by foreign currency reserves. Speakers from BIS Innovation Hub, Zhejiang University's International Business School, CryptoBLK, OneCash, and the Faculty's School of Accounting and Finance explored topics including 'CBDC and Global Trade', 'How e-HKD works for the consumer', and 'Stablecoin, the future of money'. A lively panel discussion followed.
The second seminar was held on 27 October to explore decentralised finance (DeFi) and cryptocurrencies. Speakers from HKU's Department of Computer Science, HKE Holdings, Matrixport, and the Faculty's School of Accounting and Finance explored topics including 'From TradFi to DeFi', 'DeFi: Opportunities and Risk', and 'How to profit $180K in 15 seconds with DeFi'. This was followed by a similarly animated panel discussion.
PolyU 85th Anniversary Conference – "Managing Innovation in the Digital Era"
To celebrate PolyU's 85th Anniversary, the Department of Management and Marketing (MM) held a conference titled "Managing Innovation in the Digital Era" on 4 November 2022.
The conference brought cutting edge knowledge from both academia and business to generate new ideas and best practices on innovation, leadership, and digital marketing. Speakers from Cathay Pacific Airways, Google, Carousell, Cloudbreakr, Wedo Global and MM delivered keynote speeches on innovation and branding in the morning session, and on innovation and business opportunities in the afternoon session. Panel discussions were followed to enable exchanges of views among speakers and participants.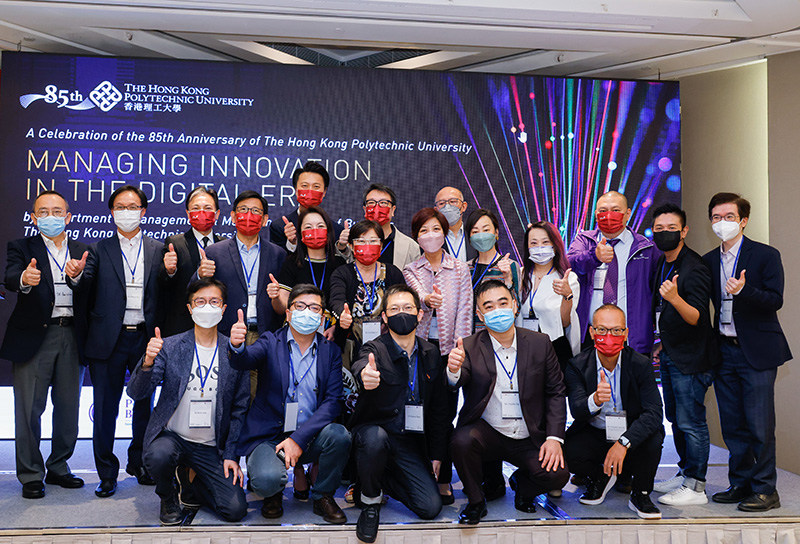 At the conference
Knowledge Transfer Forum Discusses Smart Port Logistics
The Faculty's Shipping Research Centre hosted a knowledge transfer forum for experts to share their views on smart port logistics.
The virtual forum on 23 November was organised to mark Hong Kong Maritime Week 2022. Four speakers addressed the forum from the Institute of Chartered Shipbrokers, Smartport of FILSCI, Logistics and Supply Chain MultiTech R&D Centre, and Asia Shipping Exchange.
This is the ninth in a series of forums organised by the Centre to promote best practices, strengthen the theoretical base of decision-making in shipping and logistics, and encourage the shipping industry to leverage research studies.
Faculty Members Win Outstanding Achievement Awards and PBS Fellow Award
Congratulations to the following academics from the School of Accounting and Finance (AF), the Department of Logistics and Maritime Studies (LMS), and the Department of Management and Marketing (MM) on receiving the Faculty's Outstanding Achievement Awards, Faculty Prizes, and the PBS Fellow Awards for the year 2021-2022.
Faculty Awards for Outstanding Achievement in Teaching, Research and Scholarly Activities, Services, and Knowledge Transfer were awarded to the following academics:
Individual Award
Category
Department
Awardee
Teaching
LMS
Dr Guang Xiao
Research and Scholarly Activities
Outstanding Young Researcher
LMS
Dr Xiaomeng Guo
Services
LMS
Prof. Shuaian Wang
Knowledge Transfer
Industry
AF
Dr Jingran Zhao
MM
Prof. Eric Ngai
Team Award
Category
Department
Awardee
Services
AF
Dr Shaojun Zhang
Ms Helen Chan
Mr Lai Yat-Chee
Faculty Prizes for Outstanding Achievement in Teaching, Research and Scholarly Activities, and Services:
Individual Prize
Category
Department
Awardee
Teaching
AF
Dr Jing Zhao
AF
Dr Liangliang Jiang
AF
Dr Bruce Li
LMS
Dr Anthony Pang
MM
Dr Annie Ko
Research and Scholarly Activities
Outstanding Researcher
MM
Dr Flora Gu
Outstanding Young Researcher
AF
Dr Chong Wang
AF
Dr Yangyang Fan
LMS
Dr Kai Pan
MM
Dr Feifei Huang
Services
AF
Dr Te-Feng Chen
PBS (PolyU Business School) Fellow Award:
Department
Awardee
AF
Dr Andy Chui
Dr Jimmy Jin
Prof. John Wei
Dr Nan Yang
LMS
Dr Achim Czerny
Prof. Li Jiang
Prof. Mike Lai
MM
Dr Xin Xu