PolyU's Shipping Research Ranks First in the World
Shipping encompasses the transport of goods by any mode. Studies show that PolyU's shipping research ranked first in the world in 2016 to 2018. The ranking is based on shipping and shipping-related research publications under the category of Transportation in Thomson Reuters' ISI Web of Science database.
| | | |
| --- | --- | --- |
| Rank | Institution | No. of shipping articles published in 2016 to 2018 |
| 1 | The Hong Kong Polytechnic University | 48 |
| 2-3 | Dalian Maritime University | 25 |
| 2-3 | Nanyang Technological University | 25 |
| 4-5 | Chung-Ang University | 19 |
| 4-5 | Norwegian School of Economics | 19 |
Professor Andy Yeung is JOM Departmental Editor
Professor Andy Yeung, in the Department of Logistics and Maritime Studies, has been appointed Co-departmental Editor (Inter-organizational Operations) of the Journal of Operations Management (JOM) for a term of three years until June 2022. He was Associate Editor of the Journal for seven years and winner of the JOM Best Associate Editor Award in 2013.
JOM is a leading journal in the ISI Operations Research and Management Science category. Its mission is to publish original and empirical operations management research of both academic and practical relevance. It focuses on the management of operations, including manufacturing operations, service operations, and supply chain operations. The Inter- organizational Operations department, formerly known as Supply Chain Management, publishes manuscripts that advance scientific understanding of the origins, working mechanisms, and consequences of inter-organizational relations within the value system of a firm.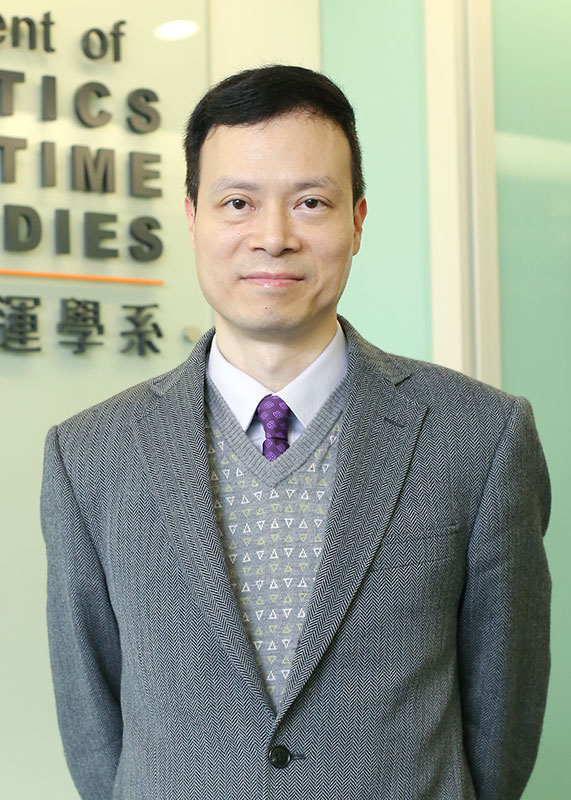 Professor Andy Yeung

Mr Marcellus Wong
Mr Marcellus Wong is Outstanding PolyU Alumnus
Mr Marcellus Wong Yui-keung, Vice Chairman of the Board of Directors and Managing Director of AMTD Group, was among the nine recipients of the Outstanding PolyU Alumni Award presented on 30 April 2019. Since graduating from Hong Kong Polytechnic with a Higher Diploma in Accountancy in 1977, Mr Wong had been tax assessor and business advisor as well as partner, compliance leader, and risk and quality leader of tax practice at PricewaterhouseCoopers. He is currently Chairman of Advisory Board of The Taxation Institute of Hong Kong, Honorary Adviser (Greater China) to CPA Australia, and member of the Joint Liaison Committee on Taxation offering advice to the HKSAR government.
The Outstanding PolyU Alumni Award, launched in 1996, is presented biennially to distinguished graduates of PolyU and its predecessors – the Government Trade School, Hong Kong Technical College, and Hong Kong Polytechnic – in recognition of their professional achievements and contribution to society and their alma mater.
PolyU Strengthens Cooperation with Guangzhou Organizations on Technology Innovation
Guangzhou Innovation and Investment Institute, Guangzhou Science and Technology Financial Service Center, and PolyU entered into a memorandum of understanding for cooperation on technology innovation, especially through regular exchange of ideas and collaboration in the use of computer science, big data, remote sensing technology, and financial technology. The three parties will work together to promote international communication and cooperation with special focus on technology transfer, training, research and development, and linking with industry.
Members of the three signatories gathered at PolyU on 10 April 2019 for the memorandum signing ceremony and a campus tour. Professor Guohua Chen, Associate Vice President (Research Support) was PolyU's witness and Professor Wilson Tong, Director of AMTD FinTech Centre of PolyU Faculty of Business, signed the document on behalf of PolyU.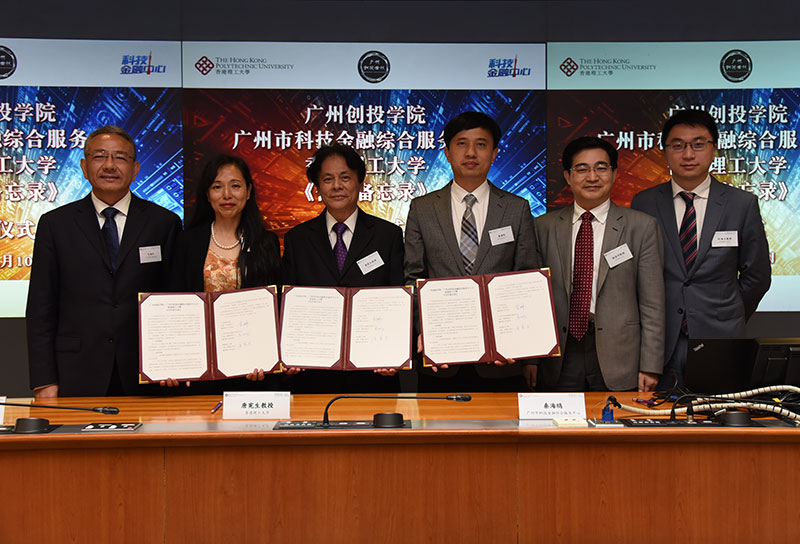 At the memorandum signing ceremony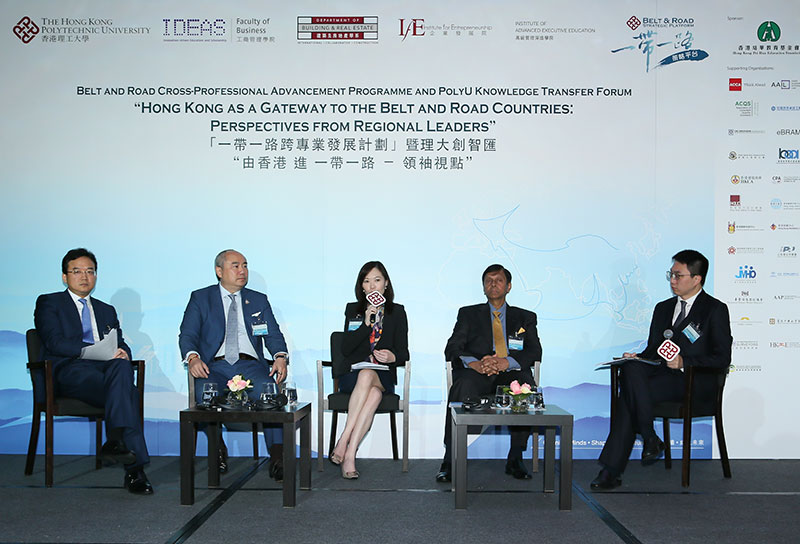 At the forum
Knowledge Transfer Forum Discusses Hong Kong as a Gateway to Belt and Road Countries
The Faculty's Knowledge Transfer Forum is a platform for exchange of ideas, intelligence and knowledge between educators and researchers, the public and private sectors. The May event, jointly hosted by the Faculty and PolyU's Institute for Entrepreneurship, took place on 31 May 2019.
Entitled "Hong Kong as a Gateway to the Belt and Road Countries: Perspectives from Regional Leaders", the event gathered stakeholders of a wide variety of industries, professions and expertise for an exploration of innovative ideas and potential collaboration. Discussion panellists came from the banking, business, and legal sectors in Hong Kong, Sri Lanka, and Thailand.
Knowledge Transfer Forum Examines Infrastructure Development in South East Asia
The April event of the Knowledge Transfer Forum, hosted by the PolyU Faculty of Business – Belt and Road Centre on 8 April 2019, was themed "Infrastructure Development in South East Asia".
Speakers from universities and the private sector in Indonesia, Malaysia, and Singapore shared their views and experience during the two sessions on Private Sector Participation in the Belt and Road Initiative (for building the Silk Road Economic Belt and the 21st Century Maritime Silk Road), and Infrastructure Development and Protection in Indonesia and Singapore.
Host and speakers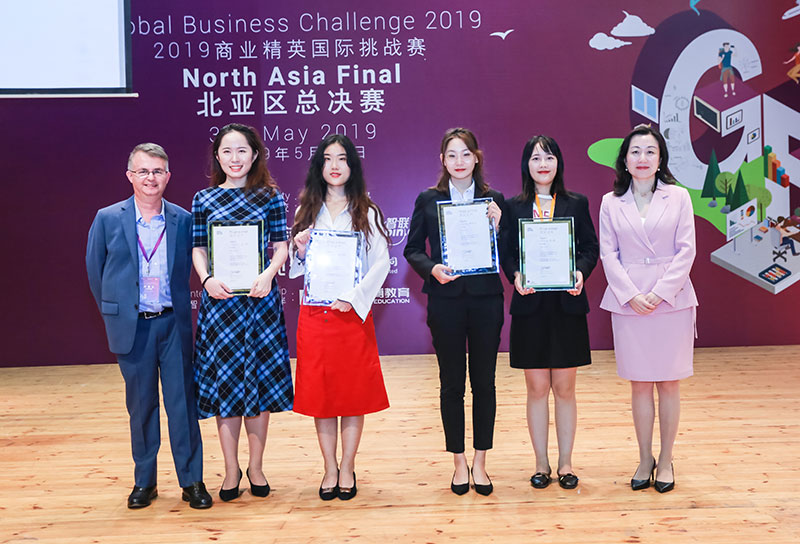 (From second on left) Cui Xinyue, Gu Yinglin, Chen Shuyu, Zhou Zimeng
Accounting and Finance Team is Champion in CGMA Global Business Challenge
Four BBA (Hons) students in the School of Accounting and Finance teamed up to enter CGMA Global Business Challenge 2019 and won championship in the North Asia final held in Xiamen, China. They also won the Best Video Award and the Best Talent Award. The team members were Miss Clair Cui Xinyue, Miss Lukia Gu Yinglin, Miss Grace Chen Shuyu, and Miss Michelle Zhou Zimeng.
CGMA is short for Chartered Global Management Accountant. In the North Asia competition, i.e., the final on 31 May 2019, were 10 teams from the Chinese mainland, Hong Kong, Macao, Taiwan, Japan, and Mongolia who presented the results of their case analyses.
Miss Law Wing Sum and Mr Tsoi Ho Ching are Runners-up in HackUST
The 24-hour hackUST (software) together with the 48-hour hardUST (hardware) make a global hackathon hosted by The Hong Kong University of Science and Technology (HKUST). Miss Sebastiane Law Wing Sum and Mr Shaun Tsoi Ho Ching, reading for the BBA (Hons) degree in International Shipping and Transport Logistics, teamed up with Mr Edwin Kwok Ho Hin in PolyU's School of Design to win the first runner-up prize in hackUST 2019 of Hackathon@HKUST.
Hackathon@HKUST is open to students and recent graduates of universities. The 2019 challenge, inviting participants to create new customer experience and optimize business operation for Jardine Restaurant Group, attracted 129 teams from around the world. During hackUST on 13 to 14 April, the PolyU team shared innovative ideas about its mobile app IDIET tracking diet habits when eating out and providing health and meal suggestions.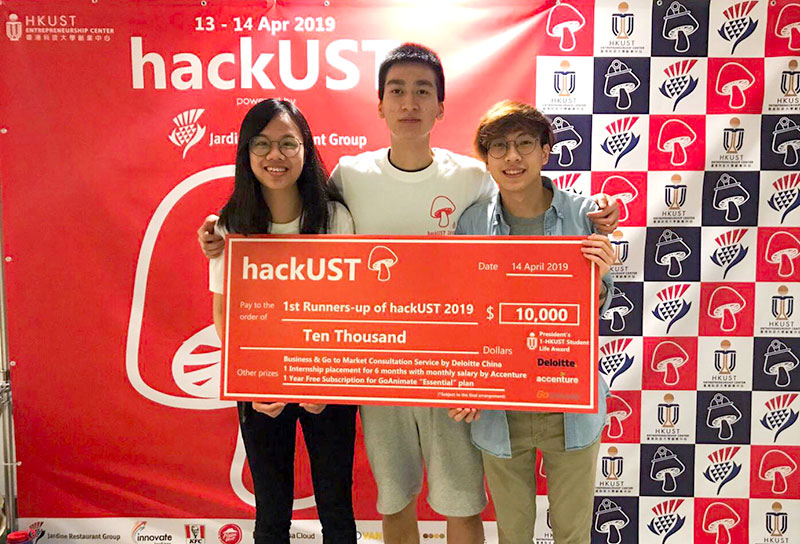 (From left) Law Wing Sum, Tsoi Ho Ching, Kwok Ho Hin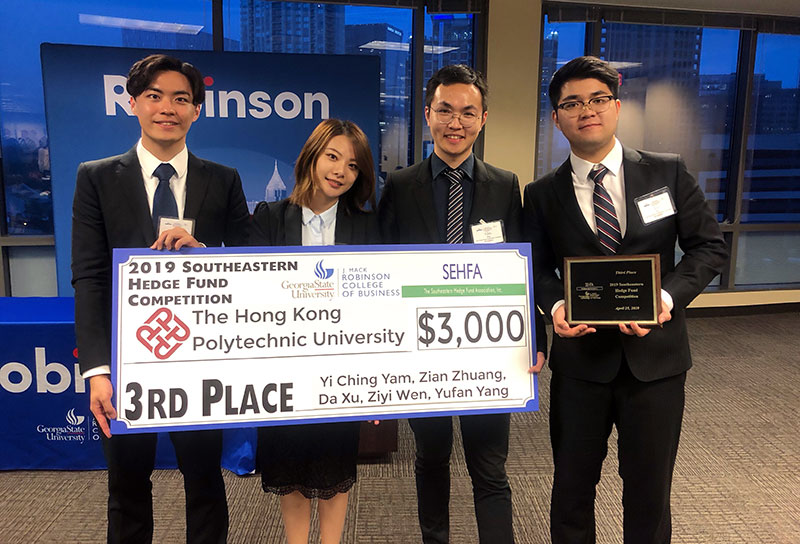 (From left) Zhuang Zian, Yam Yi Ching, Yang Yufan, and Xu Da
Accounting and Finance Team Takes Third Place in Southeastern Hedge Fund Competition
Four students in the School of Accounting and Finance teamed up to take third place in Southeastern Hedge Fund Competition 2019. They were Mr Larry Zhuang Zian, Miss Sammi Yam Yi Ching, Mr Allen Yang Yufan, and Mr Davis Xu Da.
This competition is open to college and university students around the world. The third annual event was hosted by The Southeastern Hedge Fund Association and J. Mack Robinson College of Business at Georgia State University. During the final on 25 April 2019, each of the finalist teams presented its investment strategy and responded to questions raised by the panel of judges.
Accounting and Finance Team is Third Runner-up in TIHK Tax Debate Competition
A team of BBA (Hons) students in the School of Accounting and Finance entered Tax Debate Competition 2019 hosted by The Taxation Institute of Hong Kong (TIHK) and won the third runner-up prize. They were Miss Wong Tsz Ching, Mr Cheang Hao Kiat, Mr Lam Hin Ching, and Mr Lai Fai Yu.
This annual competition is open to undergraduates of accounting, finance, and business programmes. Each university or college can nominate one team of four students to join the debates conducted in Cantonese. The 2019 final was held on 26 May.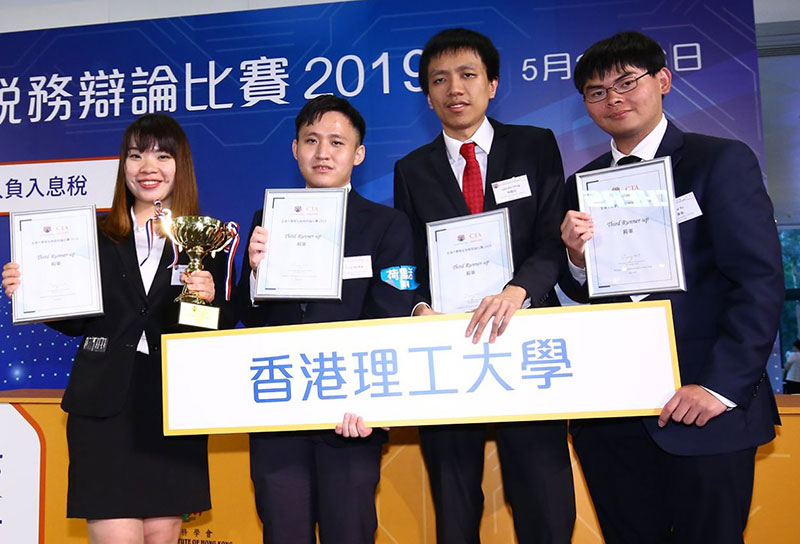 (From left) Wong Tsz Ching, Cheang Hao Kiat, Lam Hin Ching, and Lai Fai Yu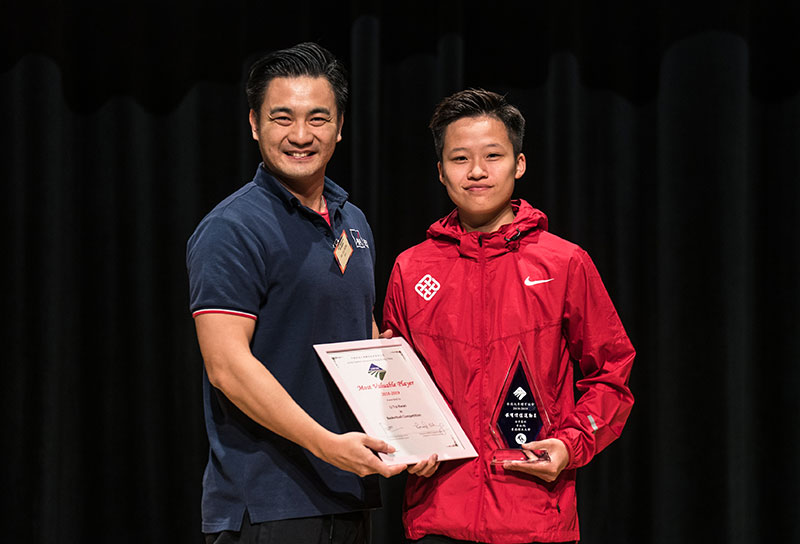 Li Tsz Kwan (right)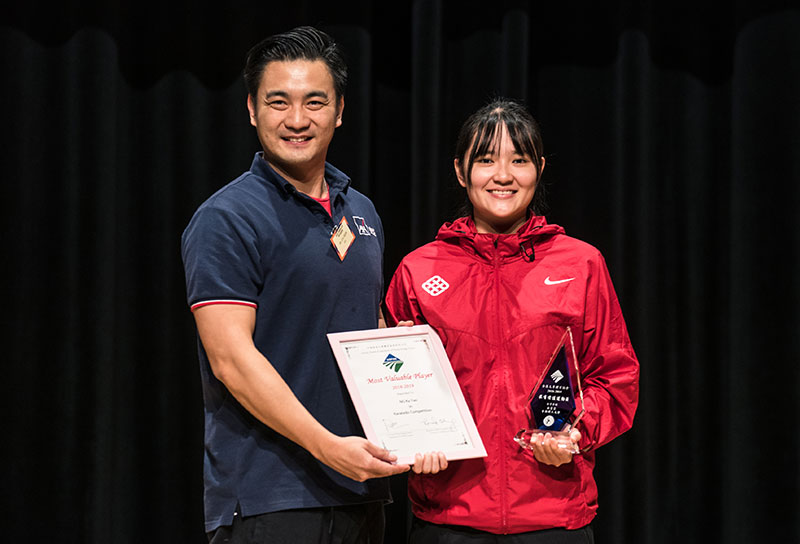 To Ying Ying (right)

Seven Student-athletes are Most Valuable Players
A total of seven BBA (Hons) degree students were named Most Valuable Player of The University Sports Federation of Hong Kong, China (USFHK) and of PolyU teams. They were officially recognized during the annual prize presentations of USFHK on 13 April and of PolyU on 24 April 2019.
Most Valuable Player of USFHK
Student
Sport
Curriculum
Miss Li Tsz Kwan
Basketball (W)
International Shipping and Transport Logistics
Miss To Ying Ying
Handball (W)
Accountancy
Most Valuable Player of PolyU
Student
Sport
Curriculum
Mr Cheng Ho Yin
Karatedo (M)
Accounting and Finance
Mr Lam Wing Lun
Tennis (M)
Marketing
Mr Law Shiu Chung
Fencing (M)
Accounting and Finance
Miss Ling Pui Shan
Rugby (W)
Marketing
Miss Ngai Suet Yi
Woodball (W)
Global Supply Chain Management

(From left) Cheng Ho Yin, Lam Wing Lun, Law Shiu Chung, Ling Pui Shan, Ngai Suet Yi
Academic Promotions
Congratulations to the following Faculty members on their promotions effective 1 July 2019.
School / Department
Staff
New rank
School of Accounting and Finance
Dr Saffar Walid
Professor
Department of Logistics and Maritime Studies
Dr Sarah Wan Yulai
Associate Professor
Dr Xu Zhou
Professor
Department of Management and Marketing
Dr Liu Wu
Professor
Research Insights
Give and Take: An Episodic Perspective on Leader-member Exchange
Journal of Applied Psychology, 104(1), 34-51 (2019)
Zhenyu Liao, Washington University in St. Louis
Wu Liu, The Hong Kong Polytechnic University
Xian Li, CITIC Securities Co., Ltd.
Zhaoli Song, National University of Singapore
Research on leader-member exchange (LMX) has predominantly taken a dyadic relationship perspective to understand the differences in overall exchanges across leader-member dyads, while neglecting the within-dyad exchange dynamics across a series of episodic resource transactions. Drawing from the literature on equity and reciprocity principles of social exchange, the authors develop and test a model of leader-member episodic resource transactions that delineates the momentary psychological mechanism and the boundary condition under which episodic resource contribution surplus generates member subsequent reciprocations. Multilevel polynomial regression analyses of 600 episodic exchange responses from 73 employees show that resource contribution surplus in an exchange episode increased state work engagement immediately following the episode and member resource contribution in the next episode by evoking member momentary sense of obligation to reciprocate. Additionally, the between-dyad LMX relationship quality attenuated these effects by reducing the likelihood to feel obligated to reciprocate due to episodic resource contribution surplus. This research highlights the microdynamic transaction nature of the exchanges between leaders and members and provides insight into how leader-member dyads exchange resources in episodic interactions.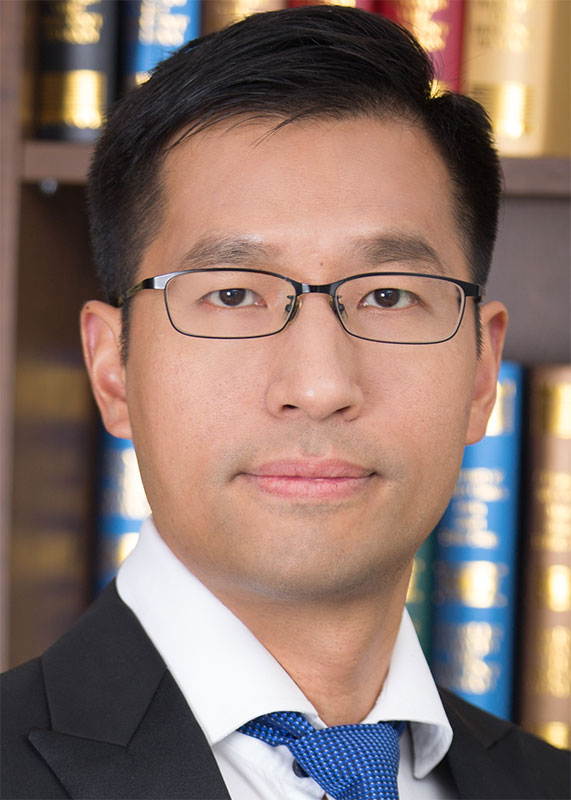 Professor Wu Liu