PolyU was the Fifth Most Influential University in OR-MS Research
Many universities around the world have made important contributions in the field of operations research and management science (OR-MS). "Bibliometrics in Operations Research and Management Science: A University Analysis", published online in August 2018 in the Annals of Operations Research, presents the most productive and influential universities in OR-MS research between 1991 and 2015.
The study results, based on data from Web of Science (WoS) Core Collection, show that PolyU was the fifth most influential university in OR-MS research during 1991-2015.
| | |
| --- | --- |
| Rank | University |
| 1 | Massachusetts Institute of Technology |
| 2 | University of Montreal |
| 3 | Georgia Institute of Technology |
| 4 | University of Pennsylvania |
| 5 | The Hong Kong Polytechnic University |
Source: Table 2 100 most influential universities in OR-MS research
In terms of the composure scores of Total Papers (TP) and Total Cites (TC), PolyU ranks fourth based on equal weights on TP and TC or 30% of TP + 70% of TC.
In the temporal analysis of the most productive universities, from 2001 to 2005, PolyU "shows huge improvement and appears as most productive university in this time period with 298 publications". From 2006 to 2010, PolyU "emerges as the best university in both total citation and H-index categories". From 2011 to 2015, PolyU "again appears as the best university in all total citation, H-index and citation per paper categories".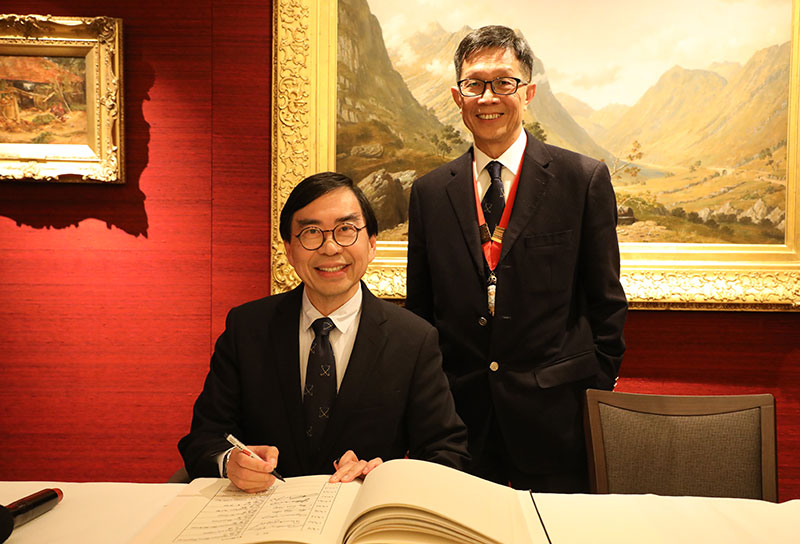 Ir Professor T. C. Edwin Cheng (left)

Professor Edwin Cheng Elected Fellow of Hong Kong Academy of Engineering Sciences
Faculty Dean Ir Professor T. C. Edwin Cheng has been elected Fellow of the Hong Kong Academy of Engineering Sciences (FHKEng) during the Academy's annual general meeting in December 2018. The welcoming dinner for new fellows was held on 29 January 2019.
The Hong Kong Academy of Engineering Sciences promotes the advancement of the science, art and practice of engineering for the benefit of the public. Fellowship is characterized by dedication to serving Hong Kong with top-quality engineering expertise and election is dependent on personal achievements of exceptional merit and distinction.
Miss Kaliyeva Madina is Outstanding Student of the Faculty
Miss Kaliyeva Madina, in the Department of Management and Marketing, has been selected as Outstanding Student of the Faculty of Business for the year 2018. She received this honour at the Outstanding Student Awards Presentation Ceremony of PolyU on 21 February 2019.
Madina was among the top three in class. She co-founded the Qazaq Student Association to help students gain cross-cultural experience and foster internationalization on campus. She was a mentor to junior year students and a student ambassador of PolyU. Apart from exchange studies in Canada and the UK, Madina served at a social enterprise in Canada and an audit firm in Hong Kong, and offered community service in Hong Kong. With exposure to different cultures and mindsets, Madina developed a passion for eliminating poverty and inequality, helping the homeless and the needy, and sharing the responsibilities of global citizens.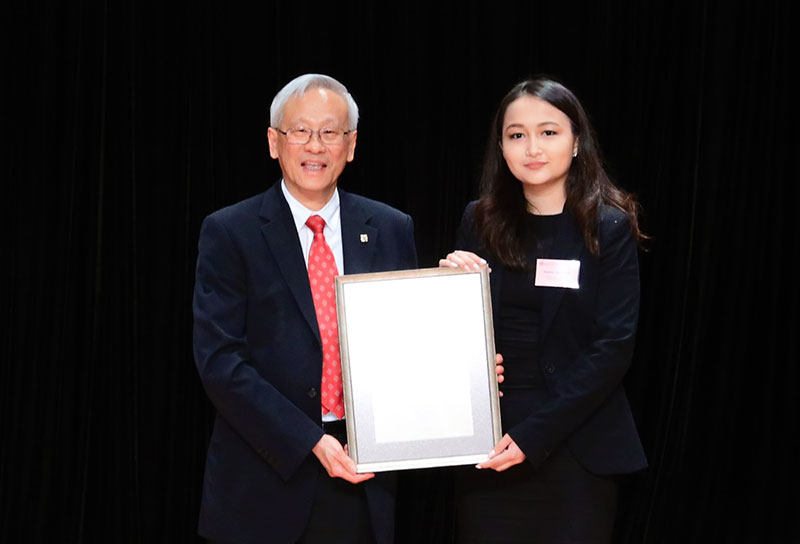 Kaliyeva Madina (right) and PolyU Interim President Professor Philip C. H. Chan

The Faculty of Business Academy Officially Launched
The Faculty of Business Academy (FB Academy) is a structured professional development programme that helps elite undergraduates develop all-round competitiveness, specifically entrepreneurial acumen and social innovation, in addition to enhancing academic performance and employability. Selected Faculty students will attend an international course at a prestigious institution, do an overseas internship, as well as attend development workshops, targeted training, and industry and alumni networking events.
At the launch ceremony

The official launch of the Academy took place on 22 February 2019. Faculty Dean Professor Edwin Cheng is Principal and Dr Hazel Lee, in the Department of Management and Marketing, is Vice Principal.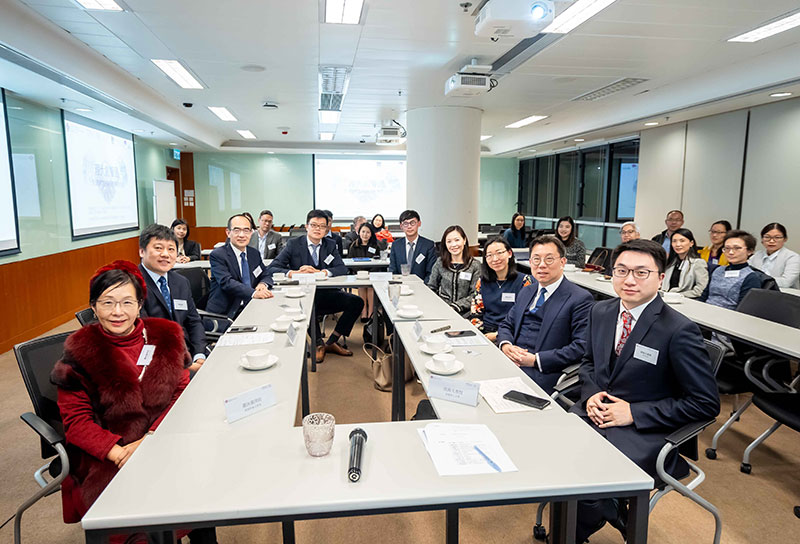 At the first workshop

Knowledge Transfer Forum Focuses on Handling Commercial Disputes Relating to Belt and Road
The Faculty's Knowledge Transfer Forum is a medium of communication between the private and public sectors, and the academic and professional communities on a wide range of topics, including regional development, technological development and the roles of Hong Kong in these developments.
The first workshop, held on 24 January 2019 by the Faculty's Belt and Road Centre and the Centre for Chinese and Comparative Law of the City University of Hong Kong, was themed "Dispute Resolution Issues in Belt and Road Commercial Transactions and the Role of Hong Kong". Speakers and participants, including scholars, legal and other professional experts, had a thorough discussion on litigation and arbitration clauses in Belt and Road commercial contracts in addition to Hong Kong's role in resolving commercial disputes in relation to the Belt and Road and Guangdong-Hong Kong-Macao Greater Bay Area.
AF Public Lecture Looks at Mandatory Portfolio Disclosure
Mandatory disclosure, as a vital component of securities market regulation, provides the public with information about the portfolio holdings and investment activities of institutional investors. The School of Accounting and Finance (AF) hosted a public lecture on 24 January 2019 to look at this topic.
Speaking at the lecture, entitled "Mandatory Portfolio Disclosure in the Asset Management Industry", Professor Vikas Agarwal from Georgia State University elaborated on the costs and benefits of mandatory portfolio disclosure, and implications of such disclosure for the behaviour of fund managers, asset liquidity, and investment decisions of corporations.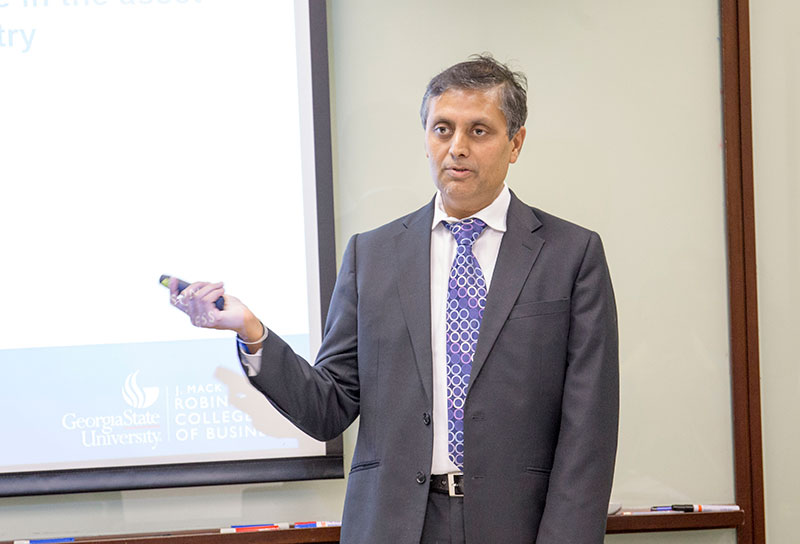 Professor Vikas Agarwal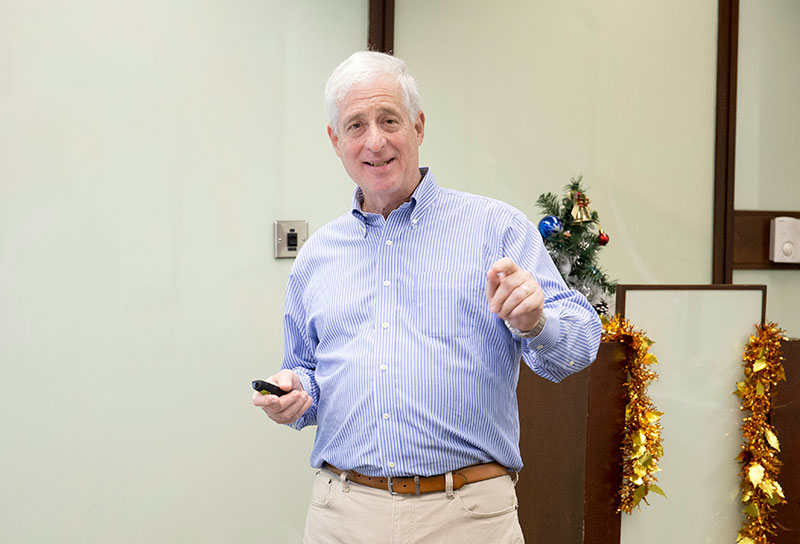 Professor Eli Bartov
AF Public Lecture Discusses the Relation between CSR and Market Reaction to Negative Events
The School of Accounting and Finance (AF) hosted a public lecture, entitled "Corporate Social Responsibility and the Market Reaction to Negative Events: Evidence from Inadvertent and Fraudulent Restatement Announcements", on 19 December 2018.
Professor Eli Bartov from New York University shared the findings of his team who sought an answer to the question of whether corporate social responsibility (CSR) performance can exacerbate, not necessarily moderate, the negative market response to negative events. The team investigated the interplay between a company's CSR performance and the capital market consequences of restatement announcements. Overall, using restatement announcements as a channel through which CSR performance may affect company value, they found that, in contrast to prior research, depending on management conduct leading to the restatement, a company's CSR performance may destroy, not necessarily enhance, firm value.
Research Insights
Optimal Distribution Strategy for Enterprise Software: Retail, SaaS, or Dual Channel?
Production and Operations Management, 27(11), 1928-1939 (2018)
Shengli Li, Peking University
Hsing Kenneth Cheng, University of Florida
Yong Jin, The Hong Kong Polytechnic University
This research analyzes the optimal distribution strategy of enterprise software by taking into account the distinct features of enterprise software for both the short‐run problem, in which the software quality is fixed, and the long‐run problem, in which the software quality becomes part of the strategic decisions. The results indicate that in the presence of high unfit cost relative to the customization cost, the dual channel strategy exists and generates the highest profit for the firm and the highest social welfare. When the unfit cost is low relative to the customization cost, the SaaS channel strategy becomes the best strategy for both the firm in terms of profitability and society in terms of social welfare. This key finding is robust in that it holds for both the short‐run problem and the long‐run problem.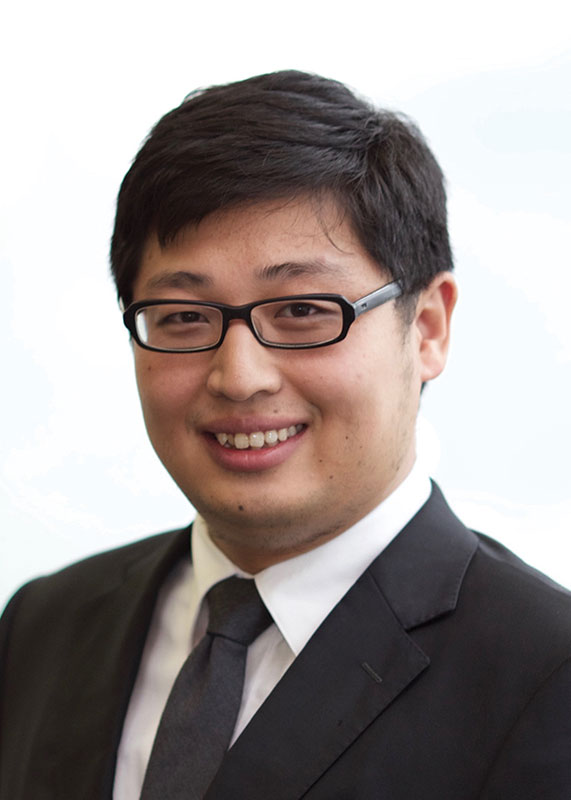 Dr Yong Jin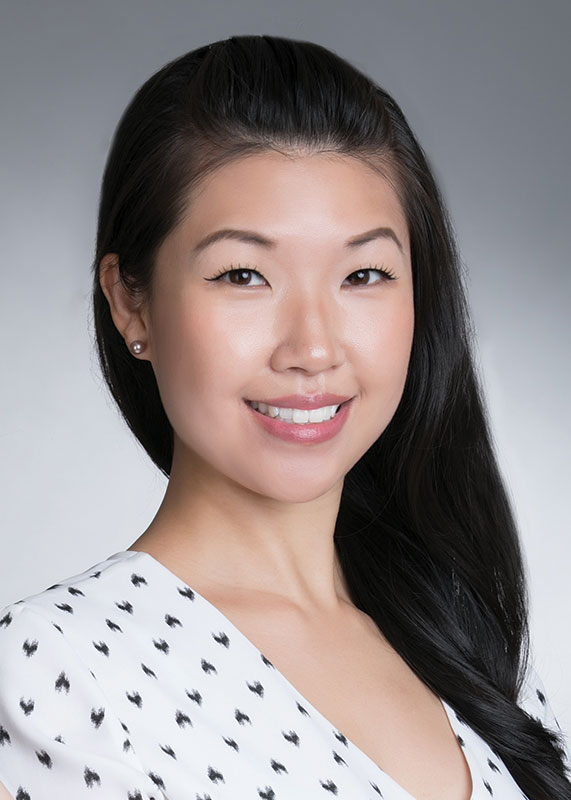 Dr Bonnie Hayden Cheng

Understanding the Dark and Bright Sides of Anxiety: A Theory of Workplace Anxiety
Journal of Applied Psychology, 103(5), 537–560 (2018)
Bonnie Hayden Cheng, The Hong Kong Polytechnic University
Julie M. McCarthy, University of Toronto Scarborough
All employees, regardless of industry or occupation, experience anxiety in the workplace. This experience tends to be either chronic or situational, such as during performance appraisals. Most research has found that anxiety hurts performance. This research, however, does not allow for the possibility that workplace anxiety can enhance employee performance.
The authors develop a model of workplace anxiety that considers the triggers of workplace anxiety, and explain how and when workplace anxiety can debilitate and facilitate employee performance. They identify employee characteristics such as gender and health, situational characteristics such as task demands, and job characteristics such as job type and job autonomy, as triggers of workplace anxiety.
For employees who tend to experience chronic levels of workplace anxiety, this is likely to drain resources and result in emotional exhaustion, which ultimately harms employee performance. However, these individuals can engage in regulatory processes to maintain performance on work tasks.
For employees who tend to experience workplace anxiety in specific situations, this is likely to hurt employee performance through higher distraction or cognitive interference, while engaging in regulatory processes can enhance performance.
Notably, motivation, ability, and emotional intelligence are critical factors that shape when workplace anxiety will debilitate and facilitate job performance.
This research carries significant implications for managers and employees by outlining the triggers of workplace anxiety, as well as processes and conditions through which workplace anxiety affects employee performance. Importantly, it is the first to specify when and how workplace anxiety can benefit employee performance, through leveraging personal regulatory resources.