Faculty Secures HK$13.65m of RGC Funding
For the year 2019-2020, Faculty members as principal investigators, have successfully secured funding from the Research Grants Council (RGC) of Hong Kong for 25 projects under the GRF (General Research Fund) and four projects under the ECS (Early Career Scheme), totalling over HK$13.65m.
The $11,711,492 GRF funding, representing an increase of 23% from the preceding year, was awarded to ten projects of the School of Accounting and Finance (AF), nine projects of the Department of Logistics and Maritime Studies (LMS), and six projects of the Department of Management and Marketing (MM).
The $1,942,700 ECS funding, surging 117%, was awarded to two AF projects and two MM projects.
PolyU's Subject of Management Maintains Tenth Position in the World
The recently released 2019 ShanghaiRanking's Global Ranking of Academic Subjects shows that the subject of Management at PolyU is the tenth in the world and the first in Hong Kong, and has maintained both positions for the second year. This ranking takes into account research productivity, research quality, international collaboration, and academic recognition.
| | | |
| --- | --- | --- |
| World Rank | Institution | Country/Region |
| 1 | Harvard University | US |
| 2 | National University of Singapore | Singapore |
| 3 | University of Pennsylvania | US |
| 4 | University of Michigan-Ann Arbor | US |
| 5 | Pennsylvania State University - University Park | US |
| 6 | Massachusetts Institute of Technology (MIT) | US |
| 7 | Arizona State University | US |
| 8 | Erasmus University Rotterdam | the Netherlands |
| 9 | INSEAD | France |
| 10 | The Hong Kong Polytechnic University | Hong Kong |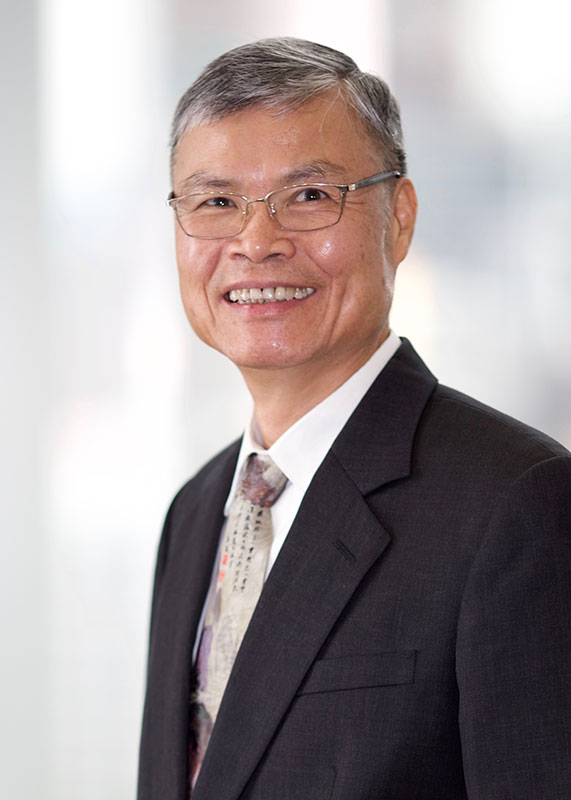 Professor K.C. John Wei

Professor John Wei is Associate Dean
Professor K.C. John Wei, Chair Professor of Financial Economics in the School of Accounting and Finance, assumed the role of Associate Dean (Research and Postgraduate Studies) of the Faculty on 1 July 2019 in succession to Professor Gerald Gorn.
Professor Wei graduated from the University of Illinois at Urbana-Champaign with a PhD in Finance. He has published over 60 articles in leading finance and accounting journals. Prior to joining PolyU, he served at The Hong Kong University of Science and Technology for 24 years after teaching at the University of Mississippi, the University of Miami, and Indiana University.
Professor Wei's consulting, research and teaching interests cover Asset pricing, Behavioural economics, finance, and accounting, Corporate governance and compensation, Cost of equity capital and firm valuation.
Knowledge Transfer Forum Discusses ESG Investment
The Faculty and the Center for Economic Sustainability and Entrepreneurial Finance (CESEF) under its School of Accounting and Finance (AF) co-hosted a knowledge transfer forum on 25 June 2019.
At the forum
Invited speakers at the event, themed "ESG Investment Engagement: The Perspective of Participating CEOs", were Mr Simon Mak, CEO at Friends of the Earth (HK) and Dr Ricky Szeto, Executive Director of Hung Fook Tong Group Holdings Limited. Mr Mak emphasized the importance of adopting ESG (environmental, social and governance) standards and a green finance approach to foster sustainable development. Dr Szeto elaborated on taking corporate social responsibility and creating shared value as part of company strategy.
CESEF Director Professor Louis Cheng spoke on the centre's collaboration with Friends of the Earth (HK) and Hung Fook Tong in setting up an ESG Investment Education Pledge with opportunities for AF students to conduct research on the ESG performance of companies.
Ms Fan Linying Wins American Marketing Association Rising Star Award
Dr Sophie Fan Linying is a new graduate of the Faculty. As a PhD student with the Department of Management and Marketing, she received earlier this year the 2019 AMA CBSIG Rising Star Award. This Award honours a doctoral student scholar who works towards a bright future in consumer behaviour (CB) research. The Doctoral Student Special Interest Group (SIG) of the American Marketing Association (AMA) is designed specifically for marketing students.
Dr Fan is now Assistant Professor at The Hong Kong University of Science and Technology.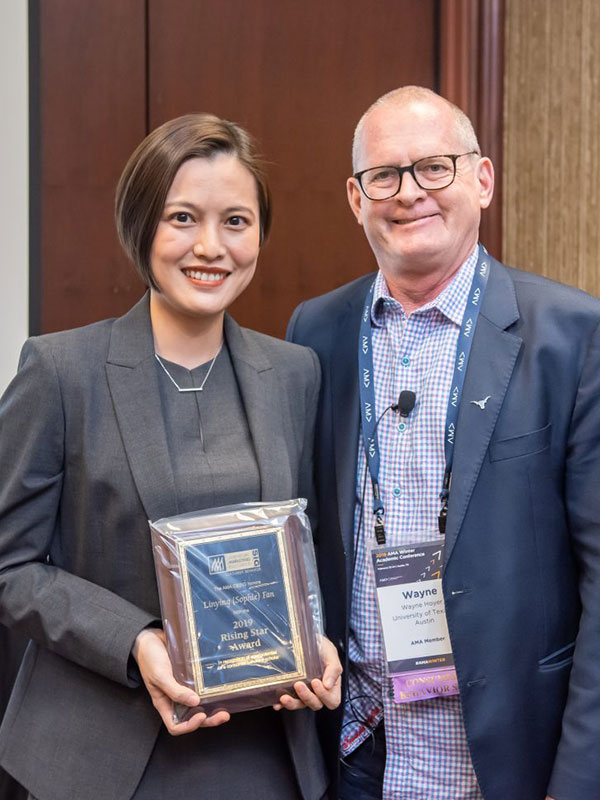 2019 PhD graduate Fan Linying (left)
AF Teams Receive Certificate of Merit at Cross-Straits, Hong Kong and Macao Accounting and Business Case Competition
Students from the School of Accounting and Finance (AF) formed two teams to join the 2019 Cross-Straits, Hong Kong and Macao Accounting and Business Case Competition. Both of them won a certificate of merit.
The first team was made up of students of the Master of Professional Accounting programme. They were Ms Deng Qi, Mr Li Hao, Miss Li Xue, and Miss Xu Yelin. The second team consisted of four BBA students Miss Cui Xinyue, Mr Dai Zhiping, Miss Zhou Yue, and Miss Zhou Zimeng.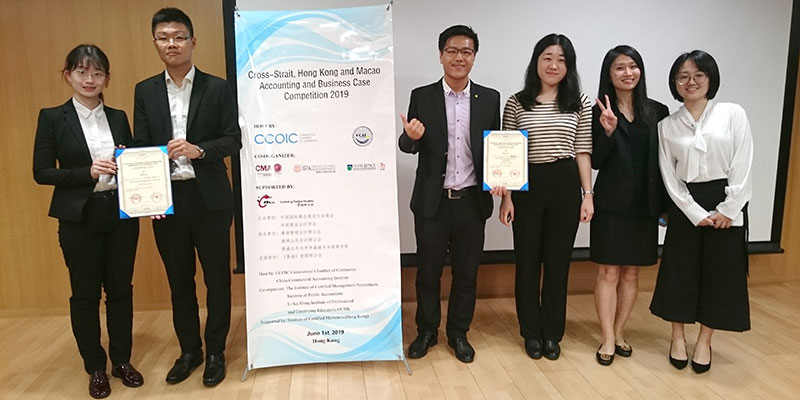 Student participants

The Competition, jointly hosted by China Commercial Accounting Institute (CCAI) and the China Chamber of International Commerce (CCOIC) Commercial Chamber of Commerce, was held on 1 June 2019.
Research Insights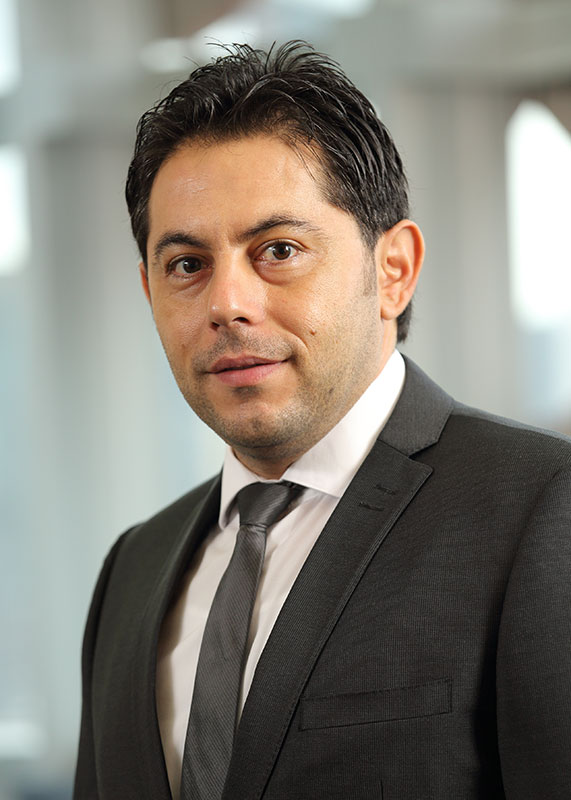 Professor Walid Saffar

State Ownership and Debt Choice: Evidence from Privatization
Journal of Financial and Quantitative Analysis, 54(3), 1313-1346 (2019)
Narjess Boubakri, American University of Sharjah
Walid Saffar, The Hong Kong Polytechnic University
Using a large sample of privatized firms, the authors find that state ownership is significantly positively associated with the use of bank debt financing, suggesting that privatized firms benefit from the soft budget constraint associated with state ownership. They further find that the relation is more pronounced in countries with high government ownership of banks, high corruption in bank lending, a left-oriented government, and a collectivist national culture, which provides additional support for the soft-budget-constraint view. Finally, in external validity tests, the authors find that state ownership affects other aspects of debt structure, such as debt maturity and debt security.
Doing Good, Feeling Good? The Roles of Helping Motivation and Citizenship Pressure
Journal of Applied Psychology, 104(8), 1020-1035 (2019)
Katrina Jia Lin, The Hong Kong Polytechnic University
Krishna Savani, Nanyang Technological University
Remus Ilies, National University of Singapore
Drawing on self-determination theory, this research investigates whether the motivation behind employees' helping behaviours is associated with their positive affect and their subsequent help provision, and whether citizenship pressure moderates these relationships. A recall-based experiment and an experience-sampling study capturing helping episodes among full-time employees found that when employees helped coworkers because of higher autonomous (controlled) motivation in a helping episode, they experienced higher (lower) positive affect, and they had stronger (weaker) helping intentions and helped coworkers more (less) subsequently. The authors further found that citizenship pressure enhanced the positive relationship between episodic autonomous motivation and positive affect. Overall, the results challenge the universality of the "doing good-feeling good" effect, and explicate the joint roles of citizenship pressure and helpers' episodic motivation in influencing employees' positive affect and their subsequent helping behaviours.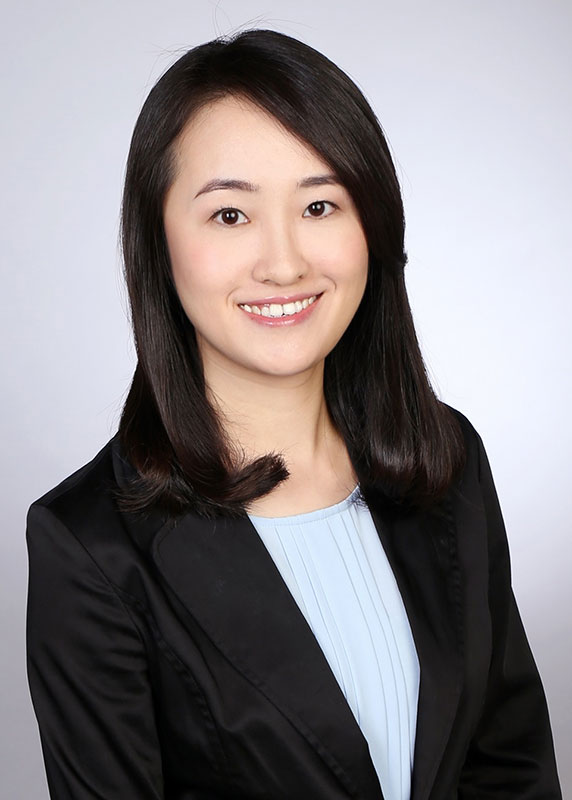 Dr Katrina Jia Lin