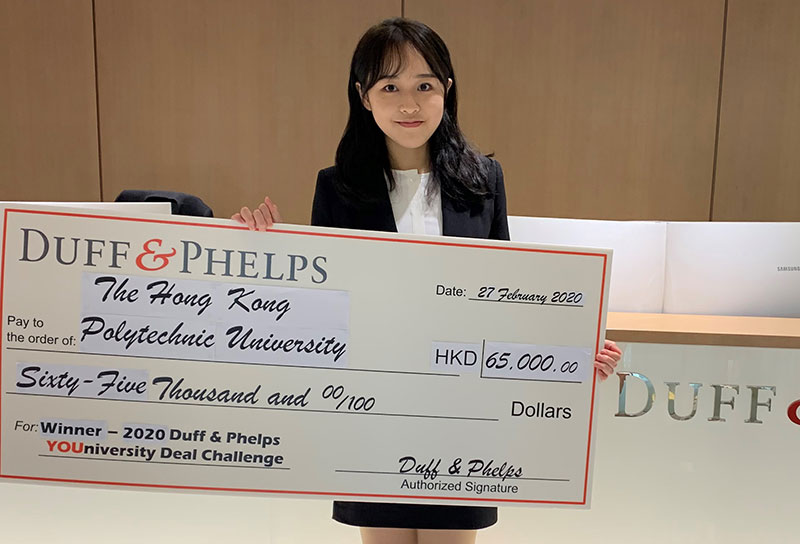 Lin Guanxiuo
Accounting and Finance Students Win YOUniversity Deal Challenge Asia Pacific Competition
Three undergraduates formed a team to win the championship in the Asia Pacific event of Duff & Phelps' YOUniversity Deal Challenge 2020. They were Miss Jin Xiyang, Miss Lin Guanxiu, and Mr Chen Jingzhe, all of them reading for the BBA (Hons) degree in Accounting and Finance.
Duff & Phelps is a global advisor that protects, restores and maximizes value for clients. The YOUniversity Deal Challenge engages business students from around the world to hone a broad range of skills related to mergers and acquisitions advisory, transaction opinions, disputes and investigations, and valuation advisory. Participants, working in teams, apply technical reasoning and critical thinking through key stages of the deal-making process and solve a complex transaction.
This year there were four regional events in the Americas, EMEA (Europe/Middle East/Africa), APAC (Asia-Pacific) and India. The APAC final was held in Hong Kong on 27 February.
Faculty Undergraduate Team is First Runner-up in HSBC/HKU Asia Pacific Business Case Competition Hong Kong
Four BBA students teamed up to scoop the first runner-up place in the Hong Kong round of 2020 HSBC/HKU Asia Pacific Business Case Competition. They were Miss Jane He Siyao, Mr Leo Dai Zhiping (Accounting and Finance), Miss Icy Au Ka Wing (Accountancy), and Miss Irene Lee Sangok (Management).
The Competition enhances the traditional strengths of the case method of teaching by moving the business case from the classroom into a global competition format. This year the Hong Kong competition was held on a web-based platform. Each participating team had six hours to analyse an assigned case, prepare slides, record and submit a video of its presentation. The Q&A session took place on 16 March 2020.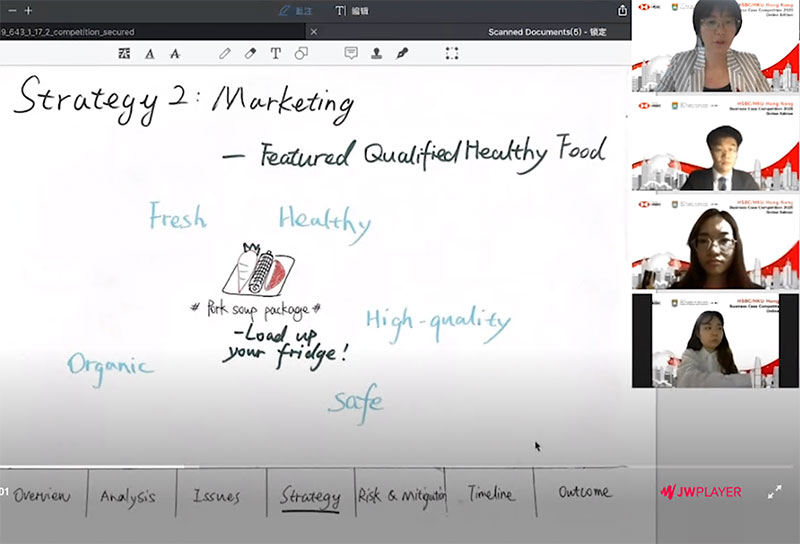 (From top right-hand corner) He Siyao, Dai Zhiping, Au Ka Wing, and Lee Sangok
AF Team is Finalist in Southeastern Hedge Fund Competition
BBA students Miss Alice Huang Xin and Mr Richard Zhou Ziji in the School of Accounting and Finance (AF) teamed up to become a finalist in Southeastern Hedge Fund Competition 2020.
The competition, open to college and university student teams from around the world, invites participants to submit hedge fund strategy proposals for evaluation by a panel of investment professionals. The 2020 event is hosted by Southeastern Alternative Funds Association and J. Mack Robinson College of Business at Georgia State University. The final, originally scheduled for late April in Atlanta, the US, has been cancelled because of the coronavirus pandemic.
LMS Hosts Panel Discussion on Impact of Coronavirus Outbreak on Aviation
The Department of Logistics and Maritime Studies (LMS), in cooperation with German Aviation Research Society (GARS) and the Bremen University of Applied Sciences, hosted on 14 April 2020 the 1st GARS Online Panel Discussion on how COVID-19 affects the future of aviation. The discussion, entitled "The Coronavirus Outbreak: An Unprecedented Shock for Aviation — What Now?" had panellists in Australia, Canada, Hong Kong, and Switzerland. Dr Achim I. Czerny in LMS was the moderator.
Brian Pearce, Chief Economist of International Air Transport Association (IATA), highlighted the severity of the coronavirus outbreak on aviation. Worldwide, flights were down almost 80% by early April. The airline industry was fragile even before the outbreak because of a long tail of weak, non-profitable, airlines. Many panellists were concerned that the current situation could endanger, or even reverse, the progress made in the liberalization of aviation markets. In spite of that, they mostly agreed that the current situation could force the aviation industry to restructure and consolidate. That could benefit the industry in the years to come.
Research Insights
Dr Jungmin Kim

Do Family Firms Invest More than Nonfamily Firms in Employee-friendly Policies?
Management Science, 66(3), 1300-1324 (2020)
Jun-Koo Kang, Nanyang Technological University
Jungmin Kim, The Hong Kong Polytechnic University
The authors examine whether family firms invest more in employee relations than nonfamily firms. Using the variation in state-level changes in inheritance, gift, and estate taxes as an exogenous shock to family control, they find that family firms, particularly those in which a founder serves as chief executive officer or those in which a family member serves as a director on the board, treat their employees better than nonfamily firms. More importantly, family firms focus on investing in employee relations that help alleviate labour-related conflicts and controversies, possibly to avoid a negative family reputation among stakeholders. Family firms' better treatment of their employees is also evident when they use a difference-in-difference test to exploit changes in family firm status due to (sudden) deaths of family members and firms' inclusion in Fortune's "100 Best Companies to Work For" list to identify employee-friendly treatment. The authors further find that family firms in the early stage of their life cycle invest more in employee relations when they operate in labour-intensive industries in which the benefits from family owners' monitoring of employees are expected to be large. Moreover, they find that although nonfamily firms' investment in employee relations is impeded by several constraints, such as short-term investor pressure, managerial myopia, and managerial agency problems, family firms do not suffer from such constraints. These findings help explain why underinvestment in employee relations is prevalent in public firms despite potential long-term benefits from such intangible investment.
The Influence of Product Anthropomorphism on Comparative Judgment
Journal of Consumer Research, 46(5), 936-955 (2020)
Feifei Huang, The Hong Kong Polytechnic University
Vincent Chi Wong, City University of Hong Kong
Echo Wen Wan, The University of Hong Kong
The present research proposes a new perspective to investigate the effect of product anthropomorphism on consumers' comparative judgment strategy in comparing two anthropomorphized (vs. two nonanthropomorphized) product options in a consideration set. Six experiments show that anthropomorphism increases consumers' use of an absolute judgment strategy (vs. a dimension-by-dimension strategy) in comparative judgment, leading to increased preference for the option with a more favorable overall evaluation over the option with a greater number of superior dimensions. The effect is mediated by consumers' perception of each anthropomorphized product alternative as an integrated entity rather than a bundle of separate attributes. The authors find the effect to be robust by directly tracing the process of participants' information processing using MouseLab software and eye-tracking techniques, and by self-reported preferences and real consumption choices. Moreover, the effect is moderated by the motivation to seek maximized accuracy or ease. These studies have important implications for theories about anthropomorphism and comparative judgment as well as marketing practice.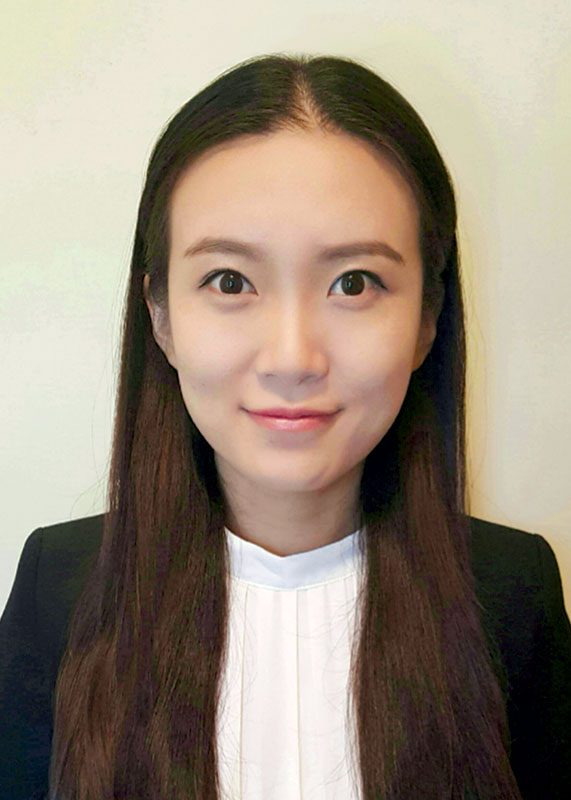 Dr Feifei Huang