PolyU Ranks Ninth in Supply Chain Management Research in the World
The SCM Journal ListTM ranking shows universities' output of supply chain management research based on leading journals. Each year's ranking is based on research, in both analytical and empirical arenas, published in these journals during the prior five years.
The 2018 league table for all journals shows that PolyU was the ninth institution in the world and the first in Hong Kong. In 2016 to 2018, PolyU was 26th in the world and second in Hong Kong.
Rank
Institution
Country
Score

1
University of Michigan

US

12.20

2
Columbia University
US
10.00
3
Stanford University
US
9.49
...

9
The Hong Kong Polytechnic University
China
6.83

2018 ranking by all journals on SCM Journal List
Faculty Forum Celebrates 40th Anniversary of Reform and Opening-up of China
The Faculty hosted on 1 March 2019 a forum to celebrate the 40th anniversary of the reform and opening-up of China. The event, themed "Contributions of PolyU Alumni to the Country", drew together business and community leaders, professionals and PolyU graduates for a discussion on the implications of China's reform for the world as well as the roles of Hong Kong and PolyU alumni in the past and future development of the country.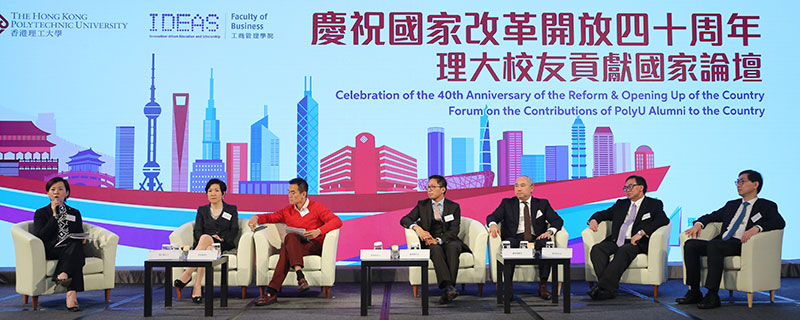 At the forum

Officiating at the opening were Mr Jiang Jianxiang, Deputy Director General, Department of Educational, Scientific and Technological Affairs, Liaison Office of the Central People's Government in HKSAR; PolyU Council Chairman Dr Lam Tai-fai and Interim President Professor Philip C. H. Chan. Delivering the keynote speech on "1978-2018 Open Door and Reform – Economic Miracle" was Sir Gordon Wu, former Council Chairman of PolyU and Co-founder & Chairman of Hopewell Holdings Ltd.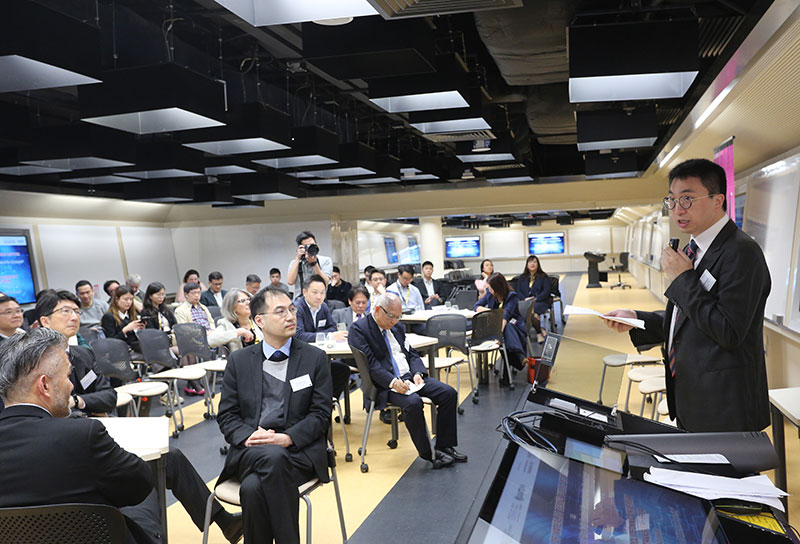 At the workshop

PolyU Partners with University of Waterloo to Organize Knowledge Transfer Forum on Cybersecurity and Privacy
The Faculty's Knowledge Transfer Forum hosted a workshop on 14 March 2019 to discuss Cybersecurity and Privacy. The event, with the University of Waterloo as co-organizer, featured research conducted by members of its Faculty of Mathematics and Cybersecurity and Privacy Institute. Panel discussants and moderator came from the Institute, the Hong Kong Blockchain Society, the International Association of Privacy Professionals, and PolyU's Department of Computing and School of Accounting and Finance.
Belt and Road Salon Focuses on Incubating Science Talents
The Liaison Office of the General of the Leading Group for Beijing Talent Affairs in Hong Kong organized a Belt and Road salon at PolyU on 30 March 2019 to look at supporting young talent and transferring technology. Co-organizers of the event, entitled "Belt-n-Road Young Scientists Development and Technology Transfer Cooperation – 2019 Beijing Hong Kong Talent Salon" were Laureate Science Alliance (LSA) and the AMTD FinTech Centre of PolyU Faculty of Business.
Sir Richard J. Roberts, Nobel Laureate in Physiology or Medicine and Chairman of LSA, delivered a keynote speech on Developing China's Young Scientists. Professor Nicholas Rawlins, Master of Morningside College at The Chinese University of Hong Kong and former Pro-Vice-Chancellor of the University of Oxford, made a keynote speech on How to Attract Overseas Scientists and Young Talent. During the panel discussions and collaboration session, scholars, government officials, angel investors, as well as representatives from private enterprises and technology transfer alliances in Hong Kong, Taiwan and mainland China had an open exchange of ideas about creating opportunities for young talent, transferring and commercializing technologies for Belt and Road developments.
At the salon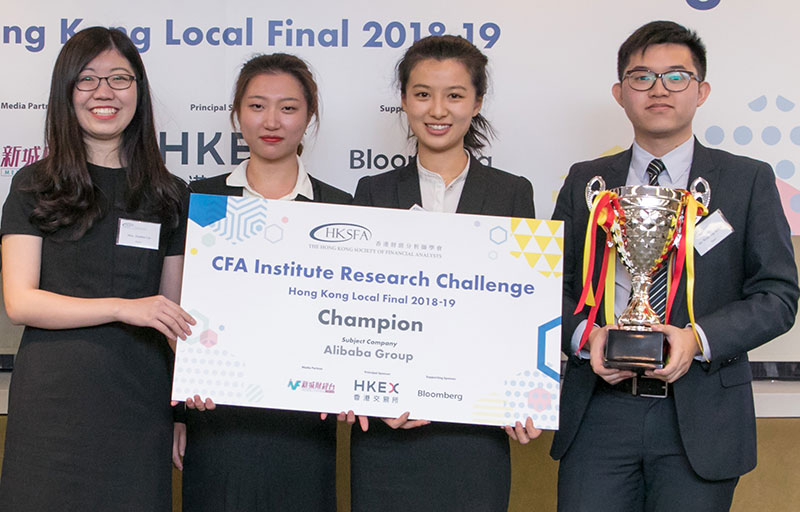 (From left) Liu Xuanbei, Yang Shuangyu, Bao Yuhan, and Toh Jing Jie
Accounting and Finance Team is Champion in CFA Institute Research Challenge Hong Kong Final
Four students in the School of Accounting and Finance teamed up to win championship in the Hong Kong Final of CFA Institute Research Challenge 2018-19. They were Miss Liu Xuanbei, Miss Yang Shuangyu, Miss Bao Yuhan, and Mr Toh Jing Jie studying for the BBA (Hons) degree in Accounting and Finance.
CFA is short for Chartered Financial Analyst. Research Challenge, hosted by CFA Institute, is an annual global competition that helps university students hone their analytical, valuation, report writing, and presentation skills. Each team of entrants of the Hong Kong competition researches a designated publicly traded company, prepares a written report, and presents their findings to a panel of judges. This year's subject company for research is Alibaba Group and the Hong Kong final was held on 23 February 2019.
Accounting and Finance Team Takes Championship at YOUniversity Deal Challenge Asia Final
A team of undergraduates in the School of Accounting and Finance took part in YOUniversity Deal Challenge 2019, became champion in the Asia competition held in Hong Kong, and gained a scholarship of USD 8,000 in February. They were Miss Cui Xinyue (Accountancy), Miss Xiu Huize (Accounting and Finance), and Mr Zhao Zihao (Financial Services).
YOUniversity Deal Challenge, hosted by Duff & Phelps, offers an opportunity for business students to develop a broad range of skills in relation to mergers and acquisitions advisory, transaction opinions, disputes and investigations and valuation advisory. Working in teams, participants apply technical reasoning and critical thinking through key stages of the deal-making process. Duff & Phelps is a global advisor that protects, restores and maximizes value for clients in the areas of valuation, corporate finance, investigations, disputes, cybersecurity, compliance and regulatory matters, and other governance-related issues.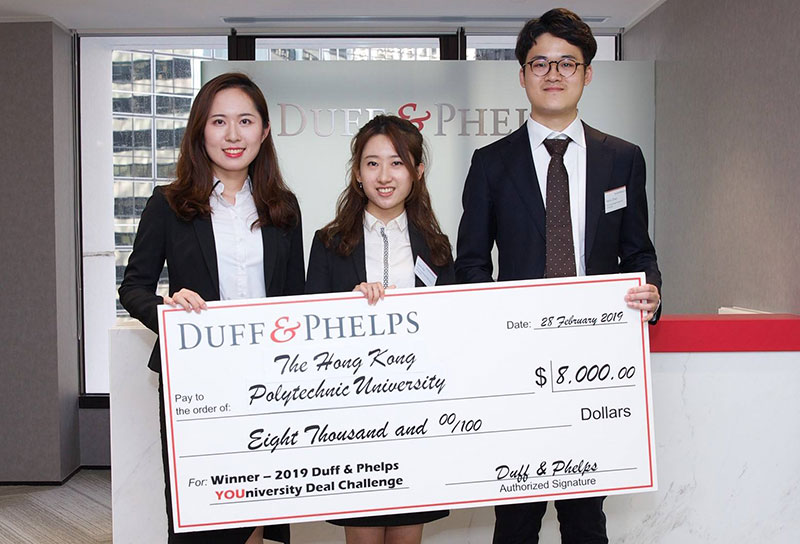 (From left) Cui Xinyue, Xiu Huize, and Zhao Zihao

Tsang Kit Ying
Miss Tsang Kit Ying is First Runner-up in Global Student Entrepreneur Awards Hong Kong Finals
Miss Hilda Tsang Kit Ying, reading for the BBA (Hons) degree in Global Supply Chain Management, won the first runner-up prize in the Hong Kong finals of Global Student Entrepreneur Awards (GSEA) competition 2018-19 hosted by Entrepreneurs' Organization (EO) Hong Kong.
EO, with 188 chapters in 58 countries, is a peer-to-peer network of 13,000 founders, co-founders or controlling shareholders of companies. GSEA supports student entrepreneurs with mentorship, recognition and connections to take their businesses to the next level of success. The annual competition, consisting of local and national rounds before global finals, is open to undergraduates and graduates who own and operate a business for at least six months while attending college or university. The Hong Kong finals were held in November 2018.
Research Insights
Work Package Sizing and Project Performance
Operations Research, 67(1), 123-142 (2019)
Chung-Lun Li, The Hong Kong Polytechnic University
Nicholas G. Hall, The Ohio State University
The authors study how design decisions in project planning affect the cost of execution. In organizing a project's tasks into work packages, trade-offs arise. Defining small work packages increases project complexity and workload, and reduces economies of scale, whereas defining large work packages reduces concurrent processing and adversely affects cash flow. Their work is apparently the first to study this trade-off. They consider the objective of minimizing total project cost, subject to a deadline on project makespan. For serial task networks, they describe an efficient algorithm that finds optimal work package sizes. For acyclic task networks, they develop a heuristic method and a lower bound for the unary NP-hard problem. A computational study shows that their heuristic routinely delivers near-optimal solutions that substantially improve on those found by benchmark procedures. The results demonstrate the value of deliberately varying work package sizes within a project, in contrast to typical project management practice. Related issues including multiple serial paths in parallel, task incompatibility, and generalized precedence constrained work packages are also discussed. Their work enables more precise planning of work packages to improve performance, documents the value of integrating the planning of work packages and schedules, and provides insights that guide resource allocation decisions.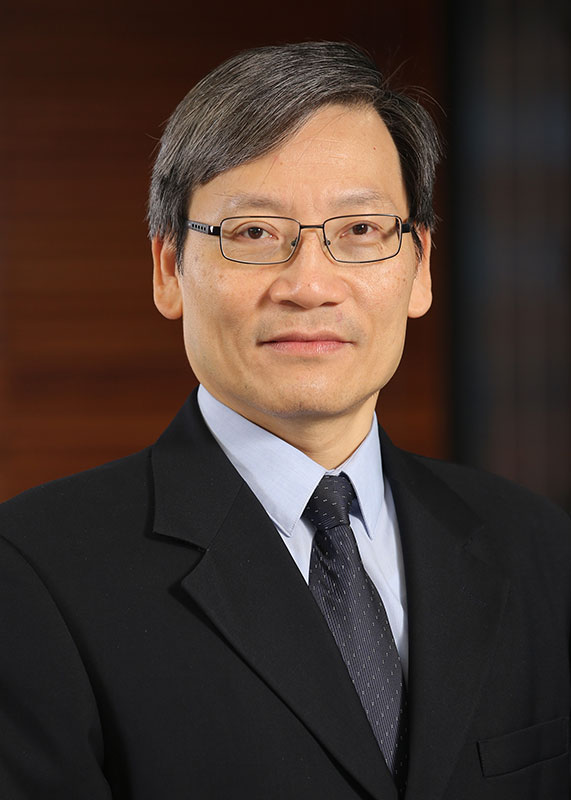 Professor Chung-Lun Li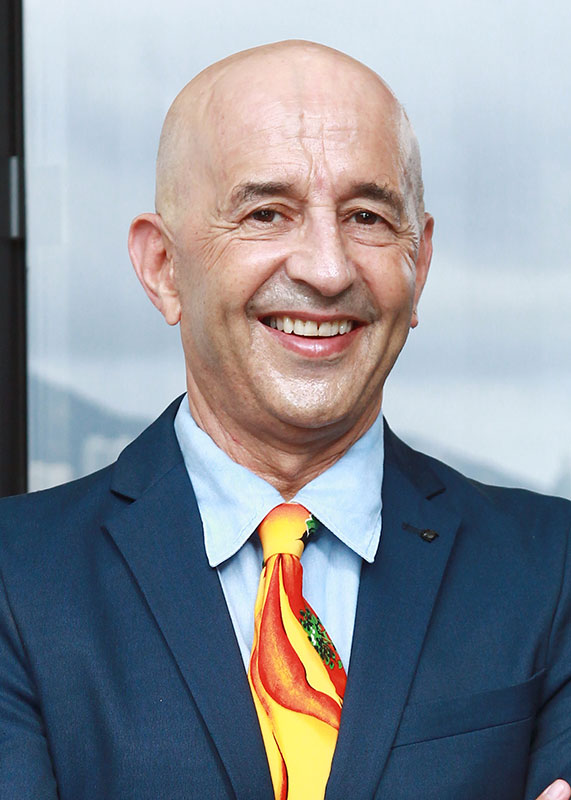 Professor Gerald J. Gorn

The Sleepy Consumer and Variety-seeking
Journal of Marketing Research, 56(2), 179-196 (2019)
Zhongqiang (Tak) Huang, The University of Hong Kong
Yitian (Sky) Liang, Tsinghua University
Charles B. Weinberg, The University of British Columbia
Gerald J. Gorn, The Hong Kong Polytechnic University
Sleepiness, the subjective feeling of the propensity to fall asleep, is a common, everyday experience that can be induced by various factors, such as sleep quality, sleep deprivation, ingestion of certain substances, or belief about how much sleep a person needs. Despite its prevalence, sleepiness and its influence on consumption behaviour have rarely been linked in the research to date. The present research helps fill this void by uncovering the novel impact of sleepiness on consumer variety-seeking behaviour. The studies, using various methods and all involving consequential choices, revealed that sleepier consumers tended to seek more variety. The driver of this effect was found to be a need for arousal to maintain wakefulness. The authors also show that variety-seeking behaviour is effective in partially reducing sleepiness. The effect of sleepiness on variety seeking uncovered in this research is somewhat non-intuitive, in the sense that, a priori, one might expect sleepiness to be more likely to decrease rather than increase exploratory behaviour. The authors discuss implications of the findings for different research areas and for marketing practice.